Biocompatible Nanocomposite Implant with Silver Nanoparticles for Otology—In Vivo Evaluation
1
Department of Ceramics and Refractories, Faculty of Materials Science and Ceramics, AGH University of Science and Technology, 30-059 Krakow, Poland
2
Department of Cytobiology, Collegium Medicum, Faculty of Pharmacy, UJ Jagiellonian University, 30-001 Krakow, Poland
3
Department of Condensed Matter Physics, Faculty of Physics and Applied Computer Science, AGH University of Science and Technology, 30-059 Krakow, Poland
*
Author to whom correspondence should be addressed.
Received: 9 August 2018 / Revised: 20 September 2018 / Accepted: 25 September 2018 / Published: 27 September 2018
Abstract
The aim of this work was to investigate of biocompatibility of polymeric implants modified with silver nanoparticles (AgNPs). Middle ear prostheses (otoimplants) made of the (poly)acrylonitrile butadiene styrene (ABS) and ABS modified with silver nanoparticles were prepared through extrusion and injection moulding process. The obtained prostheses were characterized by SEM-EDX, micro-CT and mechanical tests, confirming their proper shape, good AgNPs homogenization and mechanical parameters stability. The biocompatibility of the implants was evaluated in vivo on rats, after 4, 12, 24 and 48 weeks of implantation. The tissue-healing process and cytotoxicity of the implants were evaluated on the basis of microscopic observations of the materials morphology after histochemical staining with cytochrome c oxidase (OCC) and acid phosphatase (AP), as well as via micro-tomography (ex vivo). The in vivo studies confirmed biocompatibility of the implants in the surrounding tissue environment. Both the pure ABS and nanosilver-modified ABS implants exhibited a distinct decrease in the area of granulation tissue which was replaced with the regenerating muscle tissue. Moreover, a slightly smaller area of granulation tissue was observed in the surroundings of the silver-doped prosthesis than in the case of pure ABS prosthesis. The kinetics of silver ions releasing from implants was investigated by ICP-MS spectrometry. The measurement confirmed that concentration of the silver ions increased within the implant's immersion period. Our results showed that middle ear implant with the nanoscale modification is biocompatible and might be used in ossicular reconstruction.
View Full-Text
►

▼

Figures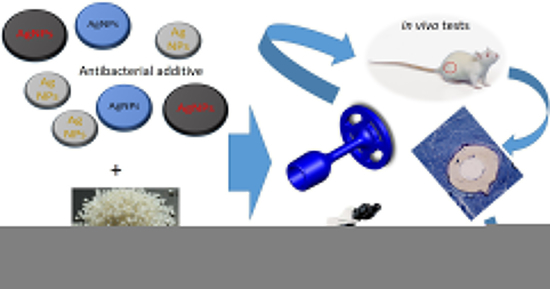 Graphical abstract
This is an open access article distributed under the
Creative Commons Attribution License
which permits unrestricted use, distribution, and reproduction in any medium, provided the original work is properly cited (CC BY 4.0).

Share & Cite This Article
MDPI and ACS Style
Ziąbka, M.; Menaszek, E.; Tarasiuk, J.; Wroński, S. Biocompatible Nanocomposite Implant with Silver Nanoparticles for Otology—In Vivo Evaluation. Nanomaterials 2018, 8, 764.
Note that from the first issue of 2016, MDPI journals use article numbers instead of page numbers. See further details here.
Related Articles
Comments
[Return to top]