Open Access This article is
freely available
re-usable
Review
Recent Advances in Magnetic Microfluidic Biosensors
Institute of Sensor and Actuator Systems, Vienna University of Technology, Gusshausstrasse 27-29/366-MNS, Vienna 1040, Austria
*
Author to whom correspondence should be addressed.
Academic Editor: Manh-Huong Phan
Received: 30 March 2017 / Accepted: 26 June 2017 / Published: 6 July 2017
Abstract
:
The development of portable biosening devices for the detection of biological entities such as biomolecules, pathogens, and cells has become extremely significant over the past years. Scientific research, driven by the promise for miniaturization and integration of complex laboratory equipment on inexpensive, reliable, and accurate devices, has successfully shifted several analytical and diagnostic methods to the submillimeter scale. The miniaturization process was made possible with the birth of microfluidics, a technology that could confine, manipulate, and mix very small volumes of liquids on devices integrated on standard silicon technology chips. Such devices are then directly translating the presence of these entities into an electronic signal that can be read out with a portable instrumentation. For the aforementioned tasks, the use of magnetic markers (magnetic particles—MPs—functionalized with ligands) in combination with the application of magnetic fields is being strongly investigated by research groups worldwide. The greatest merits of using magnetic fields are that they can be applied either externally or from integrated microconductors and they can be well-tuned by adjusting the applied current on the microconductors. Moreover, the magnetic markers can be manipulated inside microfluidic channels by high gradient magnetic fields that can in turn be detected by magnetic sensors. All the above make this technology an ideal candidate for the development of such microfluidic biosensors. In this review, focus is given only to very recent advances in biosensors that use microfluidics in combination with magnetic sensors and magnetic markers/nanoparticles.
Keywords:
microfluidics; magnetic markers; magnetic biosensors
1. Introduction
Biotechnological microsystems have drawn considerable attention during the last two decades; these systems are otherwise known as biochips, bioMEMS (microelectromechanical systems) or LOC (Lab-On-a-Chip) depending on the operations (e.g., analysis, detection, processing etc.) that are being integrated on a single microdevice. A biosensor, on the other hand, is a device used for the detection of pathogens or biomolecules and usually consists of: (i) a biological recognition component that interacts or reacts with the biological entity under investigation and (ii) a transducer that translates this recognition component into an electric output signal that can be measured with an appropriate instrumentation.
Besides time and cost reduction, microfluidics enable the portability of the measurement instrumentation; essential tasks such as sample handling and analysis are being executed within the biochip and on-site without the demand of established laboratory infrastructure or well-trained personnel. In other words, the proposed microfluidic systems can lead to what is described as Point of Care (PoC) testing, namely diagnostic tests carried out in real-time and on-site. This revolutionary new practice leads to a shift of paradigm in traditional medicine, particularly towards a less centralized model, while improving diagnostics and biological research methods.
2. Magnetic Microfluidic Biosensors: State of the Art
The researchers identified an almost linear response between the output signal of the AMR sensor and the amount of single-stranded target DNA varying from 4.5 to 18 pmol. From the sensor output signal response towards the mass of the magnetic markers, which were directly immobilized on the disposable card surface, the limit of detection was estimated to be about 312 ng ferrites, which corresponds to 3.8 μemu. Their approach opens up new possibilities for the development of highly sensitive, low-cost, and rapid-detection DNA biosensors.
These biological entities are labeled with functionalized MNPs, suspended into a static fluid and injected by a syringe into a microfluidic channel (detection channel). The labeled bioanalytes (pathogens and antibodies) are set in motion by a magnetic force applied by integrated microconductors. Bulk or complicated pumping systems are not required. The novel detection principle is based on the velocity decrease of the MNPs that are loaded with the respective bioanalyte due to factors inhibiting their motion. The velocity of unloaded, bare markers injected by a syringe in another, parallel microfluidic channel is used as a reference.
The performance of the platform was exhibited by quantitatively measuring concentration of a disease marker of prostate-specific antigen (PSA) in human serum of as low as 25 pg/mL total PSA during a 30-min assay.
The featured three-fold signal increase per every order of concentration within 3.5 orders of magnitude permits an actual analysis of antigen concentrations in a wide range. Some possible applications of this tool are: (i) quick and convenient optimization of IC test systems, (ii) thorough control of assay parameters, and (iii) enhancement of assay accuracy.
The developed method allows one to detect pathogenic cells in complex non-transparent media, as well as to estimate the expression level of various antigens on the cell surface. MPQ-cytometry provides a sensitivity limit of 0.33 ng of MNPs and is lacking background signal otherwise present in many label-based assays. Each measurement lasts only a few seconds, and complicated sample preparation or data processing is not necessary.
The developed multichannel reader offers the unmatched 60 zmol detection limit and seven-order linear dynamic range for volumetric registration of magnetic labels inside a cartridge of several millimeters in diameter, regardless of its optical transparency.
3. Conclusions
In conclusion, microfluidics can be the foundation that leads to the development of new devices to be applied in the fields of life sciences, biotechnology, pharmaceuticals, and agriculture. The fact that many chemical, biological, and biophysical processes and tasks are carried out in liquid environments allows the employment of such microfluidic platforms for biomedical analysis in a portable, reliable, and simple manner.
The presented biosensing systems offer compact, highly-sensitive, and cost-effective solutions for biomedical diagnostics. Through our study, it was concluded that several novel detection mechanisms combining magnetic markers, magnetic sensors, and microfluidics are continuously emerging. Therefore, magnetic biosensors could in fact become competitive counterparts and even replace in the future the currently available optical and fluorescence detection systems, while maintaining high specificity, sensitivity, and fast readout times. Compared to such standard technologies, magnetic microfluidic biosensors directly translate the presence of a biological entity into an electrical signal, thus providing a fully electronic readout and enabling the future development of point-of-care devices.
Acknowledgments
Part of this work was financed by the Austrian Science Fund (FWF) with Project Number: P28544-N30. The authors apologize to any colleagues worldwide that have done excellent work in this field, but might not have been included due to space limitations.
Conflicts of Interest
The authors declare no conflict of interest.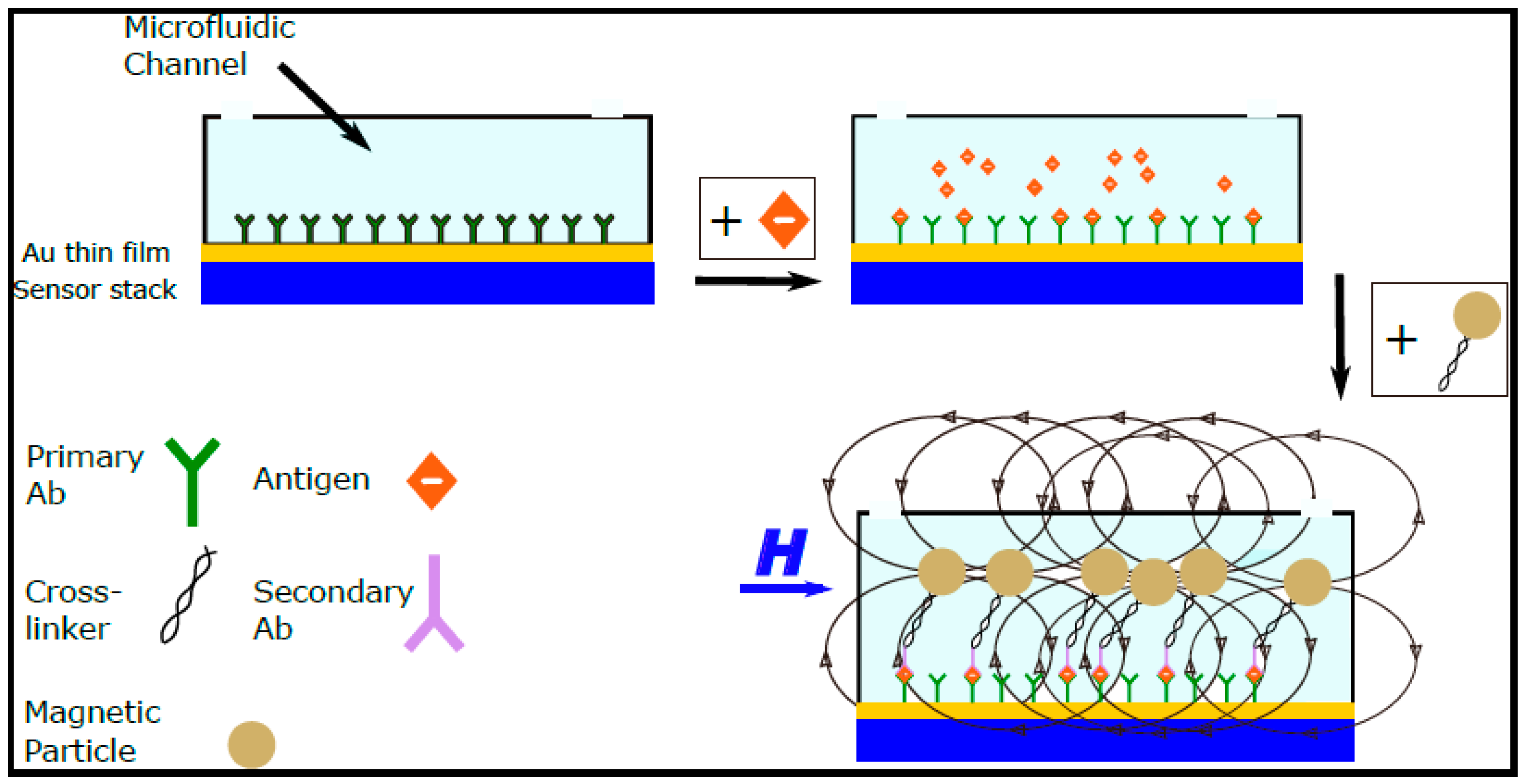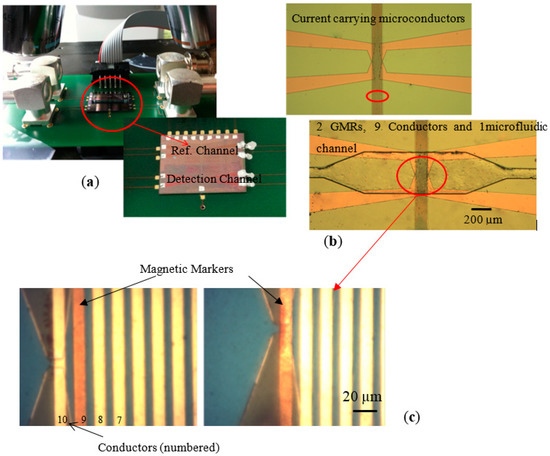 Figure 2. (a) The developed biosensor that consists of the giant magnetoresistance (GMR) sensors, the microconductors and the microfluidic channels; (b) Microscope image of the microconductors and a microfluidic channel; (c) Detailed image of the microconductors and the GMR sensor with magnetic markers as they moved from the right to the left microconductor.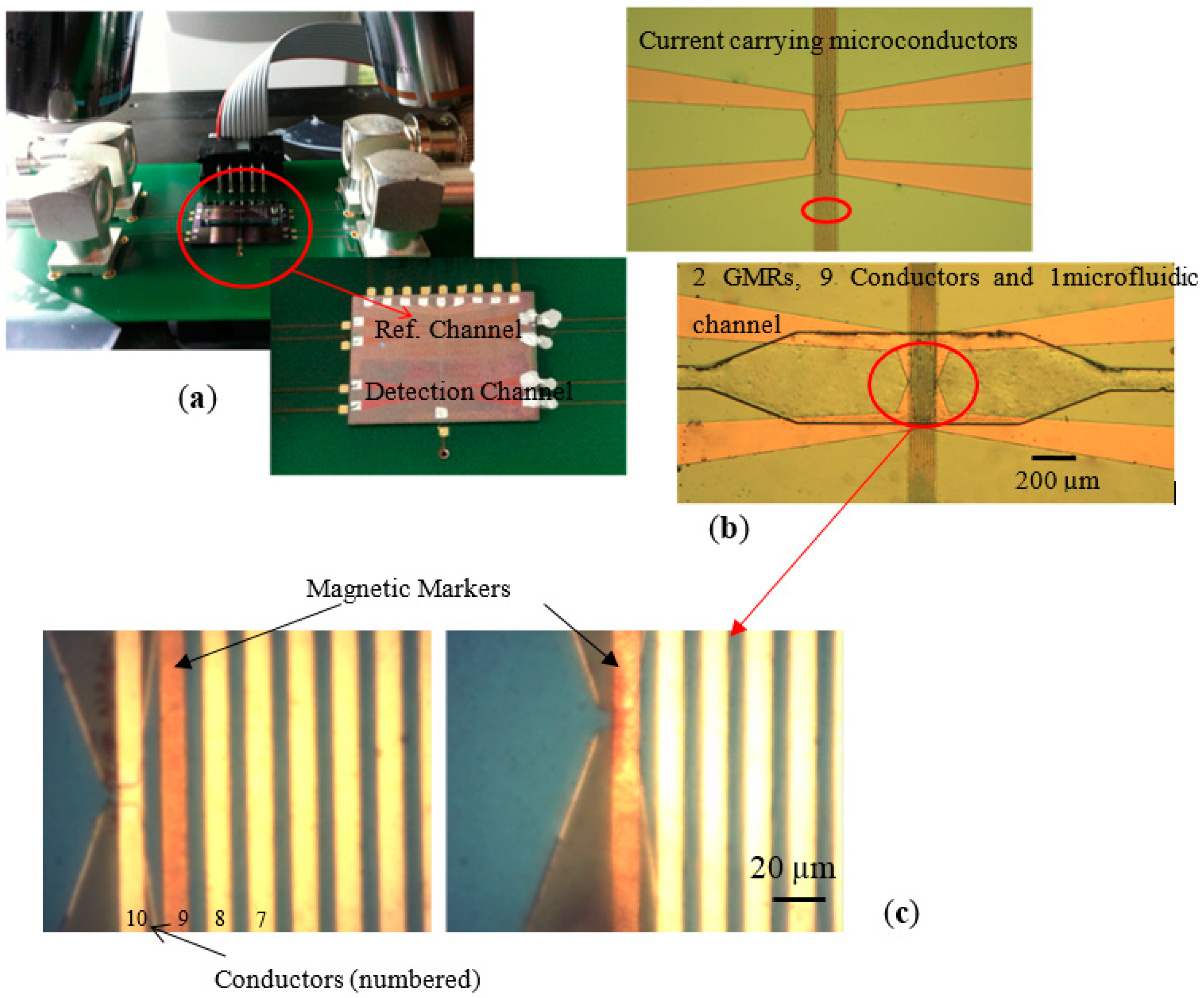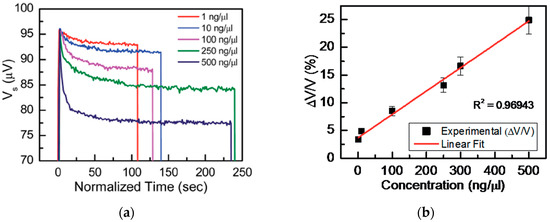 Figure 3.
(
a
) Change in the sensor voltage with accumulation of superparamagnetic Nanomag-D beads on the micro-conductor with respect to the normalized time (
t
assumed zero at the beginning of the measurement); (
b
) Relative change in the voltage across the GMR sensor head due to the presence of various concentrations of Nanomag-D beads on the microconductor (MC) (Reproduced with permission from [
36
]. The Royal Society of Chemistry, 2015.).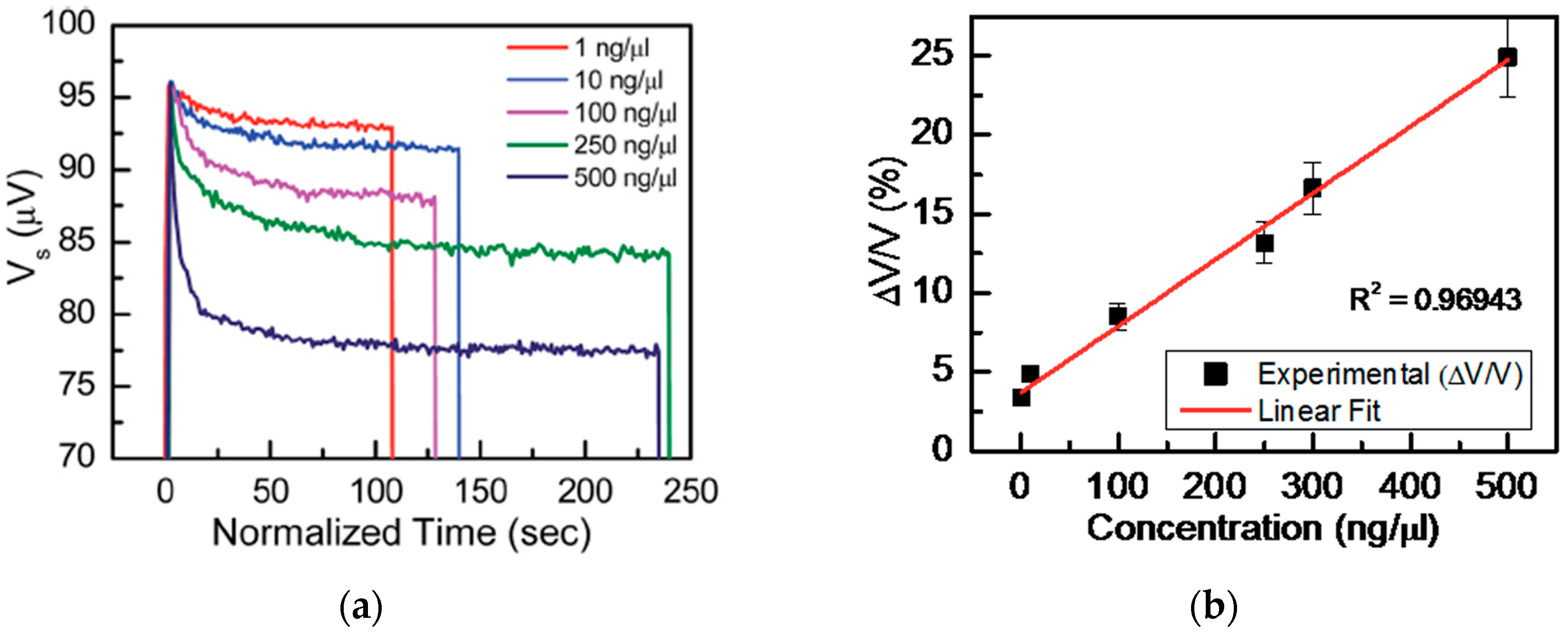 Figure 4.
Schematic of the magnetic particle quantification (MPQ)-cytometry workflow. The investigated cells are incubated with the suspended nanoparticles. The unbound nanoparticles are then removed from the sample by centrifugation. The amount of nanoparticles bound to the cells is measured using the magnetic particle quantification (MPQ) technique at combinatorial frequencies (Reproduced with permission from [
38
]. The Royal Society of Chemistry, 2016.).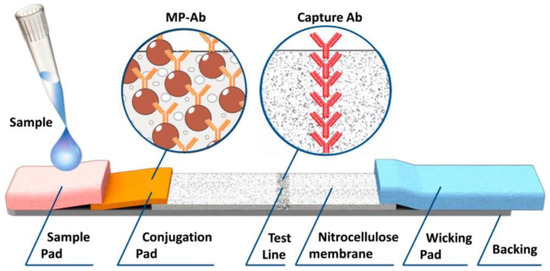 Figure 5.
Schematic of a test strip based on sandwich-lateral flow assay with antibody-conjugated magnetic particles as labels (Reproduced with permission from [
39
]. ACS Publications, 2016.).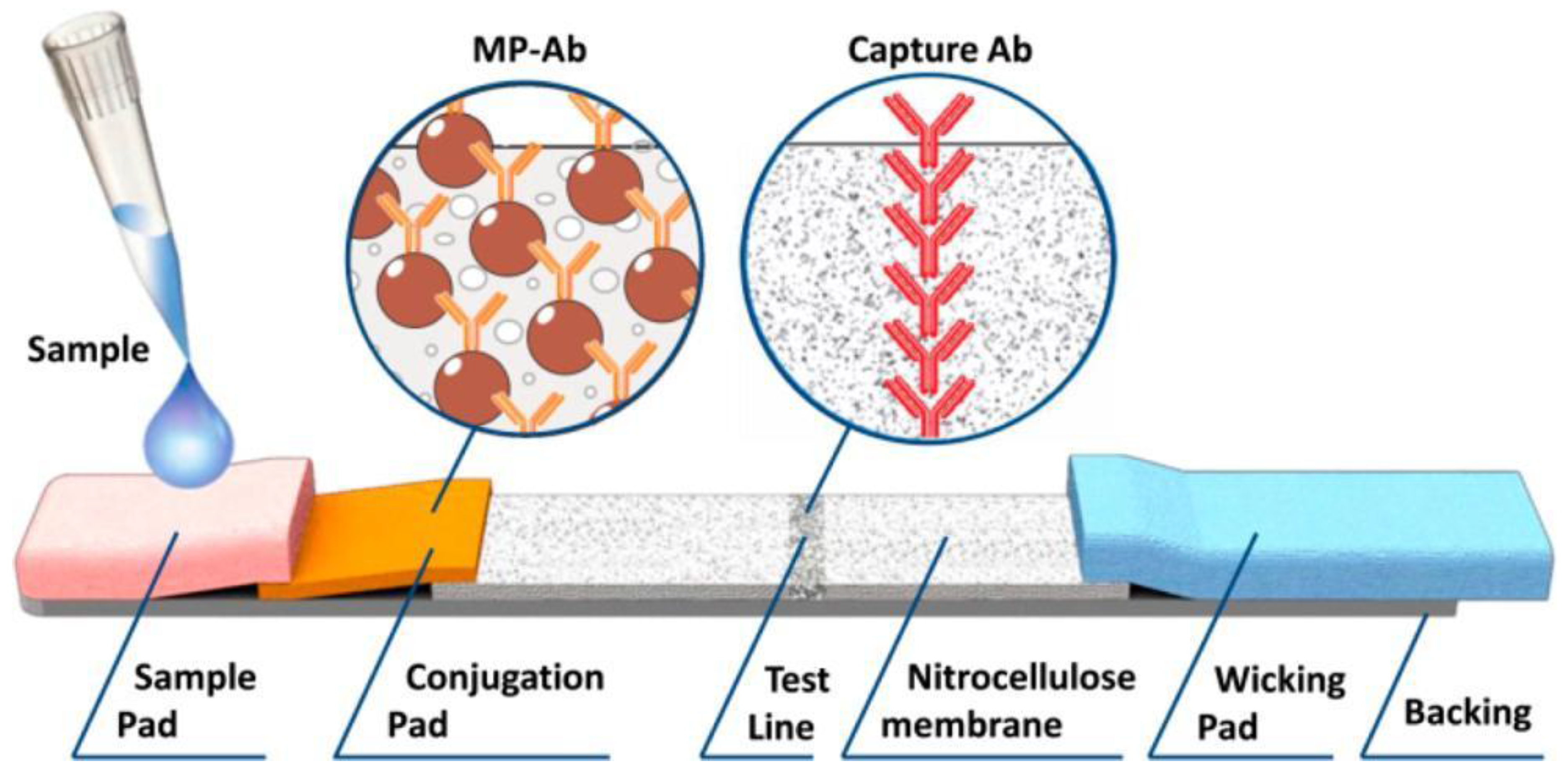 © 2017 by the authors. Licensee MDPI, Basel, Switzerland. This article is an open access article distributed under the terms and conditions of the Creative Commons Attribution (CC BY) license (http://creativecommons.org/licenses/by/4.0/).