Surface Functionalization of Iron Oxide Nanoparticles with Gallic Acid as Potential Antioxidant and Antimicrobial Agents
1
Nanotechnology & Catalysis Research Centre (NANOCAT), University of Malaya, Block A, Level 3, Institute of Postgraduate Studies Building, Kuala Lumpur 50603, Malaysia
2
Department of Pharmacy, Faculty of Medicine, University of Malaya, Kuala Lumpur 50603, Malaysia
3
Institute of Biological Sciences, Faculty of Science, University of Malaya, Kuala Lumpur 50603, Malaysia
*
Author to whom correspondence should be addressed.
Received: 5 August 2017 / Revised: 28 August 2017 / Accepted: 30 August 2017 / Published: 5 October 2017
Abstract
In this research, we report the size-controlled synthesis and surface-functionalization of magnetite with the natural antioxidant gallic acid (GA) as a ligand, using in situ and post-synthesis methods. GA functionalization provided narrow size distribution, with an average particle size of 5 and 8 nm for in situ synthesis of gallic acid functionalized magnetite
[email protected]
and
[email protected]
, respectively, which are ultra-small particles as compared to unfunctionalized magnetite (IONP) and post functionalized magnetite
[email protected]
with average size of 10 and 11 nm respectively. All the
[email protected]
samples were found hydrophilic with stable aggregation state. Prior to commencement of experimental lab work, PASS software was used to predict the biological activities of GA and it is found that experimental antioxidant activity using 2,2-diphenyl-1-picrylhydrazyl (DPPH) assay and antimicrobial studies using well diffusion method are in good agreement with the simulated results. Furthermore, the half maximal inhibitory concentration (IC50) values of DPPH antioxidant assay revealed a 2–4 fold decrease as compared to unfunctionalized IONP. In addition to antioxidant activity, all the three
[email protected]
proved outstanding antimicrobial activity while testing on different bacterial and fungal strains. The results collectively indicate the successful fabrication of novel antioxidant, antimicrobial
[email protected]
composite, which are magnetically separable, efficient, and low cost, with potential applications in polymers, cosmetics, and biomedical and food industries.
View Full-Text
►

▼

Figures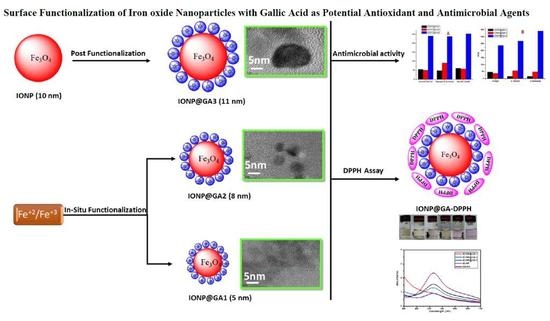 Graphical abstract
This is an open access article distributed under the
Creative Commons Attribution License
which permits unrestricted use, distribution, and reproduction in any medium, provided the original work is properly cited (CC BY 4.0).

Share & Cite This Article
MDPI and ACS Style
Shah, S.T.; A Yehya, W.; Saad, O.; Simarani, K.; Chowdhury, Z.; A. Alhadi, A.; Al-Ani, L.A. Surface Functionalization of Iron Oxide Nanoparticles with Gallic Acid as Potential Antioxidant and Antimicrobial Agents. Nanomaterials 2017, 7, 306.
Note that from the first issue of 2016, MDPI journals use article numbers instead of page numbers. See further details here.
Related Articles
Comments
[Return to top]