Targeted Sterically Stabilized Phospholipid siRNA Nanomedicine for Hepatic and Renal Fibrosis
Department of Biopharmaceutical Sciences (M/C 865), College of Pharmacy, University of Illinois at Chicago, 833 South Wood St., Chicago, IL 60612-7231, USA
*
Author to whom correspondence should be addressed.
Academic Editor: Andrea Danani
Received: 16 October 2015 / Revised: 23 December 2015 / Accepted: 28 December 2015 / Published: 5 January 2016
Abstract
Since its discovery, small interfering RNA (siRNA) has been considered a potent tool for modulating gene expression. It has the ability to specifically target proteins via selective degradation of messenger RNA (mRNA) not easily accessed by conventional drugs. Hence, RNA interference (RNAi) therapeutics have great potential in the treatment of many diseases caused by faulty protein expression such as fibrosis and cancer. However, for clinical application siRNA faces a number of obstacles, such as poor
in vivo
stability, and off-target effects. Here we developed a unique targeted nanomedicine to tackle current siRNA delivery issues by formulating a biocompatible, biodegradable and relatively inexpensive nanocarrier of sterically stabilized phospholipid nanoparticles (SSLNPs). This nanocarrier is capable of incorporating siRNA in its core through self-association with a novel cationic lipid composed of naturally occuring phospholipids and amino acids. This overall assembly protects and delivers sufficient amounts of siRNA to knockdown over-expressed protein in target cells. The siRNA used in this study, targets connective tissue growth factor (CTGF), an important regulator of fibrosis in both hepatic and renal cells. Furthermore, asialoglycoprotein receptors are targeted by attaching the galactosamine ligand to the nanocarries which enhances the uptake of nanoparticles by hepatocytes and renal tubular epithelial cells, the major producers of CTGF in fibrosis. On animals this innovative nanoconstruct, small interfering RNA in sterically stabilized phospholipid nanoparticles (siRNA-SSLNP), showed favorable pharmacokinetic properties and accumulated mostly in hepatic and renal tissues making siRNA-SSLNP a suitable system for targeting liver and kidney fibrotic diseases.
View Full-Text
►

▼

Figures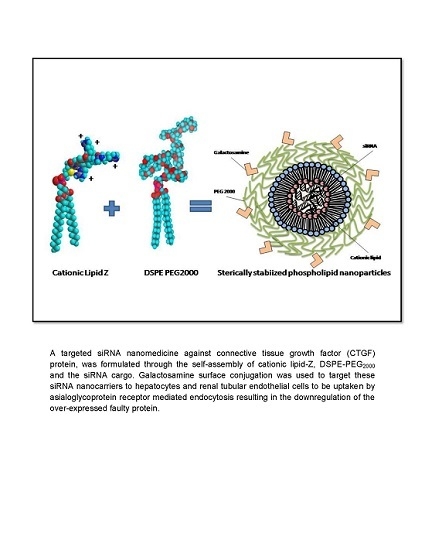 Graphical abstract
This is an open access article distributed under the
Creative Commons Attribution License
which permits unrestricted use, distribution, and reproduction in any medium, provided the original work is properly cited (CC BY 4.0).

Share & Cite This Article
MDPI and ACS Style
Khaja, F.; Jayawardena, D.; Kuzmis, A.; Önyüksel, H. Targeted Sterically Stabilized Phospholipid siRNA Nanomedicine for Hepatic and Renal Fibrosis. Nanomaterials 2016, 6, 8.
Note that from the first issue of 2016, MDPI journals use article numbers instead of page numbers. See further details here.
Related Articles
Comments
[Return to top]