Open Access This article is
freely available
re-usable
Editorial
Multiple-Criteria Decision-Making (MCDM) Techniques for Business Processes Information Management
1
Department of Construction Management and Real Estate, Vilnius Gediminas Technical University, Sauletekio al. 11, Vilnius LT-10223, Lithuania
2
Institute of Sustainable Construction, Vilnius Gediminas Technical University, Sauletekio al. 11, Vilnius LT-10223, Lithuania
3
Department of Mechanical Engineering, MCKV Institute of Engineering, Howrah-711204, India
*
Author to whom correspondence should be addressed.
Received: 21 December 2018 / Accepted: 21 December 2018 / Published: 23 December 2018
Abstract
:
Information management is a common paradigm in modern decision-making. A wide range of decision-making techniques have been proposed in the literature to model complex business processes. In this Special Issue, 16 selected and peer-reviewed original research articles contribute to business information management in various current real-world problems by proposing crisp or uncertain multiple-criteria decision-making (MCDM) models and techniques, mostly including multi-attribute decision-making (MADM) approaches in addition to a single paper proposing an interactive multi-objective decision-making (MODM) approach. The papers are mainly concentrated in three application areas: supplier selection and rational order allocation, the evaluation and selection of goods or facilities, and personnel selection/partner selection. A number of new approaches are proposed that are expected to attract great interest from the research community.
Keywords:
multiple-criteria decision-making (MCDM); multi-attribute decision-making (MADM); fuzzy sets; neutrosophic sets; rough sets; aggregation operators; adaptive neuro-fuzzy inference system (ANFIS)
1. Introduction
Complex information management is an important part of activity in modern decision-making. Today's real-world problems involve multiple data sets, some precise or objective and some uncertain or subjective.
Therefore, based on the above-discussed items that highlight the topicality of the issue, we invited authors to submit their original research articles and disseminate their new ideas related to MCDM models and techniques to rationalize the complex process of business information management and optimal decision-making. Reviewers and editors approved 16 papers from all the received submissions. Next, we discuss the contribution of the published papers to the aim of the Special Issue in terms of proposed decision-making approaches and application areas.
2. Contributions
This Special Issue includes 16 original research articles. The papers contribute to decision-making techniques for business processes information management by offering optimal choice benefits through a variety of methodologies and tools, mainly including novel or extended decision-making models and methods in uncertain environments.
3. Conclusions
The topics of this Special Issue piqued the interest of researchers both in Asia and in Europe; researchers from seven countries authored and co-authored papers published in the Issue.
Although the announced topics of the Special Issue covered MADM and MODM theories, mainly MADM approaches have been suggested, while a single research paper proposed a MODM model. Therefore, multi-attribute decision-making techniques proved to be highly applicable for business processes information management.
Most approaches suggested decision models under uncertainty, proposing extensions of decision-making methods in combination with fuzzy, rough, and neutrosophic sets theory. Particular attention was devoted to information aggregation operators; 65 percent of papers dealt with the item.
The application areas of proposed MCDM techniques mainly covered logistics and supply chains optimization, the selection of goods or facilities, and personnel selection.
Author Contributions
All authors contributed equally to this work.
Acknowledgments
The authors express their gratitude to the journal
Information
for offering an academic platform for researchers to contribute and exchange their recent findings in a sustainable environment.
Conflicts of Interest
The authors declare no conflict of interest.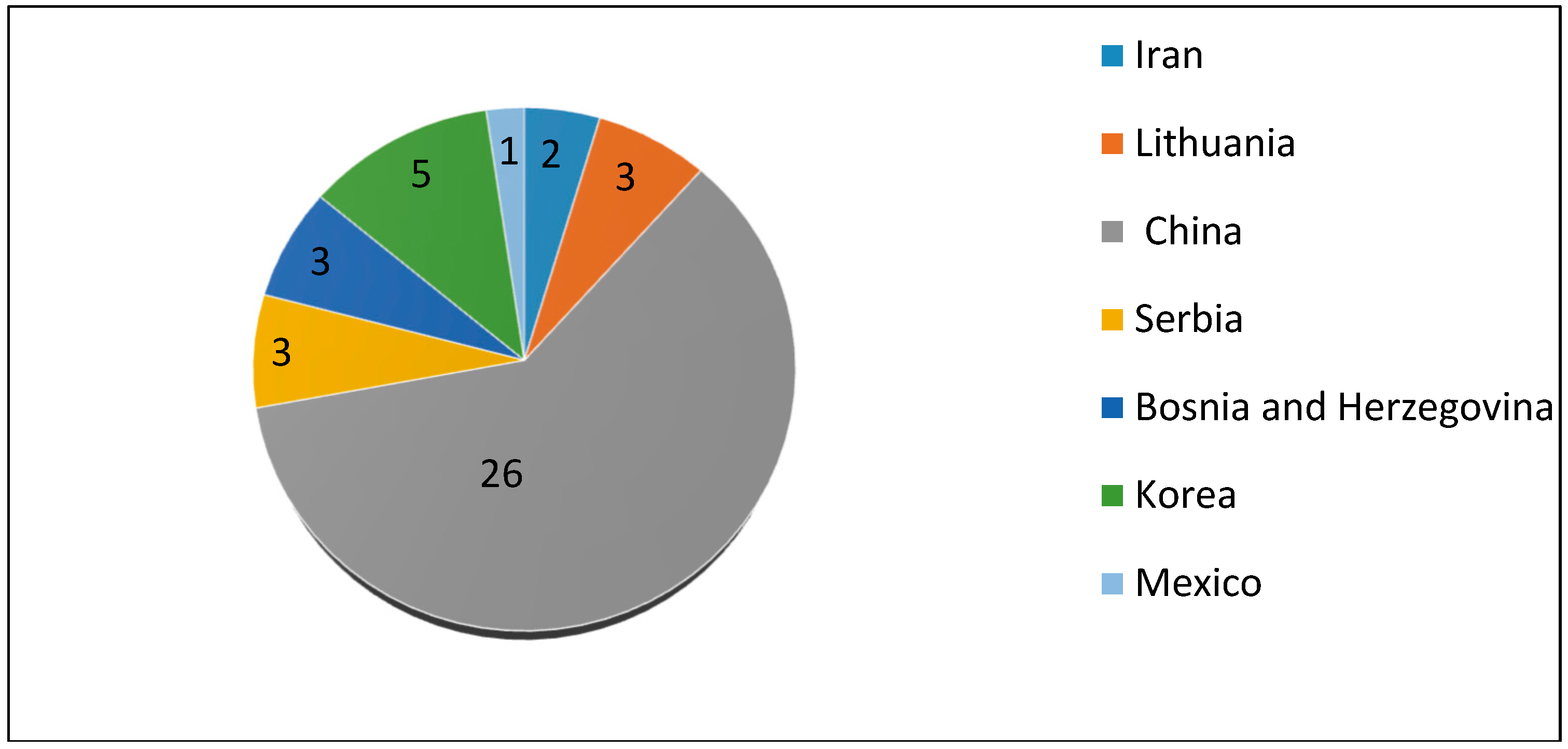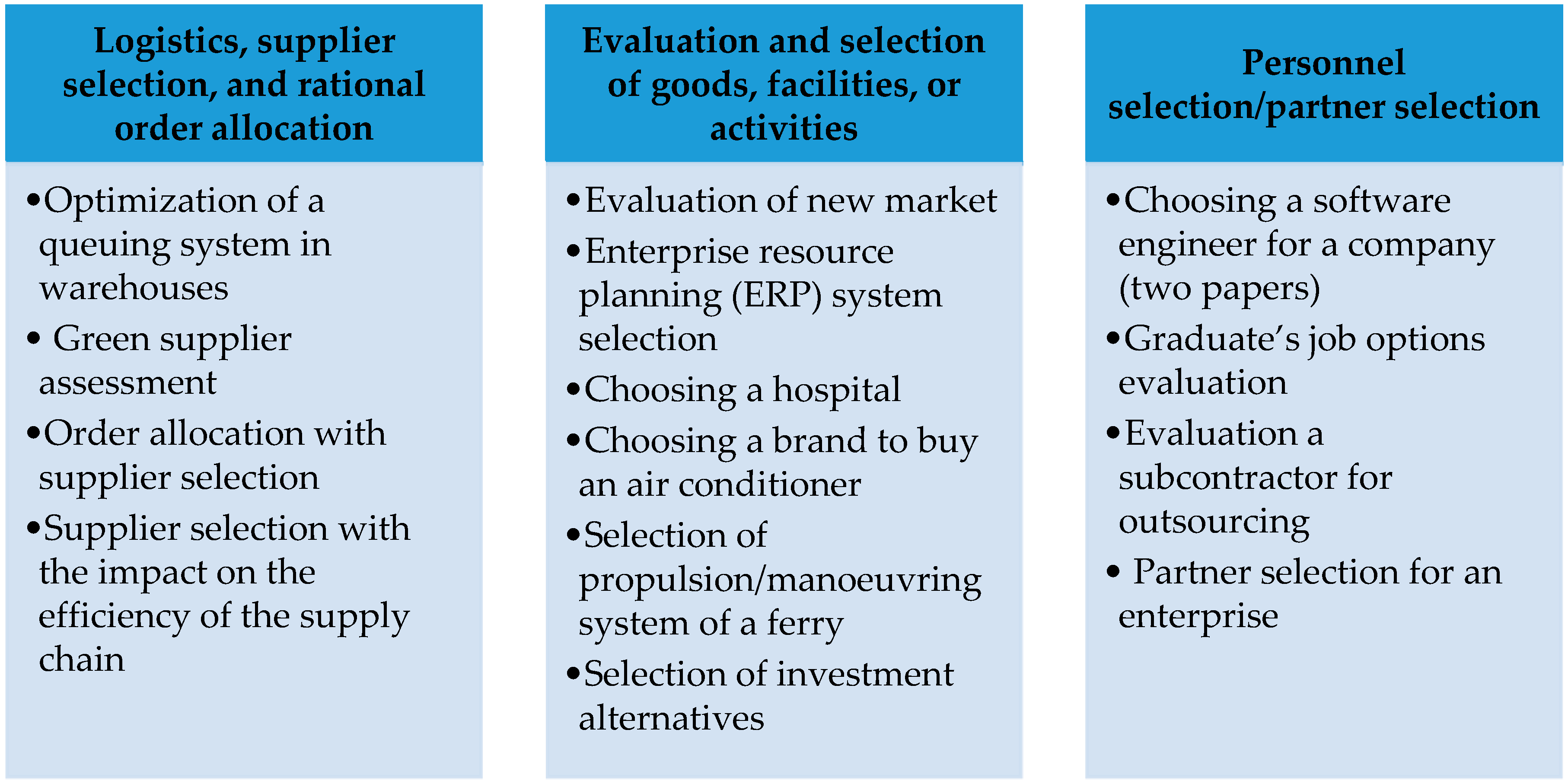 | Countries | Number of Papers |
| --- | --- |
| China | 10 |
| Korea | 2 |
| Bosnia and Herzegovina–Serbia | 1 |
| Bosnia and Herzegovina–Serbia–Lithuania | 1 |
| Iran–Lithuania | 1 |
| Mexico | 1 |

© 2018 by the authors. Licensee MDPI, Basel, Switzerland. This article is an open access article distributed under the terms and conditions of the Creative Commons Attribution (CC BY) license (http://creativecommons.org/licenses/by/4.0/).