Sediment Transport Model Including Short-Lived Radioisotopes: Model Description and Idealized Test Cases
1
Virginia Institute of Marine Science, College of William & Mary, Gloucester Point, VA 23062, USA
2
U.S. Geological Survey, Saint Petersburg, FL 33701, USA
3
U.S. Geological Survey, Woods Hole, MA 02543, USA
*
Author to whom correspondence should be addressed.
Received: 1 October 2018 / Revised: 15 November 2018 / Accepted: 24 November 2018 / Published: 27 November 2018
Abstract
Geochronologies derived from sediment cores in coastal locations are often used to infer event bed characteristics such as deposit thicknesses and accumulation rates. Such studies commonly use naturally occurring, short-lived radioisotopes, such as Beryllium-7 (
7
Be) and Thorium-234 (
234
Th), to study depositional and post-depositional processes. These radioisotope activities, however, are not generally represented in sediment transport models that characterize coastal flood and storm deposition with grain size patterns and deposit thicknesses. We modified the Community Sediment Transport Modeling System (CSTMS) to account for reactive tracers and used this capability to represent the behavior of these short-lived radioisotopes on the sediment bed. This paper describes the model and presents results from a set of idealized, one-dimensional (vertical) test cases. The model configuration represented fluvial deposition followed by periods of episodic storm resuspension. Sensitivity tests explored the influence on seabed radioisotope profiles by the intensities of bioturbation and wave resuspension and the thickness of fluvial deposits. The intensity of biodiffusion affected the persistence of fluvial event beds as evidenced by
7
Be. Both resuspension and biodiffusion increased the modeled seabed inventory of
234
Th. A thick fluvial deposit increased the seabed inventory of
7
Be and
234
Th but mixing over time greatly reduced the difference in inventory of
234
Th in fluvial deposits of different thicknesses.
View Full-Text
►

▼

Figures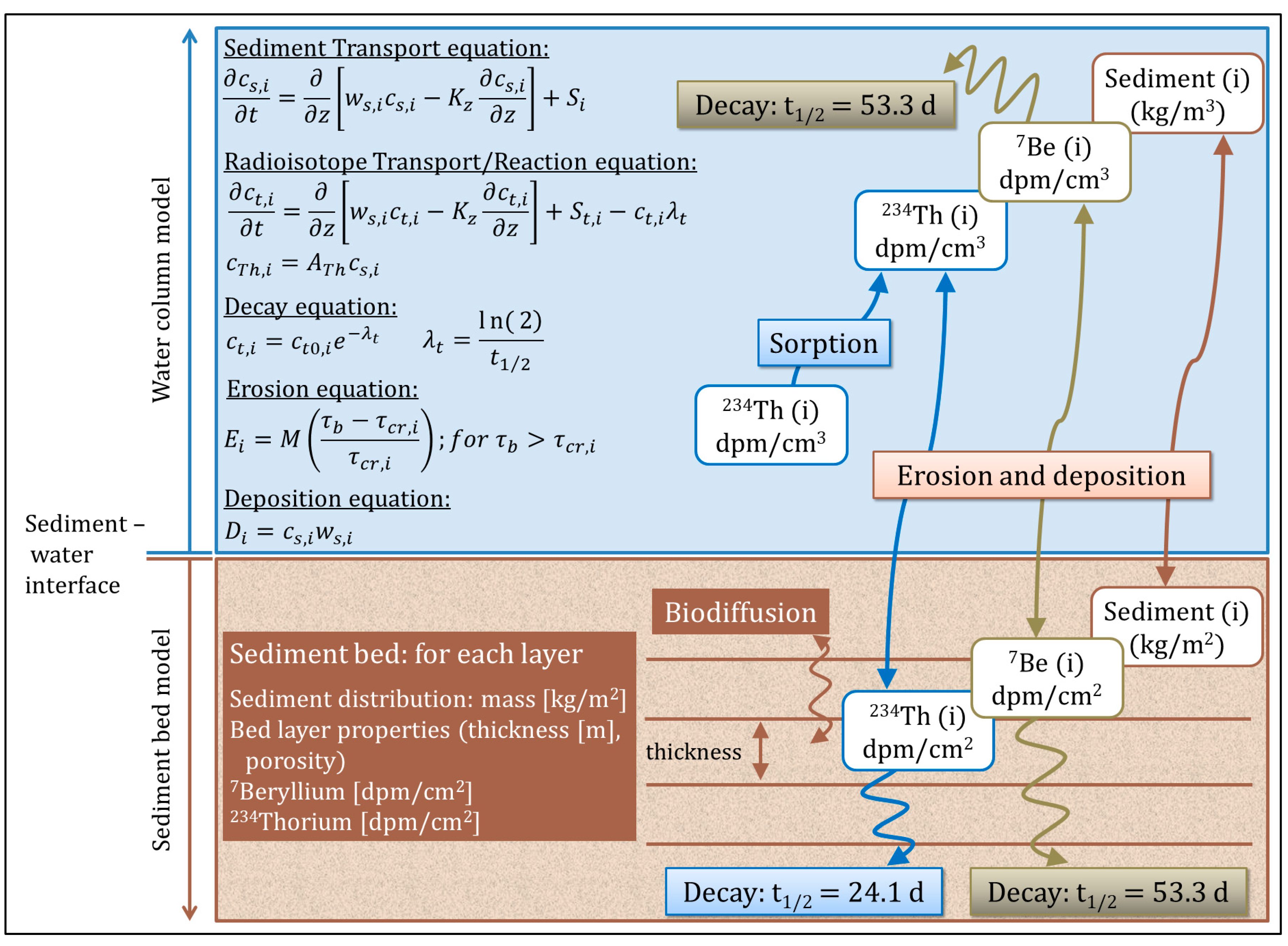 Figure 1
This is an open access article distributed under the
Creative Commons Attribution License
which permits unrestricted use, distribution, and reproduction in any medium, provided the original work is properly cited (CC BY 4.0).
Supplementary material
Externally hosted supplementary file 1
Doi: https://doi.org/10.25773/9fb7-0z25
Link: https://scholarworks.wm.edu/data/391/
Description: This dataset includes model input, code, and output used in the publication Birchler et al. (2018, Journal of Marine Science and Engineering), which used a coupled hydrodynamic-sediment transport-biogeochemical model to investigate the roles of resuspension, deposition, on biodiffusion on the behavior of short-lived radioisotopes in an idealized one-dimensional model setting. Model development for this project focused on incorporating radioisotope tracers into the sediment transport module in the Regional Ocean Modeling System (ROMS). As described in Birchler et al. (2018, Journal of Marine Science and Engineering), the model can account for supply and sorption of radioisotope tracers in the water column; biodiffusion of radioisotope tracers within the seabed; storage of radioisotope activity and inventory in the seabed; radioisotope decay in the seabed; and resuspension and removal of radioisotope tracers.

Share & Cite This Article
MDPI and ACS Style
Birchler, J.J.; Harris, C.K.; Sherwood, C.R.; Kniskern, T.A. Sediment Transport Model Including Short-Lived Radioisotopes: Model Description and Idealized Test Cases. J. Mar. Sci. Eng. 2018, 6, 144.
Note that from the first issue of 2016, MDPI journals use article numbers instead of page numbers. See further details here.
Related Articles
Comments
[Return to top]