Impact of Thiamethoxam in Papaya Cultivation (
Carica papaya

Linnaeus) in Rotation with Watermelon (

Citrullus lanatus

) Crops

1

Facultad de Ciencias Biológicas y Agropecuarias, Universidad Veracruzana, 94500 Córdoba, Veracruz, Mexico

2

Tecnológico Nacional de México/Instituto Tecnológico de Boca del Río, 03330 Veracruz, Mexico

*

Author to whom correspondence should be addressed.

Received: 1 April 2019 / Revised: 21 May 2019 / Accepted: 23 May 2019 / Published: 19 June 2019
Abstract
Thiamethoxam is a neonicotinoid with systemic and contact action, used in Mexico for the care of different traditional fruit crops, mainly in the cultivation of papaya. Soils of agroecosystems with papaya in the Gulf of Mexico area, the main producers of this fruit, are currently characterized as 45% of the producers organize papaya cultivation in rotation with watermelon at different sowing dates. The objective of this study was to determine the presence and concentration of thiamethoxam in soil and water during the rotation of papaya crop with watermelon culture in the central zone of Veracruz, Mexico. An analysis was carried out to know the management of thiamethoxam in different types of soil and in the region; and in an experimental plot. Soil and water samples were taken at different stages during the rotation of both crops. Those samples were taken systemically, starting with the watermelon culture cycle and then, during the phenological stages in the papaya crop cycle. Soil and water samples were analyzed using HPLC-UV equipment for its determination. The design was random blocks with six repetitions and the software used for data analysis was the Statistica 2007 program. Thiamethoxam was concentrated in amounts of ≥0.40 mg/L in 79% of the samples in water and ≥0.55 mg/kg in 75% of the samples in soil. The highest values of thiamethoxam in soil were in the stage of watermelon culture with 0.4 mg/kg and in the soil preparation of the papaya crop with concentrations of 0.8 mg/kg. Whereas irrigation water from the watermelon cultivation and the soil preparation for the papaya showed concentrations of 0.5 and 0.7 mg/L, respectively. The presence of thiamethoxam was identified in 100% of the samples analyzed in the stage of preparation of soil and water of the cultivation area, concluding a possible risk of residuality of thiamethoxam in fruits that exceed the maximum limits of tolerance established by the EPA, EFSA and FAO.
View Full-Text
►

▼

Figures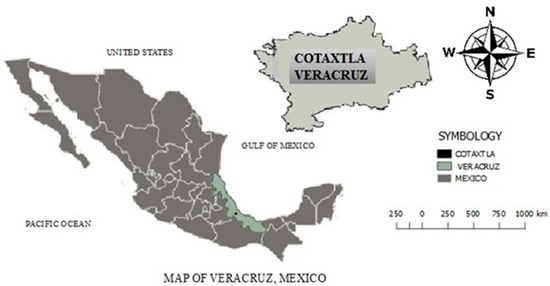 Figure 1
This is an open access article distributed under the
Creative Commons Attribution License
which permits unrestricted use, distribution, and reproduction in any medium, provided the original work is properly cited (CC BY 4.0).

Share & Cite This Article
MDPI and ACS Style
Juan Valente, M.-G.; María del Refugio, C.-C.; Daniel Arturo, R.-L.; Joaquín, M.-G.; Fabiola, L.-R.; Otto Raúl, L.-O. Impact of Thiamethoxam in Papaya Cultivation (Carica papaya Linnaeus) in Rotation with Watermelon (Citrullus lanatus) Crops. Agriculture 2019, 9, 129.
Note that from the first issue of 2016, MDPI journals use article numbers instead of page numbers. See further details here.
Related Articles
Comments
[Return to top]