Effects of Frequency of Irrigation on Dry-Season Furrow-Irrigated Maize and Peanut Production in the Rice-Growing Lowlands of the Lower Mekong Basin
1
Centre for Regional and Rural Futures (CeRRF), Deakin University, Research Station Road, Griffith, NSW 2680, Australia
2
Graham Centre for Agricultural Innovation, Charles Sturt University, Pugsley Ave, Wagga Wagga, NSW 2678, Australia
3
Research Centre for Climate Change Resilience in Agriculture, National Agriculture and Forestry Research Institute, Nongviengkham Village, Xaythany District, Vientiane 0106, Laos
4
Cambodian Agricultural Research and Development Institute (CARDI), National Road No 3, Sangkat Prateah Lang, Khan Dangkoar, Phnom Penh 12000, Cambodia
5
Institute of Technology of Cambodia (ITC), Russian Conf. Blvd., Phnom Penh 12000, Cambodia
6
Ministry of Agriculture and Forestry, Agricultural Land Use Planning Centre, Department of Agricultural Land Management, Vientiane 0101, Laos
7
Phone Ngam Rice Research and Seed Multiplication Centre, Pakse 1600, Laos
*
Authors to whom correspondence should be addressed.
Received: 17 May 2019 / Revised: 7 June 2019 / Accepted: 11 June 2019 / Published: 18 June 2019
Abstract
Incorporation of dry-season crops in the lowland production systems of the Lower Mekong Basin (LMB) may provide local smallholder farmers the opportunity to increase household cash income through diversification. However, water availability and lowland rice-growing soil characteristics often limit the yield potential of dry-season crops in rotation with wet-season rice. This work studied the effects of three frequencies of irrigation on the crop performance of dry-season furrow-irrigated maize (
Zea mays
Linnaeus) and peanut (
Arachis hypogaea
Linnaeus) grown on lowland rice-growing soils in terms of biomass, yield and water productivity (WP). In addition, the response of maize to two fertiliser rates was evaluated. The study was carried out in sites with typical lowland rice-growing soils located in Cambodia and Laos. Soil matric potential (Ψ
m
) was monitored during the season at the centre of the beds and percentage of canopy cover, aboveground biomass (AGB), yield and WP were determined. The results showed that within the first weeks of furrow irrigation (~two weeks after emergence), Ψ
m
dropped considerably (<−200 kPa) after all treatments at both sites, suggesting that water movement from the furrows to the centre of the beds was limited. Shorter frequency of irrigation led to significantly (
p
< 0.05) higher AGB and yield in maize but not in peanut. Fertiliser rates did not have a significant effect on maize. WP ranged from 0.84 kg m
−3
to 1.42 kg m
−3
for maize and from 0.27 kg m
−3
to 0.49 kg m
−3
for peanut with no significant differences among treatments. This work provides evidence of a lateral water movement limitation that is not well documented for the establishment of furrow-irrigated dry-season crop production in the lowlands of the LMB. Further research on methodologies that could help to overcome this limitation in these soils, such as the application of soil amendments or implementation of alternative irrigation systems, would be of great value.
View Full-Text
►

▼

Figures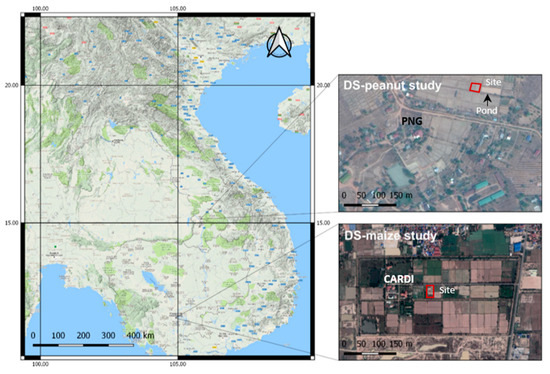 Figure 1
This is an open access article distributed under the
Creative Commons Attribution License
which permits unrestricted use, distribution, and reproduction in any medium, provided the original work is properly cited (CC BY 4.0).

Share & Cite This Article
MDPI and ACS Style
Ballester, C.; Vote, C.; Hornbuckle, J.; Inthavong, T.; Lim, V.; Oeurng, C.; Quayle, W.; Seng, V.; Sengxua, P.; Sihathep, V.; Touch, V.; Eberbach, P. Effects of Frequency of Irrigation on Dry-Season Furrow-Irrigated Maize and Peanut Production in the Rice-Growing Lowlands of the Lower Mekong Basin. Agriculture 2019, 9, 128.
Note that from the first issue of 2016, MDPI journals use article numbers instead of page numbers. See further details here.
Related Articles
Comments
[Return to top]