Modelling Soil Water Content in a Tomato Field: Proximal Gamma Ray Spectroscopy and Soil–Crop System Models
1
Department of Physics and Earth Sciences, University of Ferrara, Via Saragat 1, 44121 Ferrara, Italy
2
INFN, Ferrara Section, Via Saragat 1, 44121 Ferrara, Italy
3
INFN, Legnaro National Laboratories, Viale dell'Università 2, 35020 Padua, Italy
4
Consorzio Bonifica CER, Via Masi 8, 40137, Bologna, Italy
5
Department of Agricultural and Food Sciences (DISTAL), University of Bologna, Viale Fanin 44, 40127 Bologna, Italy
6
Servizio Idro-Meteo-Clima di Bologna Agenzia Regionale Prevenzione, Ambiente ed Energia, Via Po 5, 40139 Bologna, Italy
*
Author to whom correspondence should be addressed.
Received: 12 March 2018 / Revised: 6 April 2018 / Accepted: 17 April 2018 / Published: 19 April 2018
Abstract
Proximal soil sensors are taking hold in the understanding of soil hydrogeological processes involved in precision agriculture. In this context, permanently installed gamma ray spectroscopy stations represent one of the best space–time trade off methods at field scale. This study proved the feasibility and reliability of soil water content monitoring through a seven-month continuous acquisition of terrestrial gamma radiation in a tomato test field. By employing a 1 L sodium iodide detector placed at a height of 2.25 m, we investigated the gamma signal coming from an area having a ~25 m radius and from a depth of approximately 30 cm. Experimental values, inferred after a calibration measurement and corrected for the presence of biomass, were corroborated with gravimetric data acquired under different soil moisture conditions, giving an average absolute discrepancy of about 2%. A quantitative comparison was carried out with data simulated by AquaCrop, CRITeRIA, and IRRINET soil–crop system models. The different goodness of fit obtained in bare soil condition and during the vegetated period highlighted that CRITeRIA showed the best agreement with the experimental data over the entire data-taking period while, in presence of the tomato crop, IRRINET provided the best results.
View Full-Text
►

▼

Figures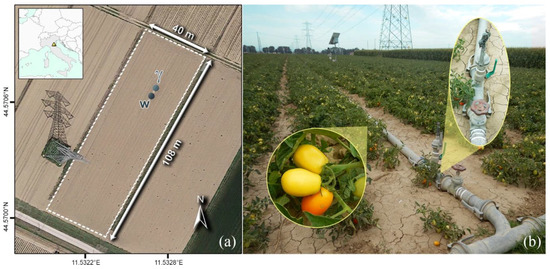 Figure 1
This is an open access article distributed under the
Creative Commons Attribution License
which permits unrestricted use, distribution, and reproduction in any medium, provided the original work is properly cited (CC BY 4.0).

Share & Cite This Article
MDPI and ACS Style
Strati, V.; Albéri, M.; Anconelli, S.; Baldoncini, M.; Bittelli, M.; Bottardi, C.; Chiarelli, E.; Fabbri, B.; Guidi, V.; Raptis, K.G.C.; Solimando, D.; Tomei, F.; Villani, G.; Mantovani, F. Modelling Soil Water Content in a Tomato Field: Proximal Gamma Ray Spectroscopy and Soil–Crop System Models. Agriculture 2018, 8, 60.
Note that from the first issue of 2016, MDPI journals use article numbers instead of page numbers. See further details here.
Related Articles
Comments
[Return to top]