Multidiscipline Stroke Post-Acute Care Transfer System: Propensity-Score-Based Comparison of Functional Status
1
Department of Physical Medicine and Rehabilitation, Pingtung Christian Hospital, Pingtung 90059, Taiwan
2
Department of Internal Medicine, St. Joseph Hospital, Kaohsiung 80760, Taiwan
3
Division of Neurology, Department of internal medicine, Yuan's General Hospital, Kaohsiung 80249, Taiwan
4
Department of Neurology, Kaohsiung Medical University Hospital, Kaohsiung 80756, Taiwan
5
School of Public Health, Taipei Medical University, Taipei 11031, Taiwan
6
Center for Neurotrauma and Neuroregeneration, Taipei Medical University, Taipei 11031, Taiwan
7
Department of Healthcare Administration and Medical Informatics, Kaohsiung Medical University, Kaohsiung 80708, Taiwan
8
Department of Business Management, National Sun Yat-sen University, Kaohsiung 80424, Taiwan
9
Department of Medical Research, Kaohsiung Medical University Hospital, Kaohsiung 80756, Taiwan
10
Department of Medical Research, China Medical University Hospital, China Medical University, Taichung 40447, Taiwan
*
Author to whom correspondence should be addressed.
Received: 2 July 2019 / Revised: 15 August 2019 / Accepted: 15 August 2019 / Published: 16 August 2019
Abstract
Few studies have investigated the characteristics of stroke inpatients after post-acute care (PAC) rehabilitation, and few studies have applied propensity score matching (PSM) in a natural experimental design to examine the longitudinal impacts of a medical referral system on functional status. This study coupled a natural experimental design with PSM to assess the impact of a medical referral system in stroke patients and to examine the longitudinal effects of the system on functional status. The intervention was a hospital-based, function oriented, 12-week to 1-year rehabilitative PAC intervention for patients with cerebrovascular diseases. The average duration of PAC in the intra-hospital transfer group (31.52 days) was significantly shorter than that in the inter-hospital transfer group (37.1 days) (
p
< 0.001). The intra-hospital transfer group also had better functional outcomes. The training effect was larger in patients with moderate disability (Modified Rankin Scale, MRS = 3) and moderately severe disability (MRS = 4) compared to patients with slight disability (MRS = 2). Intensive post-stroke rehabilitative care delivered by per-diem payment is effective in terms of improving functional status. To construct a vertically integrated medical system, strengthening the qualified local hospitals with PAC wards, accelerating the inter-hospital transfer, and offering sufficient intensive rehabilitative PAC days are the most essential requirements.
View Full-Text
►

▼

Figures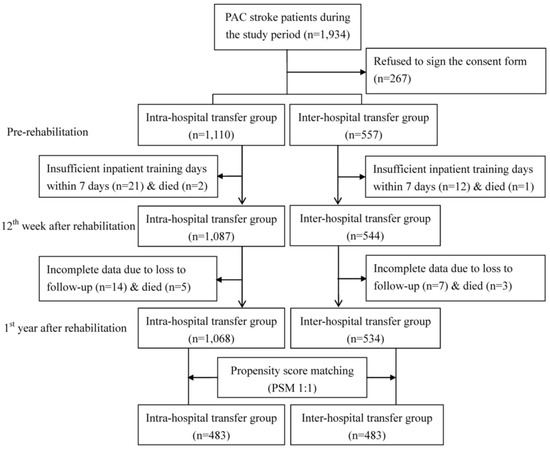 Figure 1
This is an open access article distributed under the
Creative Commons Attribution License
which permits unrestricted use, distribution, and reproduction in any medium, provided the original work is properly cited (CC BY 4.0).

Share & Cite This Article
MDPI and ACS Style
Wang, C.-Y.; Hsien, H.-H.; Hung, K.-W.; Lin, H.-F.; Chiou, H.-Y.; Yeh, S.-C.J.; Yeh, Y.-J.; Shi, H.-Y. Multidiscipline Stroke Post-Acute Care Transfer System: Propensity-Score-Based Comparison of Functional Status. J. Clin. Med. 2019, 8, 1233.
Note that from the first issue of 2016, MDPI journals use article numbers instead of page numbers. See further details here.
Related Articles
Comments
[Return to top]