Open Access This article is
freely available
re-usable
Review
Dispelling Myths about Antenatal TAPS: A Call for Action for Routine MCA-PSV Doppler Screening in the United States
1
Department of Social Sciences, D'Youville College, 591 Niagara Street, Buffalo, NY 14201, USA
2
Department of Community and Family Medicine, Northeast Ohio Medical University, 4209 State Route 44, PO Box 95, Rootstown, OH 44272, USA
3
Twin Anaemia Polycythemia Sequence (TAPS) Support Group, TAPS Patient Advocate, 1326HS Almere, The Netherlands
*
Author to whom correspondence should be addressed.
Received: 20 May 2019 / Accepted: 1 July 2019 / Published: 4 July 2019
Abstract
:
In the United States, routine middle cerebral artery peak systolic velocity (MCA-PSV) Doppler screening for the detection of antenatal twin anemia-polycythemia sequence (TAPS) is not recommended. The current and only national clinical guideline from the highly-influential Society for Maternal-Fetal Medicine states that, "There is no evidence that monitoring for TAPS with MCA PSV Doppler at any time, including > 26 weeks, improves outcomes, so that this additional screening cannot be recommended at this time." We argue this recommendation has disproportionate influence on patients and the care they are offered and receive. We use current evidence to highlight and dispel pervasive myths surrounding antenatal TAPS and the value of routine MCA-PSV screening. An ethical framework that illustrates the importance of giving patients the opportunity for routine screening is presented. Findings demonstrate that: (1) both spontaneous and post-laser TAPS is a serious, potentially life-threatening complication, (2) treatment for TAPS is effective and includes expectant management, intrauterine transfusion (IUT), or surgery, (3) and routine MCA-PSV, which has satisfactory diagnostic accuracy, is currently the only way to provide early detection of TAPS. We conclude that routine TAPS screening is a medically proven valuable resource that should be offered to patients in need and to the clinicians who are trying to act toward their benefit.
Keywords:
twin anemia-polycythemia sequence; TAPS; MCA-PSV Doppler; screening; clinical guidelines; monochorionic diamniotic twin pregnancy
1. Introduction
However, many providers and clinical organizations have chosen not to embrace and utilize current-and-growing TAPS knowledge for reasons we discuss below.
This paper seeks to use current information to dispel these myths while discussing inherent ethical issues borne from withholding the opportunity for routine MCA-PSV screening for MC patients. What we have provided is an argumentative review to refute deeply embedded assumptions and information, which have led to poorly examined guidelines and practices that negatively impact the welfare of our patient populations. The approaches to this paper follow the philosophical traditions of theoretical analysis, which is an accepted methodology in bioethics and the social sciences that intersect with medical research methods. The postulates, theoretical support, and argumentative framework substantiate our descriptive claims to achieve valid and sound logical argumentation to be considered for the advancement of future research and discussion in this area.
1.1. MYTH 1: The Natural History of TAPS is Unknown and so MCA-PSV Screening Cannot be Recommended
Stage 1: Delta MCA-PSV > 0.5 MoM, without signs of fetal compromise
Stage 2: Delta MCA-PSV > 0.7 MoM, without signs of fetal compromise
Stage 3: As Stage 1 or 2, with cardiac compromise of donor *
Stage 4: Hydrops of donor
Stage 5: Intrauterine demise of one or both fetuses preceded by TAPS
* Defined as critically abnormal flow: Doppler shows absent or reversed end-diastolic flow in umbilical artery, pulsatile flow in umbilical vein and/or increased pulsatility index or reversed flow in ductus venosus.
1.2. MYTH 2: MCA-PSV Doppler is not a Reliable Test for TAPS
1.3. MYTH 3: TAPS Presents with Other Symptoms that Will be Visible via Other Tests
It is important to note we are not arguing that other complications cannot accompany TAPS—they certainly can. The argument is that other complications or indications are not common nor required and TAPS screening should not be predicated upon their development.
It is important to pause here and reflect on the idea of withholding routine MCA-PSV screening from patients until they begin to experience other MC complications. Not only are other MC complications not required to precede TAPS, but such belief trivializes the inherent risks that already accompany MC gestations. That is, they are all complicated.
Likewise, deferring MCA-PSV screening for TAPS until other MC complications (possibly) present is no longer state-of-the-art in modern obstetrics.
There is no rationale to support deferring TAPS screening until additional unsupported and unnecessary criteria have been met. Just as deferring routine bi-weekly ultrasounds and refusing to acknowledge inherent MC risks was detrimental to 2010 MC care, deferring routine TAPS screening and failure to acknowledge its inherent stand-alone risk is now detrimental to 2019 MC care.
1.4. MYTH 4: There is an Unclear Treatment Protocol for TAPS
1.5. MYTH 5: If You Go Looking for Something to Be Wrong, You're Going to Find It
If MCA-PSV Dopplers are being performed correctly, something that does not exist should not be found. As demonstrated in the discussion of Myth 2 (see
Table 1
), the sensitivity of MCA-PSV ≥ 1.5 MoM to predict severe anemia in TAPS donors has been shown to be 94% and specificity 74%. The sensitivity of MCA-PSV ≤ 1.0 MoM to predict polycythemia in TAPS recipients is even higher with a 97% and a specificity of 96% [
24
]. Additionally, diagnostic accuracy for delta MCA-PSV > 0.5 MoM for predicting TAPS shows a sensitivity of 83% and a specificity of 100% [
20
].
False positives can be further reduced by adhering to proper scanning technique, obtaining intra- and inter-rater consensuses and remaining mindful of additional conditions that may alter readings, such as previous transfusions. Importantly, performing serial MCA-PSV readings can reduce the false positive rate to only 5% [
41
].
There may be apprehension on behalf of some providers regarding MCA-PSV screening and its interpretation for diagnosing TAPS [
12
]; however, it should be accepted as a highly reliable test that can be reach maximum reliability with the implementation of proper training and technique.
1.6. MYTH 6: MCA-PSV Doppler Screening Results will Just Give Pregnant Women Undue Stress
Women experiencing pregnancies with obstetric complications face increased rates of stress and anxiety [
51
,
52
] and MCDA twins are recognized for their high risk [
47
]. Rates of maternal anxiety typically decrease as the complicated pregnancy proceeds [
53
,
54
,
55
,
56
,
57
] however, Beauquier-Maccotta et al. [
58
] report that MC pregnancies not affected by TTTS demonstrated increased maternal anxiety as the pregnancy progressed. The percent of women with MC pregnancies not affected by TTTS meeting clinical cutoffs for anxiety increased from 20% when assessed at gestational week 20 to 29% by week 30. The authors suggest this may occur because the pregnancy carries elevated risk throughout the entire gestation. Per U.S. clinical guidelines, the MCDA population that does not demonstrate TTTS should already be receiving biweekly ultrasounds to screen for TTTS starting at week 16 until the conclusion of the pregnancy [
11
]. Although guidelines in England do not recommend MCA-PSV screening for uncomplicated MC pregnancies, they do recognize the utility of conducting multiple screenings during a single ultrasound session and fully informing patients about all testing [
35
]. Failure to perform routine MCA-PSV screening during an already intensive screening schedule based on concerns regarding maternal mental health ignores the reality that MCDA pregnancies are by their nature anxiety provoking and stressful experiences.
Additionally, steps can be taken to mitigate maternal anxiety with regards to screening and treatment for TAPS. Specifically, reducing parental uncertainty has been demonstrated to help alleviate maternal anxiety during medically complicated pregnancies [
53
,
59
]. This could include providing information about screening, diagnosis, and possible treatment plans.
1.7. MYTH 7: TAPS is Incredibly Rare and So Routine Screening is Not Necessary Unless the Patient is Post-Laser or Having Other Complications
The monozygotic twinning rate is roughly 3.5 per 1000 pregnancies, with approximately 70% being monochorionic [
60
], thus classifying MC twinning as "rare." However, once a woman is confirmed monochorionic, her risks of TTTS, IUGR, congenital abnormalities, and TAPS are no longer rare; they are actually quite common. Up to 25% of monochorionic pregnancies are complicated by intrauterine growth restriction, TTTS, or unrelated intrauterine fetal death [
61
]. Up to 6% of MC twins will experience spontaneous TAPS [
14
] and up to 16% of those who had laser for TTTS will go on to experience TAPS [
6
]. We again caution that the figure particularly for spontaneous TAPS is likely underestimated due to low levels of routine ante and post-natal TAPS screening.
Nonetheless, six-percent represents a roughly 1 in 16 risk of being affected by a disorder that can result in serious fetal injury and/or death [
27
]. When considering the possible severity of the effects of TAPS, 1 in 16 becomes gravely serious and placing trust in "rarity" is no longer acceptable.
We have already established that other complications preceding TAPS are not necessarily present (although not mutually exclusive either), emphasizing the need to routinely check for the presence of TAPS.
1.8. MYTH 8: Routine MCA-PSV Doppler Screening Results in Too Many Unnecessary Premature Births
Risks associated with premature birth are well-established and should not be undervalued. This reality forces us to revisit the argument that TAPS diagnosis, and resulting conversations regarding treatment options, should always include a careful explanation of benefits, risks, and unknowns.
In the end, rarely will the best decision be abundantly clear. The primary argument of this paper, however, is that the decision ultimately rests with the patient. The patient must receive all of the evidence available—predicated upon MCA-PSV Doppler measurement values—so that she can manage her care and make informed decisions.
A 2016 literature review showed that amongst patients with spontaneous TAPS, average gestational age at birth was 32 weeks (23.6–38 weeks) [
45
]. When antenatal TAPS is detected, treatment options become available. Antenatal TAPS treatments can elongate a gestation. In a retrospective study where laser treatment for antenatally detected TAPS is compared to IUT or expectant management, the median time between diagnosis and birth was 11 weeks in the laser group compared to 5 weeks after intrauterine transfusion, and 8 weeks after expectant management [
15
]. Since diagnosis of TAPS at an earlier gestational age is associated with more favorable outcomes [
62
], routine MCA-PSV screening serves as a beneficial tool for minimizing TAPS-related morbidity.
2. Current U.S. Clinical Recommendations for TAPS Screening
3. Ethics of TAPS Screening and Management
Because clinicians may have concerns regarding the validity of screening and diagnostic techniques as well as the risks associated with treatment, information related to MCA-PSV for routine TAPS screening is not consistently offered to patients. Providing patients with this information fits within a normative framework for reproductive health, involving three unified elements: (1) a dialectical, therapeutic relationship that balances the duties of providers and the rights of patients, (e.g., the duty of disclosure and right to information) and preserves the fiduciary role of clinicians; (2) considerations of justice that afford patients with fair and reasonable opportunities to secure their values and interests (e.g., parental rights), and; (3) ethical acts that promote the welfare of patients (beneficence), while avoiding unnecessary harms (nonmaleficence). Such frameworks that address challenges in prenatal screening and prenatal decision-making are presented in the literature [
63
,
64
,
65
]. The unified elements of this proposed framework guides a better understanding of reproductive freedoms and the dependent moral status of fetuses [
66
] while illustrating the prevailing ethical reasons for urgent policy and practice changes. These unified elements, as described below, are not discrete and should be considered holistically for optimal ethical guidance.
3.1. Preserving the Fiduciary Relationship
One of the most critical ethical considerations for TAPS screening is the development and preservation of the therapeutic, fiduciary relationship between clinician and patient, established through intimacy, trust, and care and requiring clinicians to prudently care for and act toward the benefit of their patients. In the context of routine TAPS screening, the therapeutic, fiduciary relationship requires clinicians to fully inform and disclose available screening options, recognizing the needs of patients as individual persons and not as statistics or probabilities. As part of their fiduciary responsibilities, clinicians are expected to learn new technologies and practices supported by evidence-based medicine (e.g., monitoring methods), implement current policies and recommendations into clinical practice, and address any concerns (i.e., TAPS screening) with colleagues and experts in the field. Fulfilling these obligations strengthens clinicians' confidence and, more importantly, patient care.
3.2. Justice and the Rights of the Pregnant Patient
Goals of justice require that patients are afforded fair and reasonable opportunities to secure their values and interests, including opportunities to achieve health regardless of clinicians' preconceived beliefs of their interests and socioeconomic status. Non-directive counseling for routine TAPS screening is essential without clinician bias, criticism, or personal opinion. Withholding information is a violation of reproductive freedom and parental rights in securing the interests and the rights of their fetuses (i.e., a child's right to an open future, which includes dependency rights) (See: Feinberg, 1980 [
67
]; Millum, 2014 [
68
]). By failing to fully inform a patient, the provider fails to acknowledge patient autonomy and reproductive rights, while inadvertently subjecting the patient to harms that could be properly managed, if not prevented entirely [
69
]. Withholding TAPS related information further restricts parental rights and decisions that taking into account the best interests of future children even if the best way to proceed is uncertain [
70
].
3.3. Beneficent Acts and Avoidance of Harm
The aforementioned evidence in this paper demonstrates that: (1) TAPS is a serious, potentially life-threatening complication, (2) treatment for antenatal TAPS is effective and includes either expectant management, IUT, or surgery, (3) and routine MCA-PSV, which has satisfactory sensitivity and specificity, is currently the only way to provide early detection of antenatal TAPS [
65
,
71
]. The minimal harms of the screening process itself (i.e., expectant management or surgery) significantly outweigh the potential harms of TAPS. Fully informing patients about the benefits and harms more broadly, including, but not limited to, potential financial, emotional, and social/familial burdens related to TAPS screening and outcomes, fulfills clinicians' ethical duty of disclosure and promotes shared decision-making most consistent with patient values and judgments about what is best for their family [
70
].
Monochorionic twin pregnancies are inherently ethically complex pregnancies with the potential for difficult decisions [
72
], thus it is essential for clinicians, organizations, patients, families and others to be guided by the unified elements of an ethical framework, including the therapeutic, fiduciary relationship, justice and patient rights, and principles of beneficence and nonmaleficence.
4. Conclusions
We recognize MCA-PSV screening for antenatal TAPS is currently not a standard of care for U.S. women pregnant with monochorionic twins. However, because of the information we present above, which not only dispels myths about MCA-PSV screening but also provides ethical arguments for screening, we present a call to action for U.S. organizations and clinicians to establish routine MCA-PSV screening as a standard of care for this high-risk population. We recognize the potential burdens this technology may pose for organizations and clinicians in terms of the time and effort it takes to establish fair guidelines and institutional policies and promote a standard of care unique to this population. However, the magnitude of life-altering burdens a patient may experience by not having the opportunity to be properly screened is much greater and can ultimately diminish the relationships patients have with their clinicians, and communities have with their health organizations. The patient and our future children require positive changes motivated by care and compassion rather than nocuous myths.
Author Contributions
Conceptualization, L.N. and R.F.; Writing—original draft preparation, L.N., R.F., J.A., S.E.-M.; Writing—review and editing, L.N., R.F., J.A., S.E.-M.; Supervision, L.N.; Project administration, L.N., R.F.
Conflicts of Interest
The authors declare no conflict of interest.
Figure 1.
Flowchart with Antenatal Management Options for TAPS. Reproduced with permission from Tollenaar et al. Twin Research and Human Genetics; published by Cambridge University Press, 2016 [
15
].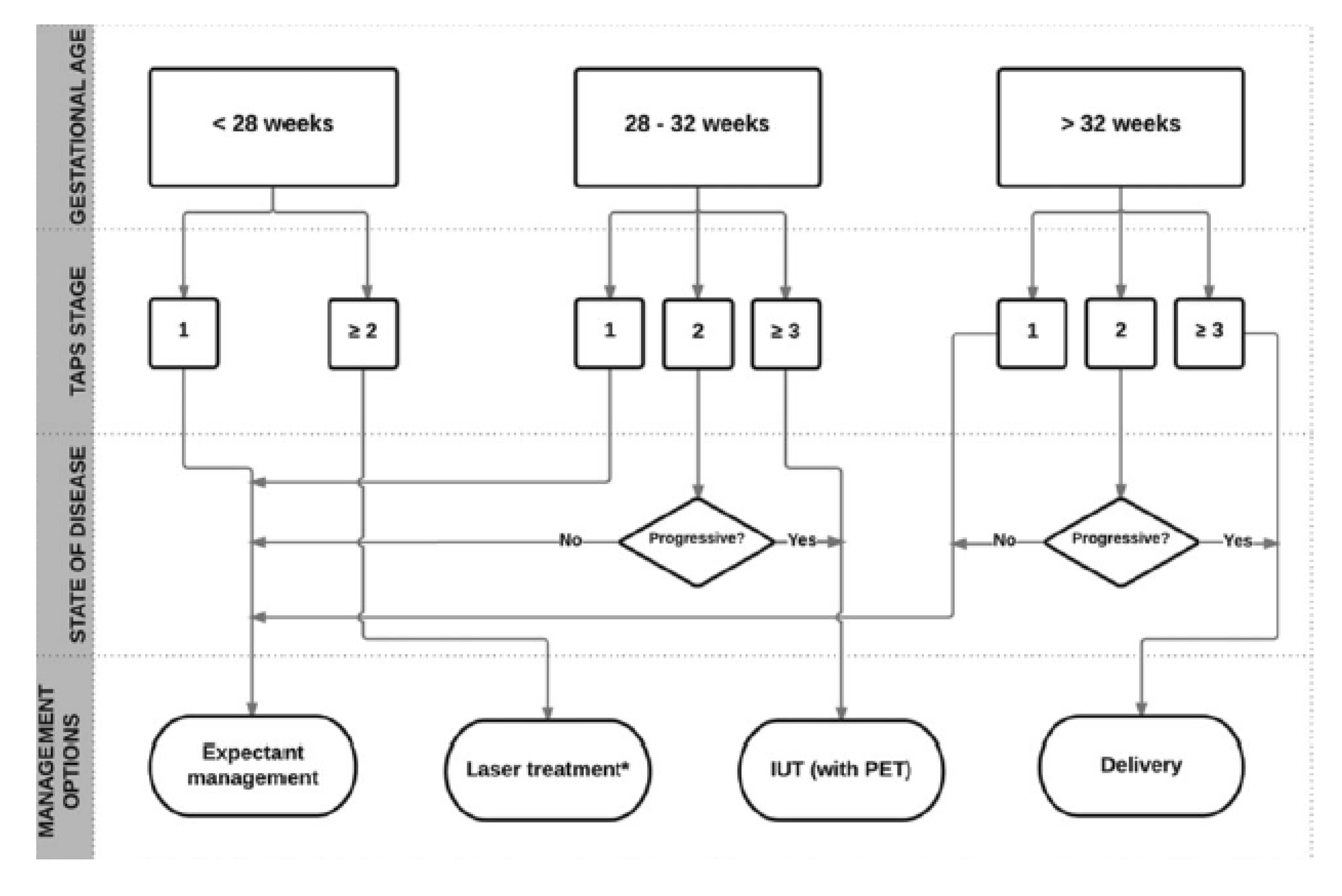 Predictive Values
Study
Sample
Interval between MCA-PSV Measure and Delivery/Reference Measurement
MCA-PSV Measurement
Outcome and Reference Standard
Sensitivity (95% CI)
Specificity (95% CI)
Positive (95% CI)
Negative (95% CI)
Slaghekke et al. 2015 [36]
43 TAPS pregnancies
Pre-natal MCA-PSV within 24 h of prenatal HB assessment or 24 hours of delivery
MCA-PSV ≥ 1.5 MoM
Severe anemia in TAPS donors as measured by prenatal or postnatal Hb levels
94% (85–98%)
74% (62–83%)
76% (65–85%)
94% (83–98%)
MCA-PSV ≤ 1.0 MoM
Polycythemia in TAPS recipients as measured by prenatal or postnatal HB levels
97% (87–99%)
96% (89–99%)
93% (81–97)
99% (93–100%)
Tollenaar et al. 2019 [23]
35 TAPS pregnancies and 45 uncomplicated MC pregnancies
Pre-natal MCA-PSV within 1 week preceding delivery
MCA-PSV > 1.5 MoM in the donor; <1.0 MoM in the recipient
Postnatal TAPS
46% (30–62%)
100% (92–100%)
100% (81–100%)
70% (58–80%)
Delta MCA-PSV > 0.5
Postnatal TAPS
83% (67–92%)
100% (92–100%)
100% (88–100%)
88% (77–94%)
Veujoz et al. 2015 [37]
40 TAPS pregnancies; 20 spontaneous; 20 post-laser
Pre-natal MCA-PSV within 48 h preceding delivery, or preceding in-utero transfusion
MCA-PSV > 1.5 MoM in the donor; <1.0 MoM in the recipient
Postnatal TAPS
71% (29–96%) *
50% (1–99%) *
83%
33%
Area Under the Curve (AUC) (95% CI)
Fishel-Bartel et al. 2016 [18]
69 MCDA pregnancies
Pre-natal MCA-PSV within 1 week preceding delivery
MCA-PSV >1.5 MoM in donor; <1.0 in MoM in the recipient
Postnatal TAPS
AUC = 0.87 (0.76–0.99)
* Note: sensitivity and specificity confidence intervals were calculated and reported by NICE report. MCA-PSV = middle cerebral artery peak systolic velocity; HB/Hb = hemoglobin; MC = monochorionic; TAPS = twin anemia-polycythemia sequence; MoM = multiples of the median; MCDA = monochorionic-diamniotic; AUC = area under the curve; CI = confidence interval.

© 2019 by the authors. Licensee MDPI, Basel, Switzerland. This article is an open access article distributed under the terms and conditions of the Creative Commons Attribution (CC BY) license (http://creativecommons.org/licenses/by/4.0/).