Effects of GH and IGF1 on Basal and FSH-Modulated Porcine Sertoli Cells In-Vitro
1
Department of Clinical and Experimental Medicine, University of Catania, 95123 Catania, Italy
2
Department of Experimental Medicine, University of Perugia, 06132 Perugia, Italy
3
Department of Medicine, University of Perugia, 06132 Perugia, Italy
*
Author to whom correspondence should be addressed.
†
These authors contributed equally to this article.
‡
These authors share the senior authorship of this article.
Received: 28 April 2019 / Revised: 24 May 2019 / Accepted: 5 June 2019 / Published: 6 June 2019
Abstract
Several lines of evidence suggest that insulin-like growth factor 1 (IGF1) is involved in Sertoli cell (SC) proliferation and that its receptor (IGF1R) could mediate follicle-stimulating hormone (FSH) effects. To examine the role of the growth hormone (GH)-IGF1 axis on SC function, we evaluated the effects of GH and IGF1 on basal and FSH-modulated SC proliferation, as well as on anti-Müllerian hormone (AMH) and inhibin B expression and secretion in-vitro. SCs from neonatal pigs were incubated with (1) placebo, (2) 100 nM highly purified urofollitropin (hpFSH), (3) 100 nM recombinant GH (rGH), (4) 100 nM recombinant IGF1 (rIGF1), (5) 100 nM hpFSH plus 100 nM rGH, (6) 100 nM hpFSH plus 100 nM rIGF1, for 48 h. We found that IGF1, but not FSH nor GH, stimulated SC proliferation. Furthermore, an inhibitory effect of FSH, GH and IGF1 on AMH secretion, and a stimulatory role of FSH and IGF1, but not GH, on inhibin B secretion were found. These results suggest that the GH-IGF1 axis influences basal and FSH-modulated SC proliferation and function. We speculate that SC proliferation occurring in childhood might be supported by the increased serum IGF1 levels observed during this period of life.
View Full-Text
►

▼

Figures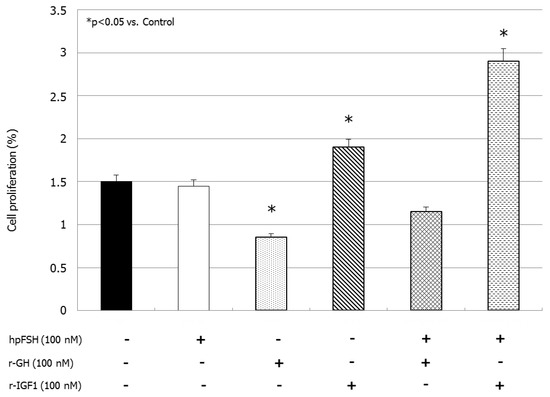 Figure 1
This is an open access article distributed under the
Creative Commons Attribution License
which permits unrestricted use, distribution, and reproduction in any medium, provided the original work is properly cited (CC BY 4.0).

Share & Cite This Article
MDPI and ACS Style
Cannarella, R.; Mancuso, F.; Condorelli, R.A.; Arato, I.; Mongioì, L.M.; Giacone, F.; Lilli, C.; Bellucci, C.; La Vignera, S.; Calafiore, R.; Luca, G.; Calogero, A.E. Effects of GH and IGF1 on Basal and FSH-Modulated Porcine Sertoli Cells In-Vitro. J. Clin. Med. 2019, 8, 811.
Note that from the first issue of 2016, MDPI journals use article numbers instead of page numbers. See further details here.
Related Articles
Comments
[Return to top]