Phosphoproteins Involved in the Inhibition of Apoptosis and in Cell Survival in the Leiomyoma
1
Institute for Maternal and Child Health–IRCCS "Burlo Garofolo", 65/1 Via dell'Istria, I-34137 Trieste, Italy
2
Department of Biomedical Sciences, University of Padova, 35121 Padova, Italy
3
Proteomics Center, University of Padova and Azienda Ospedaliera di Padova, I-35129 Padova, Italy
4
CBM scrl, Area Science Park, I-34149 Trieste, Italy
5
Department of Medical, Surgery and Health Sciences, University of Trieste, I-34149 Trieste, Italy
*
Author to whom correspondence should be addressed.
Received: 3 April 2019 / Revised: 1 May 2019 / Accepted: 13 May 2019 / Published: 16 May 2019
Abstract
Uterine leiomyomas are benign smooth muscle cell tumors originating from the myometrium. In this study we focus on leiomyoma and normal myometrium phosphoproteome, to identify differentially phosphorylated proteins involved in tumorigenic signaling pathways, and in anti-apoptotic processes and cell survival. We obtained paired tissue samples of seven leiomyomas and adjacent myometria and analyzed the phosphoproteome by two-dimensional gel electrophoresis (2-DE) combined with immobilized metal affinity chromatography (IMAC) and Pro-Q Diamond phosphoprotein gel stain. We used mass spectrometry for protein identification and Western blotting for 2-DE data validation. Quantities of 33 proteins enriched by the IMAC approach were significantly different in the leiomyoma if compared to the myometrium. Bioinformatic analysis revealed ten tumorigenic signaling pathways and four phosphoproteins involved in both the inhibition of apoptosis and cell survival. Our study highlights the involvement of the phosphoproteome in leiomyoma growth. Further studies are needed to understand the role of phosphorylation in leiomyoma. Our data shed light on mechanisms that still need to be ascertained, but could open the path to a new class of drugs that not only can block the growth, but could also lead to a significant reduction in tumor size.
View Full-Text
►

▼

Figures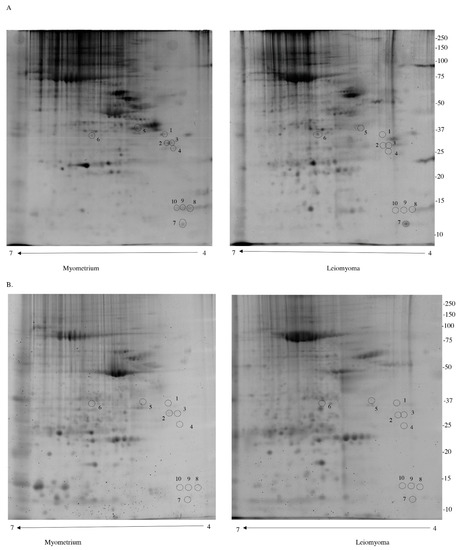 Figure 1
This is an open access article distributed under the
Creative Commons Attribution License
which permits unrestricted use, distribution, and reproduction in any medium, provided the original work is properly cited (CC BY 4.0).

Share & Cite This Article
MDPI and ACS Style
Ura, B.; Monasta, L.; Arrigoni, G.; Battisti, I.; Licastro, D.; Di Lorenzo, G.; Romano, F.; Aloisio, M.; Peterlunger, I.; Stabile, G.; Scrimin, F.; Ricci, G. Phosphoproteins Involved in the Inhibition of Apoptosis and in Cell Survival in the Leiomyoma. J. Clin. Med. 2019, 8, 691.
Note that from the first issue of 2016, MDPI journals use article numbers instead of page numbers. See further details here.
Related Articles
Comments
[Return to top]