Analyzing Mortality Risk and Medical Burden among Patients with Traumatic Brain Injury and Subsequent Dementia
1
Department of Emergency and Critical Care Medicine, Fu Jen Catholic University Hospital, New Taipei City 243, Taiwan
2
School of Medicine, College of Medicine, Fu Jen Catholic University, New Taipei City 243, Taiwan
3
Department of Neurosurgery, Hualien Tzu Chi General Hospital, Buddhist Tzu Chi Medical Foundation, Hualien 970, Taiwan
4
College of Medicine, Tzu Chi University, Hualien 970, Taiwan
5
Management Office for Health Data, China Medical University Hospital, Taichung 404, Taiwan
6
College of Medicine, China Medical University, Taichung 404, Taiwan
7
Graduate Institute of Biomedical Sciences, College of Medicine, China Medical University, Taichung 404, Taiwan
8
Department of Nuclear Medicine and PET Center, China Medical University Hospital, Taichung 404, Taiwan
9
Department of Bioinformatics and Medical Engineering, Asia University, Taichung 413, Taiwan
*
Authors to whom correspondence should be addressed.
Received: 12 April 2019 / Revised: 9 May 2019 / Accepted: 12 May 2019 / Published: 15 May 2019
Abstract
We used the National Health Insurance Research Database of Taiwan to determine whether patients with posttraumatic dementia (PTD) exhibit increased mortality and medical burden than those without it. Patients ≥20 years of age having head injury admission (per the International Classification of Diseases, Ninth Revision, Clinical Modification (ICD-9-CM) codes 850–854, 959.01) between 2000 and 2012 were enrolled as traumatic brain injury (TBI) cohort. A PTD cohort (with ICD-9-CM codes 290, 294.1, 331.0) and a posttraumatic nondementia (PTN) cohort were established and compared in terms of age, sex, and comorbidities. We calculated adjusted hazard ratios (aHRs) and 95% confidence intervals (CIs) of all-cause mortality risk, number of hospital days, and frequency of medical visits in these cohorts. Patients with PTD had a higher mortality rate than did patients with TBI alone (rate per 1000 person-years: 12.00 vs. 6.32), with an aHR of 1.54 (95% CI: 1.32–1.80). Patients with PTD who were aged ≥65 years (aHR = 1.54, 95% CI: 1.31–1.80) or male (aHR = 1.78, 95% CI: 1.45–2.18) exhibited greatly increased risks of mortality. Furthermore, patients with PTD had 19.9 more hospital days and required medical visits 4.49 times more frequently compared with the PTN cohort. Taiwanese patients with PTD had increased mortality risk and medical burden compared with patients who had TBI only. Our findings provide crucial information for clinicians and the government to improve TBI and PTD outcomes.
View Full-Text
►

▼

Figures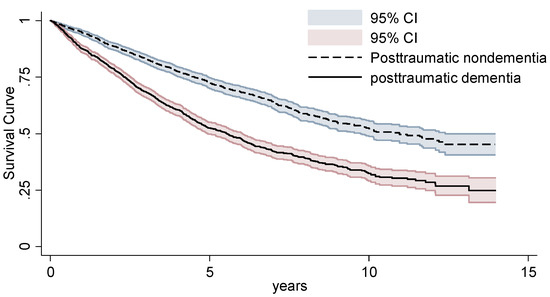 Figure 1
This is an open access article distributed under the
Creative Commons Attribution License
which permits unrestricted use, distribution, and reproduction in any medium, provided the original work is properly cited (CC BY 4.0).

Share & Cite This Article
MDPI and ACS Style
Harnod, D.; Harnod, T.; Lin, C.-L.; Kao, C.-H. Analyzing Mortality Risk and Medical Burden among Patients with Traumatic Brain Injury and Subsequent Dementia. J. Clin. Med. 2019, 8, 686.
Note that from the first issue of 2016, MDPI journals use article numbers instead of page numbers. See further details here.
Related Articles
Comments
[Return to top]