Left Ventricular Systolic Function Assessed by Speckle Tracking Echocardiography in Athletes with and without Left Ventricle Hypertrophy
1
Department of Physiological and Medical Sciences, Academy of Physical Education, Mikołowska Street 72a, 40-065 Katowice, Poland
2
Department of Team Sports Games, Academy of Physical Education in Katowice, Mikołowska Street 72a, 40-065 Katowice, Poland
3
Department of Sports Medicine and Medical Rehabilitation, Sechenov University, Moscow 119991, Russia
4
Department of Cardiology, School of Health Science, Medical University of Silesia, Katowice, Poland Ziołowa Street 47, 40-635 Katowice, Poland
5
1st Department of Cardiology, School of Medicine Medical University of Silesia, Katowice, Poland Ziołowa Street 47, 40-635 Katowice, Poland
6
2nd Department of Cardiology, School of Medicine with the Division of Dentistry in Zabrze, Medical University of Silesia, Skłodowskiej, Curie 10 Street, 41-800 Zabrze, Poland
7
Institute of Primary Care, University of Zurich, 8091 Zurich, Switzerland
8
Exercise Physiology Laboratory, Thermopylon 7, 18450 Nikaia, Greece
9
Medbase St. Gallen Am Vadianplatz, 9001 St. Gallen, Switzerland
*
Author to whom correspondence should be addressed.
Received: 24 April 2019 / Revised: 9 May 2019 / Accepted: 12 May 2019 / Published: 15 May 2019
Abstract
The aim of this study was to evaluate selected parameters of strain and rotation of the left ventricle (the basal rotation (BR) index, the basal circumferential strain (BCS) index, and the global longitudinal strain (GLS) of the left ventricle) in male athletes with physiological cardiac hypertrophy (LVH group), and athletes (non-LVH group) and non-athletes without hypertrophy (control group, CG). They were evaluated using transthoracic echocardiography and speckle tracking echocardiography before and after an incremental exercise test. The LVH group demonstrated lower BR at rest than the non-LVH group (
p
< 0.05) and the CG (
p
< 0.05). Physical effort had no effect on BR, nor was this effect different between groups (
p
> 0.05). There was a combined influence of LVH and physical effort on BR (F = 5.70;
p
< 0.05) and BCS (F = 4.97;
p
< 0.05), but no significant differences in BCS and GLS at rest between the groups. A higher BCS and lower GLS after exercise in the LVH group were demonstrated in comparison with the CG (
p
< 0.05). Left ventricular basal rotation as well as longitudinal and circumferential strains showed less of a difference between rest and after physical effort in subjects with significant myocardial hypertrophy. In conclusion, the obtained results may suggest that echocardiographic assessment of basal rotation and circumferential strain of the left ventricular can be important in predicting cardiac disorders caused by physical effort in individuals with physiological and pathological heart hypertrophy.
View Full-Text
►

▼

Figures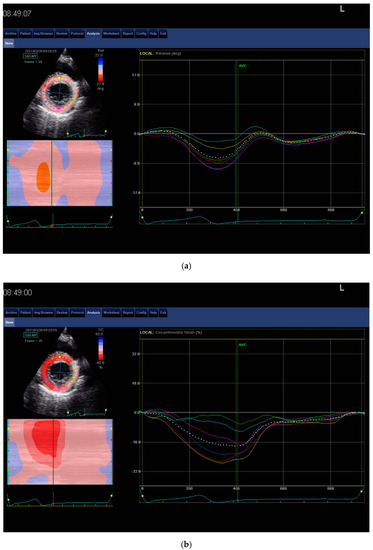 Figure 1
This is an open access article distributed under the
Creative Commons Attribution License
which permits unrestricted use, distribution, and reproduction in any medium, provided the original work is properly cited (CC BY 4.0).

Share & Cite This Article
MDPI and ACS Style
Żebrowska, A.; Mikołajczyk, R.; Waśkiewicz, Z.; Gąsior, Z.; Mizia-Stec, K.; Kawecki, D.; Rosemann, T.; Nikolaidis, P.T.; Knechtle, B. Left Ventricular Systolic Function Assessed by Speckle Tracking Echocardiography in Athletes with and without Left Ventricle Hypertrophy. J. Clin. Med. 2019, 8, 687.
Note that from the first issue of 2016, MDPI journals use article numbers instead of page numbers. See further details here.
Related Articles
Comments
[Return to top]