Machine Learning Application for Rupture Risk Assessment in Small-Sized Intracranial Aneurysm
1
Department of Radiology, Hallym University College of Medicine, Chuncheon 24252, Korea
2
Department of Neurosurgery, Jeju National University College of Medicine, Jeju 63241, Korea
3
Department of Neurosurgery, Hallym University College of Medicine, Chuncheon 24252, Korea
4
Department of Neurology, Konkuk University Medical Center, Seoul 05030, Korea
5
Department of Neurosurgery, National Medical Center, Seoul 04564, Korea
6
Molecular Neurogenetics Unit, Center for Genomic Medicine, Massachusetts General Hospital, Boston, MA 02114, USA
7
Buzzpole Inc., Seoul 04781, Korea
8
Institute of New Frontier Stroke Research, Hallym University College of Medicine, Chuncheon 24252, Korea
9
Genetic and Research Inc., Chuncheon 24252, Korea
*
Author to whom correspondence should be addressed.
†
Contributed equally to this work.
Received: 22 April 2019 / Revised: 11 May 2019 / Accepted: 13 May 2019 / Published: 15 May 2019
Abstract
The assessment of rupture probability is crucial to identifying at risk intracranial aneurysms (IA) in patients harboring multiple aneurysms. We aimed to develop a computer-assisted detection system for small-sized aneurysm ruptures using a convolutional neural network (CNN) based on images of three-dimensional digital subtraction angiography. A retrospective data set, including 368 patients, was used as a training cohort for the CNN using the TensorFlow platform. Aneurysm images in six directions were obtained from each patient and the region-of-interest in each image was extracted. The resulting CNN was prospectively tested in 272 patients and the sensitivity, specificity, overall accuracy, and receiver operating characteristics (ROC) were compared to a human evaluator. Our system showed a sensitivity of 78.76% (95% CI: 72.30%–84.30%), a specificity of 72.15% (95% CI: 60.93%–81.65%), and an overall diagnostic accuracy of 76.84% (95% CI: 71.36%–81.72%) in aneurysm rupture predictions. The area under the ROC (AUROC) in the CNN was 0.755 (95% CI: 0.699%–0.805%), better than that obtained from a human evaluator (AUROC: 0.537;
p
< 0.001). The CNN-based prediction system was feasible to assess rupture risk in small-sized aneurysms with diagnostic accuracy superior to human evaluators. Additional studies based on a large data set are necessary to enhance diagnostic accuracy and to facilitate clinical application.
View Full-Text
►

▼

Figures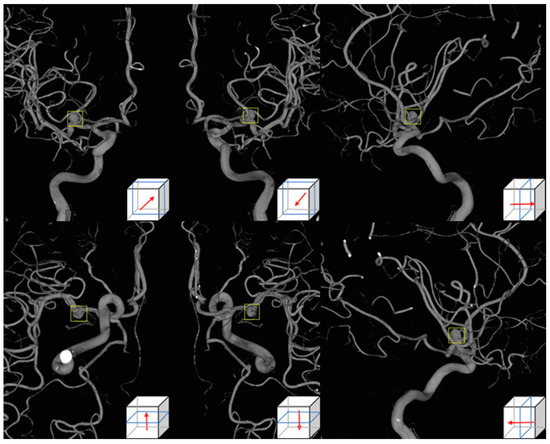 Figure 1
This is an open access article distributed under the
Creative Commons Attribution License
which permits unrestricted use, distribution, and reproduction in any medium, provided the original work is properly cited (CC BY 4.0).

Share & Cite This Article
MDPI and ACS Style
Kim, H.C.; Rhim, J.K.; Ahn, J.H.; Park, J.J.; Moon, J.U.; Hong, E.P.; Kim, M.R.; Kim, S.G.; Lee, S.H.; Jeong, J.H.; Choi, S.W.; Jeon, J.P. Machine Learning Application for Rupture Risk Assessment in Small-Sized Intracranial Aneurysm. J. Clin. Med. 2019, 8, 683.
Note that from the first issue of 2016, MDPI journals use article numbers instead of page numbers. See further details here.
Related Articles
Comments
[Return to top]