TRPV2 Calcium Channel Gene Expression and Outcomes in Gastric Cancer Patients: A Clinically Relevant Association
1
Laboratory of Preclinical and Translational Research, IRCCS—Referral Cancer Center of Basilicata (CROB), 85028 Rionero in Vulture (PZ), Italy
2
Department of Biology, University of Naples Federico II, 80138 Naples, Italy
3
Division of Medical Oncology, Department of Precision Medicine, School of Medicine, University of Study of Campania "Luigi Vanvitelli", 80138 Naples, Italy
4
Biogem, Istituto di Biologia e Genetica Molecolare, Via Camporeale, 83031 Ariano Irpino (AV), Italy
*
Authors to whom correspondence should be addressed.
Received: 16 April 2019 / Revised: 7 May 2019 / Accepted: 8 May 2019 / Published: 11 May 2019
(This article belongs to the Section
Oncology
)
Abstract
Gastric cancer (GC) is characterized by poor efficacy and the modest clinical impact of current therapies. Apoptosis evasion represents a causative factor for treatment failure in GC as in other cancers. Since intracellular calcium homeostasis regulation has been found to be associated with apoptosis resistance, the aberrant expression of intracellular calcium regulator genes (CaRGs) could have a prognostic value in GC patients. We analyzed the association of the expression levels of 98 CaRGs with prognosis by the log-rank test in a collection of 1524 GC samples from four gene expression profiling datasets. We also evaluated differential gene expression in comparison with normal stomach tissue, and then we crossed results with tissue microarrays from the Human Protein Atlas. Among the investigated CaRGs, patients with high levels of
TRPV2
expression were characterized by a shorter overall survival.
TRPV2
expression was found to increase according to tumor stage. Both mRNA and protein levels were significantly higher in tumor than normal stomach samples.
TRPV2
was also associated with poor prognosis in the Lauren's intestinal type GC and in patients treated with adjuvant therapy. Overall, we highlighted the relevance of
TRPV2
not only as a prognostic biomarker but also as a potential therapeutic target to improve GC treatment efficacy.
View Full-Text
►

▼

Figures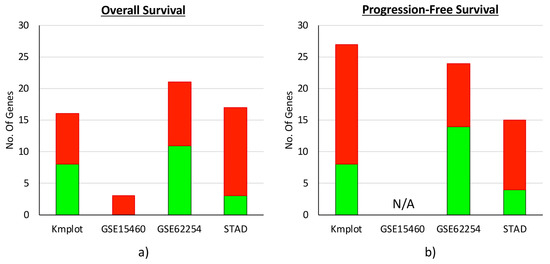 Figure 1
This is an open access article distributed under the
Creative Commons Attribution License
which permits unrestricted use, distribution, and reproduction in any medium, provided the original work is properly cited (CC BY 4.0).

Share & Cite This Article
MDPI and ACS Style
Zoppoli, P.; Calice, G.; Laurino, S.; Ruggieri, V.; La Rocca, F.; La Torre, G.; Ciuffi, M.; Amendola, E.; De Vita, F.; Petrillo, A.; Napolitano, G.; Falco, G.; Russi, S. TRPV2 Calcium Channel Gene Expression and Outcomes in Gastric Cancer Patients: A Clinically Relevant Association. J. Clin. Med. 2019, 8, 662.
Note that from the first issue of 2016, MDPI journals use article numbers instead of page numbers. See further details here.
Related Articles
Comments
[Return to top]