Cytometric Characterization of Main Immunocompetent Cells in Patients with Systemic Sclerosis: Relationship with Disease Activity and Type of Immunosuppressive Treatment
1
Department of Rheumatology, Voivodeship Hospital No. 5, 41-200 Sosnowiec, Poland
2
Department of Hematology and Bone Marrow Transplantation, Medical Faculty in Katowice, Medical University of Silesia, 40-032 Katowice, Poland
3
Department of Statistics, Department of Instrumental Analysis, School of Pharmacy with the Division of Laboratory Medicine in Sosnowiec, Medical University of Silesia, 41-200 Sosnowiec, Poland
4
Department of Neurology, Regional Hospital in Oświęcim, 32-600 Oświęcim, Poland
5
Department of Internal Medicine, Rheumatology and Clinical Immunology, Faculty in Katowice, Medical University of Silesia, 40-635 Katowice, Poland
*
Author to whom correspondence should be addressed.
Received: 26 April 2019 / Accepted: 5 May 2019 / Published: 8 May 2019
Abstract
Systemic sclerosis (SSc) is a connective tissue disease that is characterized by widespread skin and internal organ fibrosis vasculopathy and immune response abnormalities, including T, B, natural killer (NK), and natural killer T (NKT) cell involvement. The aim of the study was to investigate the immune cell profile in patients with systemic sclerosis in relation to the disease activity, severity, and antibody presence and their relation to the type of immunosuppressive treatment. Cytometric examination identified following cell lines: B cells (Breg, B memory, B mature) and plasmablasts, T cell, T double positive—Tdp, T double negative—Tdn, NK, and NKT cell and monocytes. The disease severity and activity were assessed based on the Medsger and the EULAR Scleroderma Trials and Research Group (EUSTAR) 2017 scales respectively. In the study, SSc patients were characterized by higher total lymphocyte count parallel to increased frequency of Ts and Th cells. In SSc patients, increment of Tdp and reduction of Tdn as well as NK and NKT cells were observed. Additionally in SSc patients the reduction of B memory was noted. Head to head comparison between cyclophosphamide (CYC) and mycophenolate mofetil (MMF) treatment showed a reduction of CD19
+
cells, but increment of plasmablasts in CYC treated patients.
View Full-Text
►

▼

Figures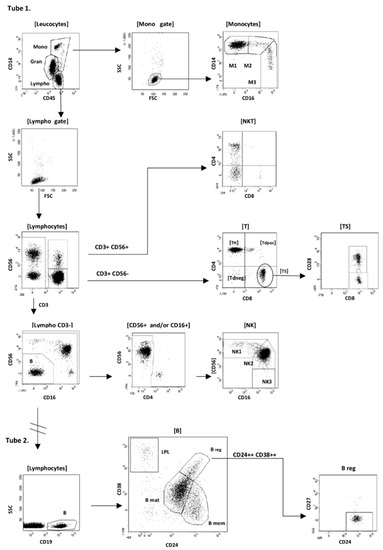 Figure 1
This is an open access article distributed under the
Creative Commons Attribution License
which permits unrestricted use, distribution, and reproduction in any medium, provided the original work is properly cited (CC BY 4.0).

Share & Cite This Article
MDPI and ACS Style
Gumkowska-Sroka, O.; Jagoda, K.; Owczarek, A.; Helbig, G.; Giemza-Stokłosa, J.; Kotyla, P.J. Cytometric Characterization of Main Immunocompetent Cells in Patients with Systemic Sclerosis: Relationship with Disease Activity and Type of Immunosuppressive Treatment. J. Clin. Med. 2019, 8, 625.
Note that from the first issue of 2016, MDPI journals use article numbers instead of page numbers. See further details here.
Related Articles
Comments
[Return to top]