Cardiovascular Health Metrics in the Development and Regression of Nonalcoholic Fatty Liver Disease: A Cohort Study
1
Center for Cohort Studies, Total Healthcare Center, Kangbuk Samsung Hospital, Sungkyunkwan University School of Medicine, Seoul 04514, Korea
2
Department of Occupational and Environmental Medicine, Kangbuk Samsung Hospital, Sungkyunkwan University School of Medicine, Seoul 03181, Korea
3
Department of Clinical Research Design & Evaluation, SAIHST, Sungkyunkwan University, Seoul 06351, Korea
4
Division of Cardiology, Department of Internal Medicine, Kangbuk Samsung Hospital, Sungkyunkwan University School of Medicine, Seoul 03181, Korea
5
Division of Gastroenterology and Hepatology, Department of Internal Medicine, Kangbuk Samsung Hospital, Sungkyunkwan University School of Medicine, Seoul 03181, Korea
6
Department of Occupational and Environmental Medicine, College of Medicine, Hanyang University, Seoul 04763, Korea
7
Department of Family Medicine, Kangbuk Samsung Hospital, Sungkyunkwan University School of Medicine, Seoul 03181, Korea
8
Usher Institute of Population Health Sciences and informatics, University of Edinburgh, Edinburgh EH8 9AG, UK
9
Nutrition and Metabolism, Faculty of Medicine, University of Southampton, Southampton SO16 6YD, UK
10
National Institute for Health Research Southampton Biomedical Research Centre, University Hospital Southampton, Southampton SO16 6YD, UK
*
Authors to whom correspondence should be addressed.
Received: 8 April 2019 / Revised: 30 April 2019 / Accepted: 1 May 2019 / Published: 6 May 2019
Abstract
Cardiovascular Health (CVH) metrics scores are associated with cardiovascular disease but whether CVH scores are associated with nonalcoholic fatty liver disease (NAFLD) is uncertain. Our aim was to investigate associations between CVH scores and development or regression of NAFLD. A cohort study was performed in Korean adults who underwent a comprehensive health examination. The CVH metrics were defined according to the American Heart Association Life's Simple 7 metrics, ranging from 0 (all metrics considered unhealthy) to 7 (all metrics considered healthy). Fatty liver was diagnosed by ultrasound, and liver fibrosis assessed using NAFLD fibrosis score (NFS). Among 93,500 participants without NAFLD or fibrosis at baseline, 15,899 developed NAFLD, and 998 developed NAFLD plus intermediate/high NFS. Healthy CVH metrics were inversely associated with NAFLD and also NAFLD with fibrosis. In time-dependent models after updating the CVH score and confounders as time-varying covariate, the multivariable-adjusted hazard ratio (95% confidence intervals) for incident NAFLD plus intermediate/high NFS participants with CVH metrics score 2, 3, 4, 5, or 6–7 to those with score 0–1 were 0.86 (0.59–1.25), 0.51 (0.36–0.73), 0.44 (0.31–0.62), 0.20 (0.14–0.29) and 0.09 (0.05–0.14), respectively. Regression of NAFLD occurred in 9742/37,517 participants who had NAFLD at baseline with positive association with CVH metrics. Higher CVH scores were significantly associated with both (a) decreased incidence of NAFLD, and (b) regression of existing NAFLD. Promoting adherence to ideal CVH metrics can be expected to reduce the burden of NAFLD as well as cardiovascular disease.
View Full-Text
►

▼

Figures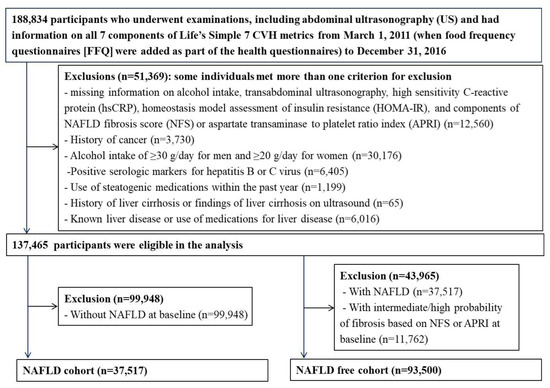 Figure 1
This is an open access article distributed under the
Creative Commons Attribution License
which permits unrestricted use, distribution, and reproduction in any medium, provided the original work is properly cited (CC BY 4.0).

Share & Cite This Article
MDPI and ACS Style
Jang, E.-H.; Chang, Y.; Ryu, S.; Kim, S.; Kim, Y.H.; Sung, K.-C.; Cho, Y.K.; Lee, S.-J.; Shin, H.; Wild, S.H.; Byrne, C.D. Cardiovascular Health Metrics in the Development and Regression of Nonalcoholic Fatty Liver Disease: A Cohort Study. J. Clin. Med. 2019, 8, 610.
Note that from the first issue of 2016, MDPI journals use article numbers instead of page numbers. See further details here.
Related Articles
Comments
[Return to top]