Preoperative Health-Related Quality of Life Predicts Minimal Clinically Important Difference and Survival after Surgical Resection of Hepatocellular Carcinoma
1
Department of General Surgery, Chi Mei Medical Center, Liouying 73657, Taiwan
2
Department of General Surgery, Chi Mei Medical Center, Tainan 71004, Taiwan
3
Department of Electrical Engineering, Southern Taiwan University of Science and Technology, Tainan 71005, Taiwan
4
Division of Hepatobiliary Surgery, Department of Surgery, Kaohsiung Medical University Hospital, Kaohsiung 80708, Taiwan
5
Department of Healthcare Administration and Medical Informatics, Kaohsiung Medical University, Kaohsiung 80708, Taiwan
6
Department of Medical Research, Chi Mei Medical Center, Tainan 71004, Taiwan
7
Department of Emergency Medicine, Chi Mei Medical Center, Tainan 71004, Taiwan
8
Department of Senior Services, Southern Taiwan University of Science and Technology, Tainan 71005, Taiwan
9
Department of Business Management, National Sun Yat-sen University, Kaohsiung 80424, Taiwan
10
Department of Medical Research, Kaohsiung Medical University Hospital, Kaohsiung 80708, Taiwan
*
Author to whom correspondence should be addressed.
Received: 23 February 2019 / Revised: 13 April 2019 / Accepted: 22 April 2019 / Published: 27 April 2019
Abstract
Despite the growing use of minimal clinically important difference (MCID) as a cancer outcome measure, no study has reported clinically significant outcomes in cancer patients. We defined MCID and evaluated the use of preoperative HRQoL for predicting MCID and survival after surgical resection of hepatocellular carcinoma (HCC). In total, 369 patients completed the Functional Assessment of Cancer Therapy-Hepatobiliary (FACT-Hep) and the SF-36 at baseline and at two years post-operative at three tertiary academic hospitals. The corresponding MCID values were 3.6 (SF-36 physical component summary), 4.2 (SF-36 mental component summary), 5.4 (FACT-General total score), and 6.7 (FACT-Hep total score). The predictors of achieving postoperative MCID were significantly higher in patients who had low preoperative HRQoL score, advanced age, high education level, and high BMI (
p
< 0.05). However, patients with a high preoperative HRQoL score, high education level, high BMI, and low Charlson comorbidity index score were significantly associated with survival (
p
< 0.05). Preoperative HRQoL scores were predictive of MCID and overall survival after surgical resection of HCC. The findings of this study may be useful for managing the preoperative expectations of candidates for HCC resection and for developing shared decision-making procedures for patients undergoing surgical resection of HCC.
View Full-Text
►

▼

Figures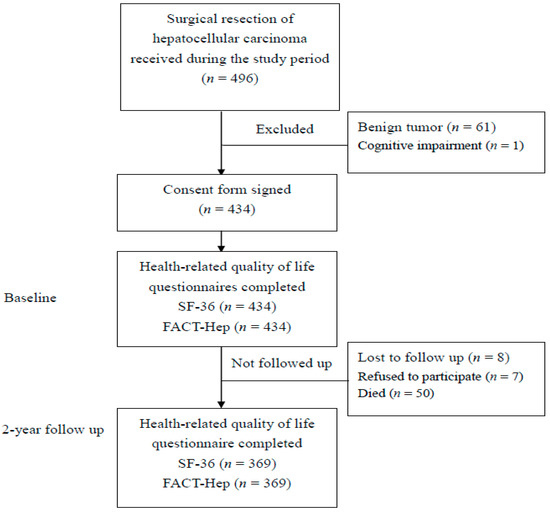 Figure 1
This is an open access article distributed under the
Creative Commons Attribution License
which permits unrestricted use, distribution, and reproduction in any medium, provided the original work is properly cited (CC BY 4.0).

Share & Cite This Article
MDPI and ACS Style
Chiu, C.-C.; Lee, K.-T.; Wang, J.-J.; Sun, D.-P.; Lee, H.-H.; Huang, C.-C.; Shi, H.-Y. Preoperative Health-Related Quality of Life Predicts Minimal Clinically Important Difference and Survival after Surgical Resection of Hepatocellular Carcinoma. J. Clin. Med. 2019, 8, 576.
Note that from the first issue of 2016, MDPI journals use article numbers instead of page numbers. See further details here.
Related Articles
Comments
[Return to top]