Anatomical and Functional Changes of the Retina and the Choroid after Resolved Chronic CSCR
1
Ophthalmology Clinic, Department of Medicine and Science of Ageing, University G. d'Annunzio Chieti-Pescara, 66100 Chieti, Italy
2
Vitreoretinal Unit, Bristol Eye Hospital, University of Bristol, Bristol, BS1 4TB, UK
3
Eye Clinic, Polytechnic University of Marche, 60126 Ancona, Italy
4
Department of Medical, Oral and Biotechnological Sciences, Laboratory of Biostatistics, University "G. d'Annunzio" Chieti-Pescara, 66100 Chieti, Italy
5
Department of Medicine and Science of Ageing, School of Hygiene and Preventive Medicine, University G. d'Annunzio Chieti-Pescara, 66100 Chieti, Italy
*
Author to whom correspondence should be addressed.
†
These authors contributed equally to this work and should be considered as co-first authors.
Received: 6 March 2019 / Revised: 28 March 2019 / Accepted: 4 April 2019 / Published: 7 April 2019
Abstract
Background: To investigate anatomical/functional changes after oral eplerenone therapy for chronic central serous chorioretinopathy (CCSC) in successfully treated eyes and fellow eyes and assess timing of foveal subretinal fluid (SRF) resolution. Methods: Twenty-one eyes of 21 patients suffering from CCSC with monolateral foveal SRF successfully treated with oral eplerenone were enrolled in this retrospective study (group 1). The fellow eyes (21 eyes; group 2), healthy or affected by CCSC, without foveal SRF were considered in the analysis. A control healthy group was enrolled as well (healthy controls;
n
= 21). Main outcome measures during follow-up included changes of best corrected visual acuity (BCVA, logMAR), central macular thickness (CMT; µm), SRF (µm), subfoveal choroidal thickness (SFCT; µm), superficial capillary plexus density (SCPD, %), deep capillary plexus density (DCPD, %), and choriocapillaris density (CCD, %) and percentage of eyes showing foveal SRF resolution at different time points. Results: Functional and anatomical parameters significantly improved during the study in group 1. BCVA increased significantly (
p
< 0.001), while CMT, SFCT, and SRF decreased significantly (
p
< 0.001;
p
< 0.001, and
p
= 0.037, respectively). SCPD, DCPD, and CCD did not show any statistically significant difference during follow-up. In 71.4% of eyes, resolution of SRF was observed within 60 days and in the remaining 28.6%, at 120 days. In fellow eyes, SFCT decreased significantly (
p
< 0.001), whilst all other parameters did not modify. Conclusions: Eplerenone treatment in chronic CSCR potentially improves recovery of retinal and choroidal morphology as well as visual acuity gain. A complete resolution of foveal SRF was observed in all eyes during a 4-month follow-up, with most eyes healing at 2 months.
View Full-Text
►

▼

Figures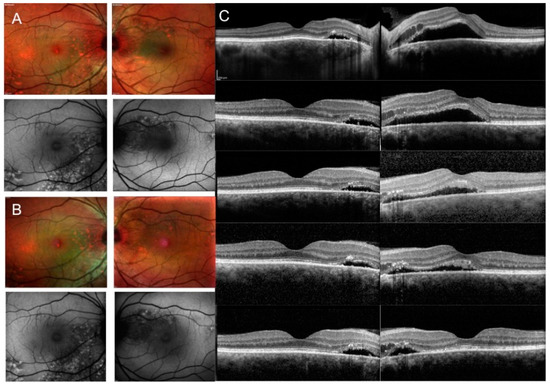 Figure 1
This is an open access article distributed under the
Creative Commons Attribution License
which permits unrestricted use, distribution, and reproduction in any medium, provided the original work is properly cited (CC BY 4.0).

Share & Cite This Article
MDPI and ACS Style
Toto, L.; D'Aloisio, R.; Mastropasqua, R.; Di Antonio, L.; Di Nicola, M.; Di Martino, G.; Evangelista, F.; Erroi, E.; Doronzo, E.; Mariotti, C. Anatomical and Functional Changes of the Retina and the Choroid after Resolved Chronic CSCR. J. Clin. Med. 2019, 8, 474.
Note that from the first issue of 2016, MDPI journals use article numbers instead of page numbers. See further details here.
Related Articles
Comments
[Return to top]