The Influence of Maternal-Foetal Parameters on Concentrations of Zonulin and Calprotectin in the Blood and Stool of Healthy Newborns during the First Seven Days of Life. An Observational Prospective Cohort Study
1
Department of Neonatal Diseases, Pomeranian Medical University, 70-111 Szczecin, Poland
2
Department of Clinical and Molecular Biochemistry, Pomeranian Medical University, 70-111 Szczecin, Poland
3
Department of Biochemistry and Human Nutrition, Pomeranian Medical University, 71-460 Szczecin, Poland
4
Department of Studies in Antropogenetics and Biogerontology, Pomeranian Medical University, 71-210 Szczecin, Poland
5
Department of General Pharmacology and Pharmacoeconomics, Pomeranian Medical University, 71-230 Szczecin, Poland
6
Department of Obstetrics and Gynecology, Pomeranian Medical University, 70-111 Szczecin, Poland
*
Author to whom correspondence should be addressed.
Received: 16 March 2019 / Revised: 3 April 2019 / Accepted: 4 April 2019 / Published: 7 April 2019
Abstract
Background: It can be hypothetically assumed that maternal and perinatal factors influence the intestinal barrier. Methods: The study was conducted with 100 healthy, full-term newborns breastfed in the first week of life, with similar analyses for their mothers. Zonulin and calprotectin levels were used as intestinal permeability markers. Results: The median (range) zonulin concentrations (ng/mL) were in mothers: serum, 21.39 (6.39–57.54); stool, 82.23 (42.52–225.74); and newborns: serum cord blood, 11.14 (5.82–52.34); meconium, 54.15 (1.36–700.65); and stool at age seven days, 114.41 (29.38–593.72). Calprotectin median (range) concentrations (µg/mL) in mothers were: stool, 74.79 (3.89–211.77); and newborns: meconium, 154.76 (6.93–8884.11); and stool at age seven days 139.12 (11.89–627.35). The use of antibiotics during pregnancy resulted in higher zonulin concentrations in umbilical-cord serum and calprotectin concentrations in newborn stool at seven days, while antibiotic therapy during labour resulted in higher zonulin concentrations in the stool of newborns at seven days. Zonulin concentrations in the stool of newborns (at seven days) who were born via caesarean section were higher compared to with vaginal birth. With further analyses, caesarean section was found to have a greater effect on zonulin concentrations than prophylactic administration of antibiotics in the perinatal period. Pregnancy mass gain >18 kg was associated with higher calprotectin concentrations in maternal stool. Body Mass Index (BMI) increase >5.7 during pregnancy was associated with decreased zonulin concentrations in maternal stool and increased calprotectin concentrations in stool of mothers and newborns at seven days. There was also a negative correlation between higher BMI increase in pregnancy and maternal zonulin stool concentrations and a positive correlation between BMI increase in pregnancy and maternal calprotectin stool concentrations. Conclusion: Maternal-foetal factors such as caesarean section, antibiotic therapy during pregnancy, as well as change in mother's BMI during pregnancy may increase intestinal permeability in newborns. Changes in body mass during pregnancy can also affect intestinal permeability in mothers. However, health consequences associated with increased intestinal permeability during the first days of life are unknown. Additionally, before the zonulin and calprotectin tests can be adopted as universal diagnostic applications to assess increased intestinal permeability, validation of these tests is necessary.
View Full-Text
►

▼

Figures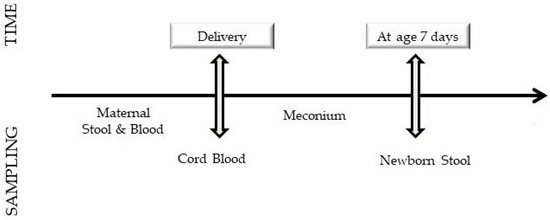 Figure 1
This is an open access article distributed under the
Creative Commons Attribution License
which permits unrestricted use, distribution, and reproduction in any medium, provided the original work is properly cited (CC BY 4.0).

Share & Cite This Article
MDPI and ACS Style
Łoniewska, B.; Węgrzyn, D.; Adamek, K.; Kaczmarczyk, M.; Skonieczna-Żydecka, K.; Adler, G.; Jankowska, A.; Uzar, I.; Kordek, A.; Celewicz, M.; Łoniewski, I. The Influence of Maternal-Foetal Parameters on Concentrations of Zonulin and Calprotectin in the Blood and Stool of Healthy Newborns during the First Seven Days of Life. An Observational Prospective Cohort Study. J. Clin. Med. 2019, 8, 473.
Note that from the first issue of 2016, MDPI journals use article numbers instead of page numbers. See further details here.
Related Articles
Comments
[Return to top]