Inhibition of Osteoclastogenesis by Thioredoxin-Interacting Protein-Derived Peptide (TN13)
1
Immunotherapy Research Center, Korea Research Institute of Bioscience and Biotechnology (KRIBB), Yuseong-gu, Daejeon 34141, Korea
2
Department of Biochemistry, School of Life Sciences, Chungbuk National University, Cheongju 28644, Korea
3
Department of Functional Genomics, University of Science and Technology, Yuseong-gu, Daejeon 34113, Korea
*
Authors to whom correspondence should be addressed.
†
These authors contributed equally to this work.
Received: 21 February 2019 / Revised: 22 March 2019 / Accepted: 27 March 2019 / Published: 29 March 2019
Abstract
Overactivated osteoclasts lead to many bone diseases, including osteoporosis and rheumatoid arthritis. The p38 MAPK (p38) is an essential regulator of the receptor activator of nuclear factor-κB ligand (RANKL)-mediated osteoclastogenesis and bone loss. We previously reported TAT conjugated thioredoxin-interacting protein-derived peptide (TAT-TN13) as an inhibitor of p38 in hematopoietic stem cells (HSCs). Here, we examined the role of TAT-TN13 in the differentiation and function of osteoclasts. TAT-TN13 significantly suppressed RANKL-mediated differentiation of RAW 264.7 cells and bone marrow macrophages (BMMs) into osteoclasts. TAT-TN13 also inhibited the RANKL-induced activation of NF-κB and nuclear factor of activated T-cells cytoplasmic 1 (NFATc1), leading to the decreased expression of osteoclast-specific genes, including tartrate-resistant acid phosphatase (TRAP) and Cathepsin K. Additionally, TAT-TN13 treatment protected bone loss in ovariectomized (OVX) mice. Taken together, these results suggest that TAT-TN13 inhibits osteoclast differentiation by regulating the p38 and NF-κB signaling pathway; thus, it may be a useful agent for preventing or treating osteoporosis.
View Full-Text
►

▼

Figures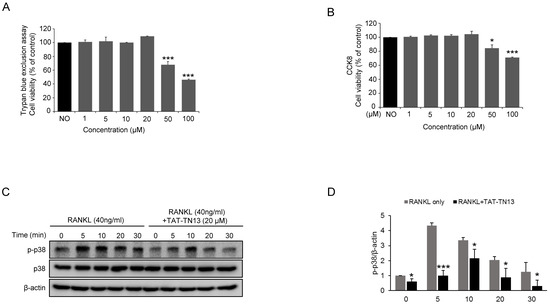 Figure 1
This is an open access article distributed under the
Creative Commons Attribution License
which permits unrestricted use, distribution, and reproduction in any medium, provided the original work is properly cited (CC BY 4.0).

Share & Cite This Article
MDPI and ACS Style
Kim, M.J.; Kim, W.S.; Byun, J.-E.; Choi, J.H.; Yoon, S.R.; Choi, I.; Jung, H. Inhibition of Osteoclastogenesis by Thioredoxin-Interacting Protein-Derived Peptide (TN13). J. Clin. Med. 2019, 8, 431.
Note that from the first issue of 2016, MDPI journals use article numbers instead of page numbers. See further details here.
Related Articles
Comments
[Return to top]