Multiomics Analysis Reveals that
GLS

and

GLS2

Differentially Modulate the Clinical Outcomes of Cancer

1

Department of Stem Cell and Regenerative Biotechnology, Konkuk University, 120 Neungdong-Ro, Seoul 05029, Korea

2

Department of Computer Science and Engineering, Sejong University, 209 Neungdong-ro, Gwangjin-gu, Seoul 05006, Korea

3

Department of Software Engineering, King Saud University, Riyadh 11543, Saudi Arabia

4

Department of Computer Science, King Saud University, Riyadh 11543, Saudi Arabia

5

Department of Information and Communication Engineering, Inha University, Incheon 22212, Korea

6

Department of Surgery, Konkuk University Medical Centre, 120 Neungdong-ro, Gwangjin-gu, Seoul 05029, Korea

*

Author to whom correspondence should be addressed.

†

These authors contributed equally to this work: S.K. Saha and S.M.R. Islam (co-first authors).

Received: 13 February 2019 / Revised: 5 March 2019 / Accepted: 8 March 2019 / Published: 13 March 2019

(This article belongs to the Section

Oncology

)
Abstract
Kidney-type glutaminase (
GLS
) and liver-type glutaminase (
GLS2
) are dysregulated in many cancers, making them appealing targets for cancer therapy. However, their use as prognostic biomarkers is controversial and remains an active area of cancer research. Here, we performed a systematic multiomic analysis to determine whether glutaminases function as prognostic biomarkers in human cancers. Glutaminase expression and methylation status were assessed and their prominent functional protein partners and correlated genes were identified using various web-based bioinformatics tools. The cross-cancer relationship of glutaminases with mutations and copy number alterations was also investigated. Gene ontology (GO) and pathway analysis were performed to assess the integrated effect of glutaminases and their correlated genes on various cancers. Subsequently, the prognostic roles of
GLS
and
GLS2
in human cancers were mined using univariate and multivariate survival analyses.
GLS
was frequently over-expressed in breast, esophagus, head-and-neck, and blood cancers, and was associated with a poor prognosis, whereas
GLS2
overexpression implied poor overall survival in colon, blood, ovarian, and thymoma cancers.
Both
GLS
and
GLS2
play oncogenic and anti-oncogenic roles depending on the type of cancer. The varying prognostic characteristics of glutaminases suggest that
GLS
and
GLS2
expression differentially modulate the clinical outcomes of cancers.
View Full-Text
►

▼

Figures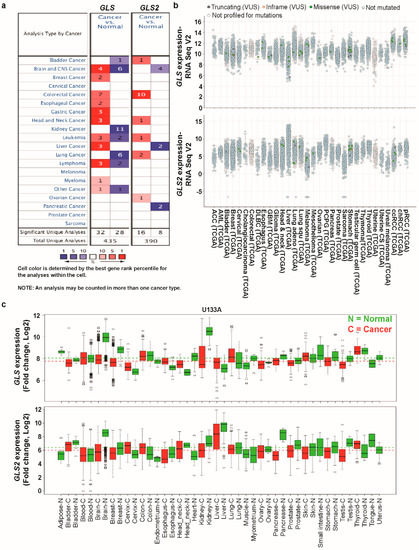 Figure 1
This is an open access article distributed under the
Creative Commons Attribution License
which permits unrestricted use, distribution, and reproduction in any medium, provided the original work is properly cited (CC BY 4.0).

Share & Cite This Article
MDPI and ACS Style
Saha, S.K.; Islam, S.R.; Abdullah-AL-Wadud, M.; Islam, S.; Ali, F.; Park, K.S. Multiomics Analysis Reveals that GLS and GLS2 Differentially Modulate the Clinical Outcomes of Cancer. J. Clin. Med. 2019, 8, 355.
Note that from the first issue of 2016, MDPI journals use article numbers instead of page numbers. See further details here.
Related Articles
Comments
[Return to top]