Cell-Free DNA and CXCL10 Derived from Bronchoalveolar Lavage Predict Lung Transplant Survival
1
Department of Surgery, University of California San Francisco, San Francisco, CA 94143, USA
2
KIT Bio, 2000 University Avenue, Palo Alto, CA 94303, USA
3
Leuven Lung Transplant Unit, Department of Chronic Diseases, Metabolism, and Ageing (CHROMETA), KU Leuven, 3000 Leuven, Belgium
*
Author to whom correspondence should be addressed.
Received: 17 January 2019 / Revised: 5 February 2019 / Accepted: 8 February 2019 / Published: 13 February 2019
Abstract
Standard methods for detecting chronic lung allograft dysfunction (CLAD) and rejection have poor sensitivity and specificity and have conventionally required bronchoscopies and biopsies. Plasma cell-free DNA (cfDNA) has been shown to be increased in various types of allograft injury in transplant recipients and CXCL10 has been reported to be increased in the lung tissue of patients undergoing CLAD. This study used a novel cfDNA and CXCL10 assay to evaluate the noninvasive assessment of CLAD phenotype and prediction of survival from bronchoalveolar lavage (BAL) fluid. A total of 60 BAL samples (20 with bronchiolitis obliterans (BOS), 20 with restrictive allograft syndrome (RAS), and 20 with stable allografts (STA)) were collected from 60 unique lung transplant patients; cfDNA and CXCL10 were measured by the ELISA-based KIT assay. Median cfDNA was significantly higher in BOS patients (6739 genomic equivalents (GE)/mL) versus STA (2920 GE/mL) and RAS (4174 GE/mL) (
p
< 0.01 all comparisons). Likelihood ratio tests revealed a significant association of overall survival with cfDNA (
p
= 0.0083), CXCL10 (
p
= 0.0146), and the interaction of cfDNA and CXCL10 (
p
= 0.023) based on multivariate Cox proportional hazards regression. Dichotomizing patients based on the median cfDNA level controlled for the mean level of CXCL10 revealed an over two-fold longer median overall survival time in patients with low levels of cfDNA. The KIT assay could predict allograft survival with superior performance compared with traditional biomarkers. These data support the pursuit of larger prospective studies to evaluate the predictive performance of cfDNA and CXCL10 prior to lung allograft failure.
View Full-Text
►

▼

Figures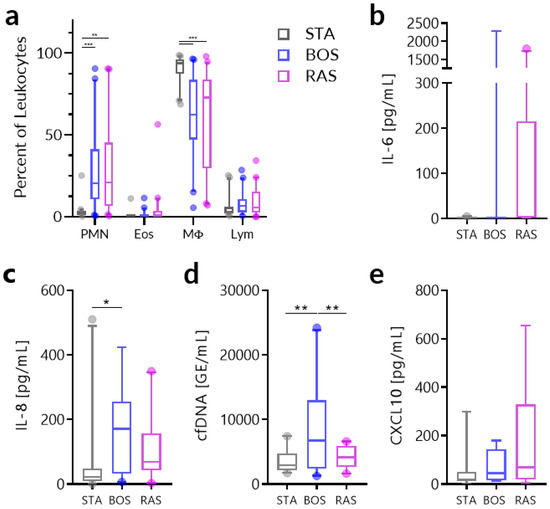 Figure 1
This is an open access article distributed under the
Creative Commons Attribution License
which permits unrestricted use, distribution, and reproduction in any medium, provided the original work is properly cited (CC BY 4.0).

Share & Cite This Article
MDPI and ACS Style
Yang, J.Y.; Verleden, S.E.; Zarinsefat, A.; Vanaudenaerde, B.M.; Vos, R.; Verleden, G.M.; Sarwal, R.D.; Sigdel, T.K.; Liberto, J.M.; Damm, I.; Watson, D.; Sarwal, M.M. Cell-Free DNA and CXCL10 Derived from Bronchoalveolar Lavage Predict Lung Transplant Survival. J. Clin. Med. 2019, 8, 241.
Note that from the first issue of 2016, MDPI journals use article numbers instead of page numbers. See further details here.
Related Articles
Comments
[Return to top]