Surface Modification of Electrospun Scaffolds for Endothelialization of Tissue-Engineered Vascular Grafts Using Human Cord Blood-Derived Endothelial Cells
1
Department of Bioengineering, University of Pittsburgh, Pittsburgh, PA 15219, USA
2
Department of Biomedical Engineering, Johns Hopkins University, Baltimore, MD 21231, USA
3
Sarver Heart Center, The University of Arizona, Tucson, AZ 85721, USA
4
The Arizona Center for Accelerated BioMedical Innovation, University of Arizona, Tucson, AZ 85721, USA
5
BIO5 Institute for Biocollaborative Research, The University of Arizona, Tucson, AZ 85721, USA
6
Interventional Cardiology, University of Arizona, Tucson, AZ 85721, USA
7
Arizona Health Science Center Biorepository, University of Arizona, Tucson, AZ 85724, USA
8
McGowan Institute for Regenerative Medicine, University of Pittsburgh, Pittsburgh, PA 15219, USA
9
Department of Surgery, University of Pittsburgh, Pittsburgh, PA 15219, USA
10
Department of Immunobiology, Arizona Health Science Center Biorepository, University of Arizona, Tucson, AZ 85724, USA
11
Vascular Medicine Institute, University of Pittsburgh, Pittsburgh, PA 15219, USA
*
Author to whom correspondence should be addressed.
Received: 12 December 2018 / Revised: 22 January 2019 / Accepted: 1 February 2019 / Published: 4 February 2019
Abstract
Tissue engineering has gained attention as an alternative approach for developing small diameter tissue-engineered vascular grafts intended for bypass surgery, as an option to treat coronary heart disease. To promote the formation of a healthy endothelial cell monolayer in the lumen of the graft, polycaprolactone/gelatin/fibrinogen scaffolds were developed, and the surface was modified using thermoforming and coating with collagen IV and fibronectin. Human cord blood-derived endothelial cells (hCB-ECs) were seeded onto the scaffolds and the important characteristics of a healthy endothelial cell layer were evaluated under static conditions using human umbilical vein endothelial cells as a control. We found that polycaprolactone/gelatin/fibrinogen scaffolds that were thermoformed and coated are the most suitable for endothelial cell growth. hCB-ECs can proliferate, produce endothelial nitric oxide synthase, respond to interleukin 1 beta, and reduce platelet deposition.
View Full-Text
►

▼

Figures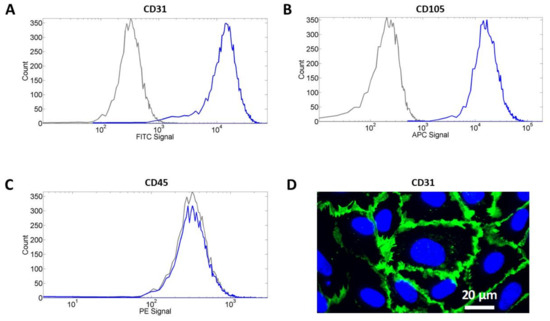 Figure 1
This is an open access article distributed under the
Creative Commons Attribution License
which permits unrestricted use, distribution, and reproduction in any medium, provided the original work is properly cited (CC BY 4.0).

Share & Cite This Article
MDPI and ACS Style
Ardila, D.C.; Liou, J.-J.; Maestas, D.; Slepian, M.J.; Badowski, M.; Wagner, W.R.; Harris, D.; Vande Geest, J.P. Surface Modification of Electrospun Scaffolds for Endothelialization of Tissue-Engineered Vascular Grafts Using Human Cord Blood-Derived Endothelial Cells. J. Clin. Med. 2019, 8, 185.
Note that from the first issue of 2016, MDPI journals use article numbers instead of page numbers. See further details here.
Related Articles
Comments
[Return to top]