Long-Term Outcome of Potential Celiac Disease in Genetically at-Risk Children: The Prospective CELIPREV Cohort Study
1
Department of Pediatrics, Marche Polytechnic University, 60123 Ancona, Italy
2
Department of Pediatrics, San Paolo Hospital, 70127 Bari, Italy
3
Interdisciplinary Department of Medicine, Paediatric Section, University of Bari, 70126 Bari, Italy
4
Department of Clinical and Molecular Biomedicine, University of Catania, 95123 Catania, Italy
5
Center for Celiac Research, Mass General Hospital for Children, Boston, MA 02114, USA
*
Author to whom correspondence should be addressed.
Received: 9 January 2019 / Revised: 30 January 2019 / Accepted: 31 January 2019 / Published: 5 February 2019
Abstract
Background: The long-term outcome of potential celiac disease (CD) is still a debated issue. We aimed to evaluate the progression of potential CD versus overt CD after 10-years of follow-up in a cohort of children genetically predisposed to CD. Methods: The CELIPREV study is prospectively following from birth 553 children with CD-predisposing HLA genes. Children with a diagnosis of potential CD continued to receive a normal diet and repeated the serological screening for CD every year. An intestinal biopsy was taken in presence of persistent positive serology. Results: Overall, 26 (4.7%) children received a diagnosis of potential CD (50% females, median age 24 months). All children were symptom-free. Twenty-three children continued a gluten-containing diet; at 10 years from the first biopsy, three children developed overt CD (13%), 19 (83%) became antibodies negative at 1 year from the first biopsy and remained negative up to 10 years of follow-up and one subject (4%) had fluctuating antibody course with transiently negative values and persistently negative biopsy. Conclusions: In children genetically predisposed to CD with a diagnosis of potential CD the risk of progression to overt CD while on a gluten-containing diet is very low in the long-term.
View Full-Text
►

▼

Figures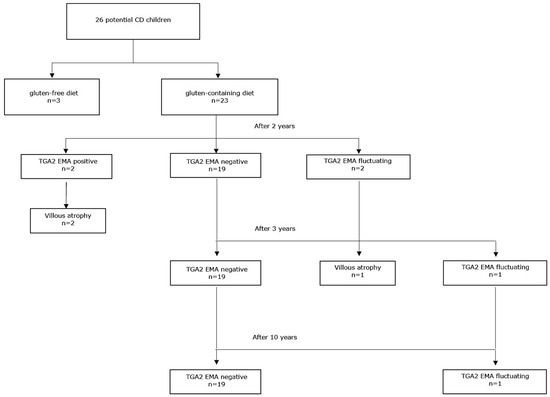 Figure 1
This is an open access article distributed under the
Creative Commons Attribution License
which permits unrestricted use, distribution, and reproduction in any medium, provided the original work is properly cited (CC BY 4.0).

Share & Cite This Article
MDPI and ACS Style
Lionetti, E.; Castellaneta, S.; Francavilla, R.; Pulvirenti, A.; Naspi Catassi, G.; Catassi, C.; The SIGENP Working Group of Weaning and CD Risk. Long-Term Outcome of Potential Celiac Disease in Genetically at-Risk Children: The Prospective CELIPREV Cohort Study. J. Clin. Med. 2019, 8, 186.
Note that from the first issue of 2016, MDPI journals use article numbers instead of page numbers. See further details here.
Related Articles
Comments
[Return to top]