Association between Negatively Charged Low-Density Lipoprotein L5 and Subclinical Atherosclerosis in Rheumatoid Arthritis Patients
1
Department of Medical Education and Research, Taichung Veterans General Hospital, Taichung 407, Taiwan
2
Rheumatology and Immunology Center, China Medical University Hospital, Taichung 404, Taiwan
3
School of Medicine, China Medical University, Taichung 404, Taiwan
4
Lipid Science and Aging Research Center, Kaohsiung Medical University, Kaohsiung 807, Taiwan
5
Vascular and Medicinal Research, Texas Heart Institute, Houston, TX 77030, USA
6
Center for Lipid Biosciences, Kaohsiung Medical University Hospital, Kaohsiung 807, Taiwan
7
Faculty of Medicine, National Yang Ming University, Taipei 112, Taiwan
8
Rheumatic Diseases Research Laboratory, Rheumatology and Immunology Center, China Medical University Hospital, Taichung 404, Taiwan
9
Graduate Institute of Clinical Medical Science, China Medical University, Taichung 404, Taiwan
10
Department of Medical Research, China Medical University Hospital, Taichung 404, Taiwan
11
Translational Medicine Laboratory, Rheumatology and Immunology Center, China Medical University Hospital, Taichung 404, Taiwan
*
Authors to whom correspondence should be addressed.
Received: 18 December 2018 / Revised: 29 January 2019 / Accepted: 31 January 2019 / Published: 3 February 2019
Full-Text
|
PDF
[1324 KB, uploaded 3 February 2019]
|
|

Review Reports
Abstract
L5, the most negatively charged subfraction of low-density lipoprotein (LDL), is implicated in atherogenesis. We examined the relationship between plasma L5 levels and the occurrence of subclinical atherosclerosis in patients with rheumatoid arthritis (RA). Using anion-exchange purification with fast-protein liquid chromatography, we determined the proportion of plasma L5 of LDL (L5%) in 64 RA patients and 12 healthy controls (HC). Plasma L5% and L5 levels were significantly higher in RA patients (median, 1.4% and 1.92 mg/dL) compared with HC (0.9%,
p
< 0.005; and 1.27 mg/dL,
p
< 0.05) and further increased in patients with subclinical atherosclerosis (2.0% and 2.88 mg/dL). L5% and L5 levels decreased in patients after 6-months of therapy (
p
< 0.01). Subclinical atherosclerosis was indicated by plaque and intima-media thickness determined by carotid ultrasonography. Using multivariate analysis, L5% and L5 levels are revealed as the predictors of subclinical atherosclerosis (odds ratio, 4.94 and 1.01; both
p
< 0.05). Receiver operating characteristic curves showed that cut-off values of L5% ≥ 1.45% and L5 levels ≥ 2.58 mg/dL could predict subclinical atherosclerosis in patients (both
p
< 0.001). Immunoblotting showed that the expression levels of lectin-like oxidized LDL receptor-1 (LOX-1) was increased in RA patients. Together, our findings suggest that plasma L5% and L5 levels may be predictors of cardiovascular risk in RA patients.
View Full-Text
►

▼

Figures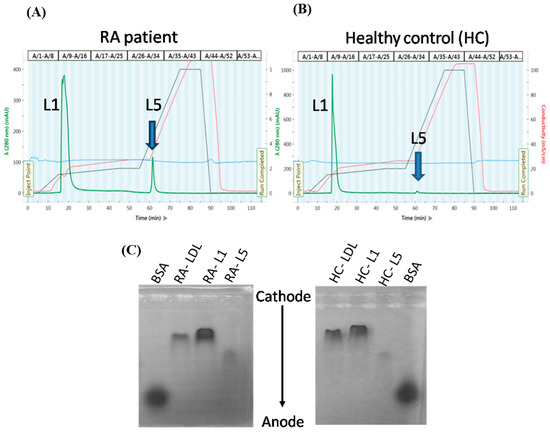 Figure 1
This is an open access article distributed under the
Creative Commons Attribution License
which permits unrestricted use, distribution, and reproduction in any medium, provided the original work is properly cited (CC BY 4.0).

Share & Cite This Article
MDPI and ACS Style
Chang, C.-Y.; Chen, C.-H.; Chen, Y.-M.; Hsieh, T.-Y.; Li, J.-P.; Shen, M.-Y.; Lan, J.-L.; Chen, D.-Y. Association between Negatively Charged Low-Density Lipoprotein L5 and Subclinical Atherosclerosis in Rheumatoid Arthritis Patients. J. Clin. Med. 2019, 8, 177.
Note that from the first issue of 2016, MDPI journals use article numbers instead of page numbers. See further details here.
Related Articles
Comments
[Return to top]