Open Access This article is
freely available
re-usable
Review
Together We Stand, Divided We Fall: A Multidisciplinary Approach in Complicated Acute Pancreatitis
1
Department of Surgery, Centro Hepatobiliopancreático e Transplantação, Centro Hospitalar Universitário de Lisboa Central, Hospital Curry Cabral, Universidade Nova de Lisboa, 1050-099 Lisboa, Portugal
2
Department of Gastroenterology, Centro Hospitalar Universitário de Lisboa Central, Hospital dos Capuchos, Universidade Nova de Lisboa, 1169-050 Lisboa, Portugal
3
Interventional Radiology Unit, Centro Hepatobiliopancreático e Transplantação, Centro Hospitalar Universitário de Lisboa Central, Hospital Curry Cabral, Universidade Nova de Lisboa, 1050-099 Lisboa, Portugal
*
Author to whom correspondence should be addressed.
Received: 23 August 2019 / Accepted: 29 September 2019 / Published: 3 October 2019
Abstract
:
Acute pancreatitis (AP) is an inflammatory condition with a mild course in most patients, but 20–30% evolve to single or multiple organ dysfunction and pancreatic/peripancreatic necrosis, with potentially infected collections. In the first weeks of disease, a systemic inflammatory syndrome (SIRS) dominates the clinical setting, and early management decisions in this precocious phase can change the course of the disease. Imaging is crucial in the diagnosis, and since the adoption of the revised Atlanta classification, four different types of pancreatic/peripancreatic collections have been defined. The management of the complicated forms of AP has been defined by several treatment guidelines, and the main indication for intervention is local infection, preferably in walled-off necrosis. Open surgery necrosectomy is associated with a very high rate of morbimortality, giving a place to different multidisciplinary methodologies, emphasizing drainage and necrosectomy techniques in a "step-up" approach starting from mini-invasive endoscopic drainage and moving, if needed, to progressively more invasive techniques, including interventional radiology and mini-invasive surgery. With the advent of several new technologies in the specialties involved, the complicated AP cases which need drainage and necrosectomy benefit from a new era of multidisciplinary cooperation, permitting higher efficacy with lower levels of morbimortality and reducing hospital stay and costs.
Keywords:
acute pancreatitis; infection; haemorrhage; necrosectomy; drainage
1. Introduction
Imaging is certainly very useful for the diagnosis of AP, but it is not an absolute requirement for it, as in cases of prolonged period between clinical complaints and presentation, patients with low level of consciousness, or clinical situations with a difficult differential diagnosis with other acute abdomen scenarios.
2. Management of Complicated Acute Pancreatitis
Bleeding can also occur from the disruption of the wall of a pseudocyst or WON. The presence of endoscopically or surgically inserted drains can also directly traumatize vessels. They can perpetuate local inflammation and diminish arterial wall integrity.
3. Conclusions
Complicated acute pancreatitis remains a devastating disease that is associated with mortality up to 30% and enormous and rising inpatient costs [
17
]. Early triage and referral to high-volume centers with defined protocols and multidisciplinary approaches are ways to drop of the global mortality described in literature in the last few decades.
Interventions for necrotizing pancreatitis have evolved considerably over recent years, with a minimally invasive step-up approach now preferred. The best methodology, according to the literature, is endoscopic and/or percutaneous catheter drainage followed, if needed, by endoscopic or minimally invasive surgical necrosectomy.
A highly differentiated team with a special interest in necrotizing pancreatitis is mandatory to succeed with the best outcomes, clinically and financially. Such a team must integrate dedicated pancreatic surgeons, gastroenterologists, and intervention radiologists beyond intensivists in appropriate intensive care unit facilities.
Author Contributions
All authors discussed this review, selected the presented cases and performed the clinical work and the final manuscript.
Funding
This research received no external funding.
Acknowledgments
The authors thank F.O. Martins for kindly providing three high quality pictures.
Conflicts of Interest
The authors declare no conflict of interest.

Figure 1. Open necrosectomy (sequential steps). (A) Transverse laparotomy, (B) retrogastric approach, (C) major artery skeletonized, and (D) necrosectomy specimen.

Figure 2. Pathways of management of complicated acute pancreatitis. Types of interventions are differentiated by colors: Surgery in red, gastroenterology in blue, interventional radiology in green.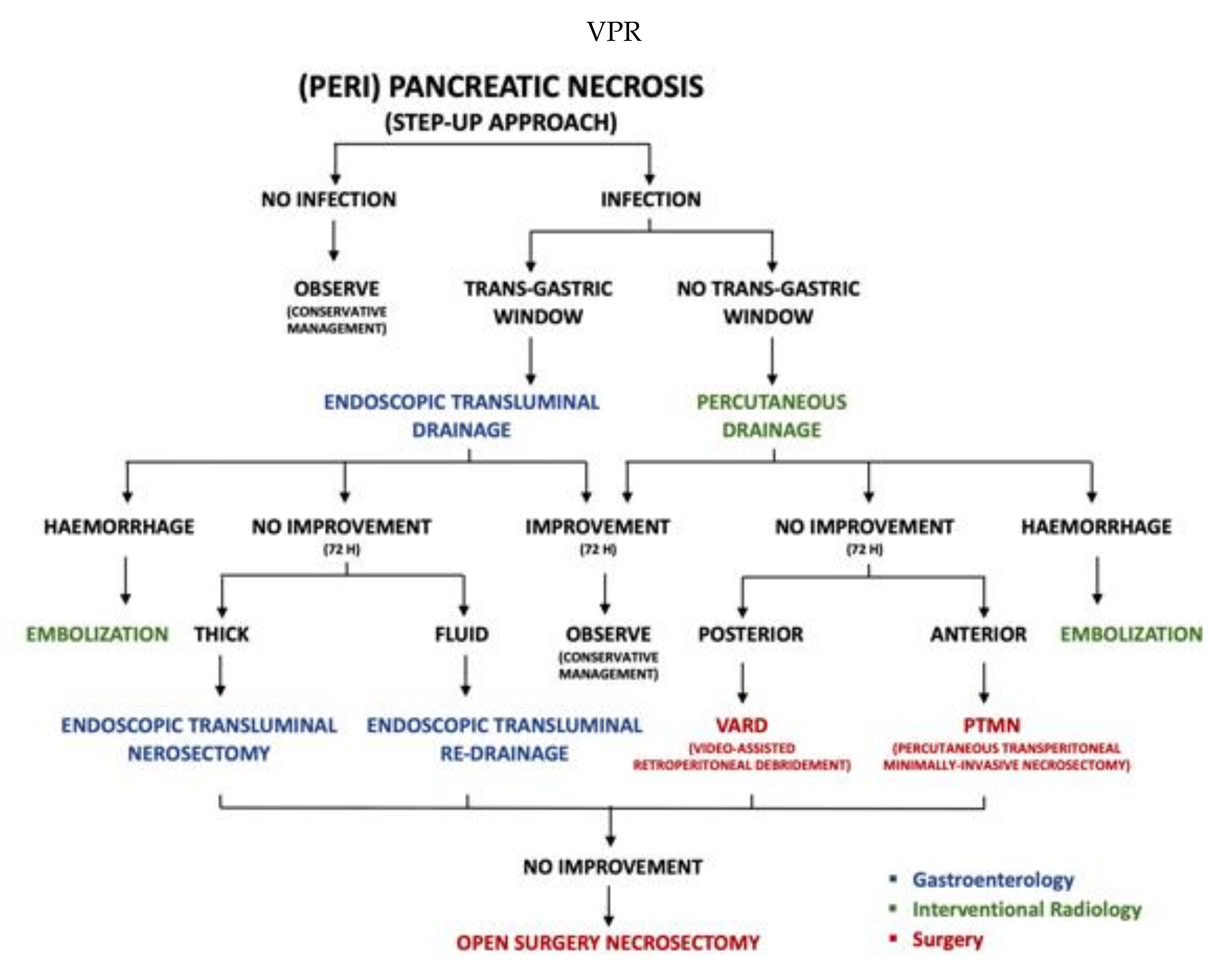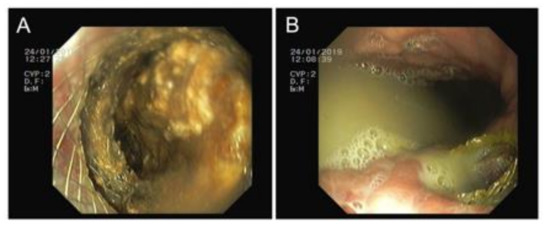 Figure 3. Transmural route. (A) Necrosectomy through the prosthesis and (B) purulent drainage to the gastric lumen.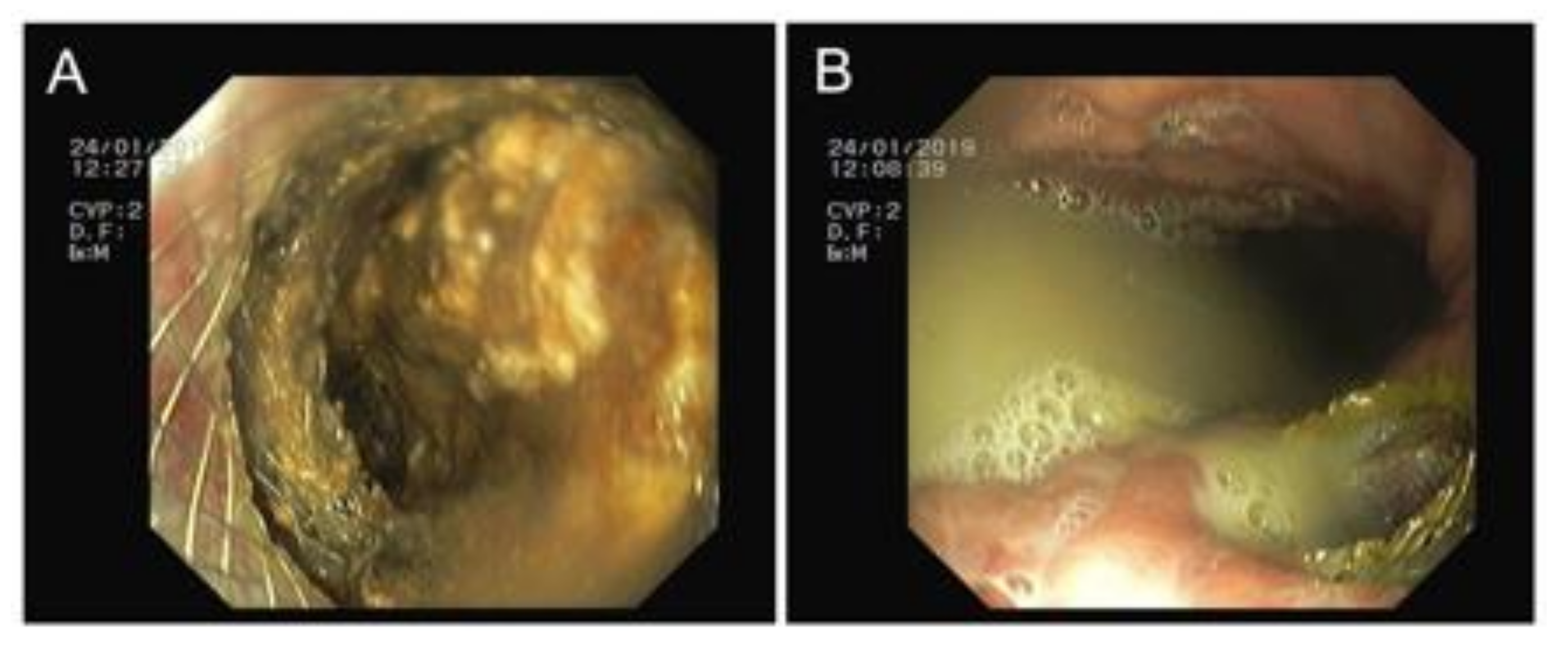 Figure 4. Transperitoneal route. (A) Minimally invasive skin incision, (B) lesser sac entrance, and (C) complete necrosectomy specimen.


Figure 5. Diagnosis and treatment of a pseudo-aneurysm of the gastroduodenal artery in a patient with severe acute pancreatitis. (A) Abdominal angio-CT revealing a large contrast-enhanced mass, (B) characteristic swirl flow in abdominal ultrasound-Yin-Yang sign, (C) digital subtraction angiography (DSA) showing the large pseudoaneurysm projected over the gastroduodenal artery, and (D) DSA showing the post trans-arterial embolization of the gastroduodenal artery with multiple coils.


Figure 6. Splenic artery trans-arterial embolization by the placement of coils in a patient with acute pancreatitis patient submitted to an "open abdomen" tamponade for hemorrhage control. (A) Axial CT view, (B) sagittal CT view, (C) angiographic view post-embolization, and (D) axial CT control after embolization, with metal artifacts from the coils placed in the splenic artery.


© 2019 by the authors. Licensee MDPI, Basel, Switzerland. This article is an open access article distributed under the terms and conditions of the Creative Commons Attribution (CC BY) license (http://creativecommons.org/licenses/by/4.0/).