Association of Wnt Inhibitors, Bone Mineral Density and Lifestyle Parameters in Women with Breast Cancer Treated with Anastrozole Therapy
1
Department of Mineral Metabolism, Faculty of Medicine Osijek, J. J. Strossmayer University of Osijek, Osijek 31000, Croatia
2
Department of Radiology, Health Center Osijek, Osijek31000, Croatia
3
Department of Pharmacology, Faculty of Medicine Osijek, J. J. Strossmayer University of Osijek, Osijek 31000, Croatia
4
Department of Medicine, University Hospital Osijek, Osijek 31000, Croatia
5
Department of Biology, Faculty of Dental Medicine and Health Osijek, J. J. Strossmayer University of Osijek, Osijek 31000, Croatia
6
Department of Chemistry, Faculty of Dental Medicine and Health Osijek, J. J. Strossmayer University of Osijek, Osijek 31000, Croatia
7
Clinical Institute for Nuclear Medicine and Radiation Safety, University Hospital Osijek, Osijek 31000, Croatia
8
Department of Pharmacology, Faculty of Dental Medicine and Health Osijek, J. J. Strossmayer University of Osijek, Osijek 31000, Croatia
9
Department of Medical Statistics and Medical Informatics, Faculty of Medicine Osijek, J. J. Strossmayer University of Osijek, Osijek 31000, Croatia
10
Department of Diagnostic and Interventional Radiology, University Hospital Dubrava, Zagreb 10000, Croatia
11
Department of Pathophysiology, Faculty of Dental Medicine and Health Osijek, J. J. Strossmayer University of Osijek, Osijek 31000, Croatia
*
Author to whom correspondence should be addressed.
Received: 7 August 2018 / Revised: 3 September 2018 / Accepted: 11 September 2018 / Published: 17 September 2018
Abstract
Aim: To determine the levels of Wnt inhibitors in patients treated with aromatase inhibitors (AIs) prior to therapy and to investigate their association with bone mineral density (BMD) and lifestyle parameters. Methods: 137 breast cancer patients were divided into a group treated with 1 mg of anastrozole and a group w/o anastrozole therapy. Serum concentrations of sclerostin and dickkopf1 (DKK1) were measured by ELISA. BMD was measured by dual-energy X-ray absorptiometry (DXA). Lifestyle factors were investigated by a self-reported questionnaire. Results: Sclerostin was significantly higher in the AI-treated group (31.8 pmol/L vs. 24.1 pmol/L;
p
< 0.001), whereas DKK1 was significantly lower in the AI-treated group (24.3 pmol/L vs. 26.02 pmol/L;
p
< 0.001). Total hip and femoral neck BMD were significantly lower in the AI-treated group. Conclusion: AI treatment was associated with increased levels of sclerostin and decreased levels of DKK1.
View Full-Text
►

▼

Figures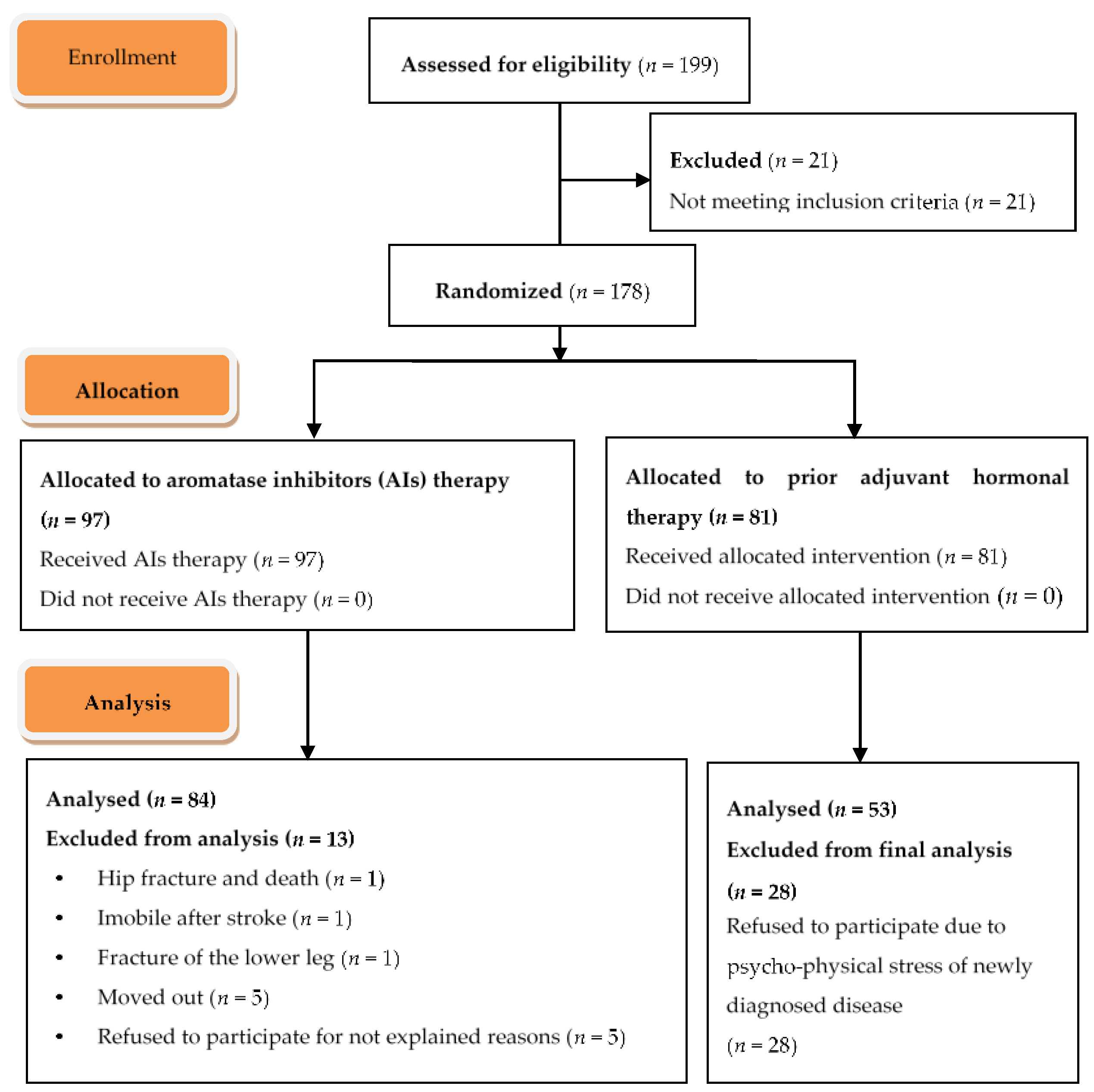 Figure 1
This is an open access article distributed under the
Creative Commons Attribution License
which permits unrestricted use, distribution, and reproduction in any medium, provided the original work is properly cited (CC BY 4.0).

Share & Cite This Article
MDPI and ACS Style
Bojanić, K.; Bilić Ćurčić, I.; Kuna, L.; Kizivat, T.; Smolic, R.; Raguž Lučić, N.; Kralik, K.; Šerić, V.; Ivanac, G.; Tucak-Zorić, S.; Včev, A.; Smolić, M. Association of Wnt Inhibitors, Bone Mineral Density and Lifestyle Parameters in Women with Breast Cancer Treated with Anastrozole Therapy. J. Clin. Med. 2018, 7, 287.
Note that from the first issue of 2016, MDPI journals use article numbers instead of page numbers. See further details here.
Related Articles
Comments
[Return to top]