Open Access This article is
freely available
re-usable
Review
Social Medicine: Twitter in Healthcare
1
Department of Vascular and Interventional Radiology, Minimally Invasive Therapeutics Laboratory, Mayo Clinic, Phoenix, AZ 85054, USA
2
Department of General Surgery, Mayo Clinic, Phoenix, AZ 85054, USA
*
Author to whom correspondence should be addressed.
Received: 1 May 2018 / Accepted: 22 May 2018 / Published: 28 May 2018
Abstract
:
Social media enables the public sharing of information. With the recent emphasis on transparency and the open sharing of information between doctors and patients, the intersection of social media and healthcare is of particular interest. Twitter is currently the most popular form of social media used for healthcare communication; here, we examine the use of Twitter in medicine and specifically explore in what capacity using Twitter to share information on treatments and research has the potential to improve care. The sharing of information on Twitter can create a communicative and collaborative atmosphere for patients, physicians, and researchers and even improve quality of care. However, risks involved with using Twitter for healthcare discourse include high rates of misinformation, difficulties in verifying the credibility of sources, overwhelmingly high volumes of information available on Twitter, concerns about professionalism, and the opportunity cost of using physician time. Ultimately, the use of Twitter in healthcare can allow patients, healthcare professionals, and researchers to be more informed, but specific guidelines for appropriate use are necessary.
Keywords:
social media; Twitter; communication; patient–physician relationships; technology; public health
1. Introduction
Social media enables the public sharing of information between anyone with an account. While previously used primarily to connect public figures such as politicians, celebrities, and athletes with the general public, additional uses of social media have arisen. Calls to improve the alienating and inaccessible language of healthcare in order to improve patient–physician communication are not unique, and continue to plague medicine [
1
]. Thus, improving the transparency and accessibility of information in medicine is critical. Since social media allows for the sharing of information, applications of social media to medicine have recently garnered a great deal of attention [
2
]. Currently, Twitter is the most popular form of social media used for healthcare communication [
3
].
Conflicting opinions have stirred controversy about if and how medical professionals should use social media platforms in their work. Skeptics of social media in healthcare cite the potential for misinformation, conflicting advice, and unprofessionalism as evidence that social media is not an appropriate medium on which to share healthcare information [
4
]. Some argue that social media has no place in healthcare, while others claim that the open sharing of information enabled by social media would revolutionize accessibility to medicine. Here, we examine the use of Twitter in medicine and pose the question: "In what capacity should Twitter be used for the sharing of information in healthcare?"
To answer this question and analyze uses of social media in medicine, we first examine how medical professionals have used digital media in the past. Then, we compare Twitter's features to prior media to investigate how Twitter is currently being used in medicine. From its current uses, we derive its limitations and potential for growth; finally, these limitations guide proposed solutions about how to effectively leverage Twitter in medicine. Ultimately, a review of the relevant literature demonstrates that the use of Twitter to share information about treatments and research among physicians has the potential to greatly improve care. However, when used inappropriately (e.g., for direct public interactions between patients and doctors), Twitter's privacy and misinformation concerns outweigh the benefit of accessibility.
2. The History of Digital Media and Healthcare
3. The Benefits of Twitter in Medicine
4. The Potential Risks of Using Twitter in Healthcare
For the sharing of general information on Twitter, the risks involved with using Twitter for healthcare discourse include high rates of misinformation, difficulties verifying the credibility of sources, overwhelmingly high volumes of information available on Twitter, concerns about professionalism, and the opportunity cost of using physician time. In order to compare the risks and benefits of the use of Twitter in medicine, this paper examines the current uses of Twitter in medicine to propose a solution to maximize benefits and minimize risks.
5. Current Uses of Twitter in Healthcare
Examining the current uses of Twitter in medicine has demonstrated that many doctors are using Twitter effectively to share information about research among their colleagues and collaborators and information about public health for the public. However, some doctors know much less about the appropriate uses of Twitter. This knowledge gap is problematic and suggests little formal education on social media practices amongst physicians.
6. Proposed Solutions
Medical professionals must constantly communicate with patients, peers, and researchers. As social media is becoming an integral part of communication, medical professionals of the twenty-first century must acquire new skills on social media. Concerns with misinformation, privacy, and unprofessionalism necessitate clear guidelines for physicians on Twitter.
Despite this need for clear guidelines, the current guidelines from the American Medical Association (AMA) are vague, telling doctors to "use their common sense" [
4
,
21
]. The high rates of unprofessionalism and misinformation, along with the lack of consistent identifiers for healthcare professionals in the "bios" of their Twitter accounts, show a lack of formal social media education among physicians [
15
]. This lack of knowledge is not surprising, as traditional training for healthcare professionals does not include effectively leveraging social media for clinical or research purposes.
Thus, medical professionals must be formally trained on appropriate and effective social media use. This training is a necessity as social media becomes a bigger part of our daily lives and medicine. Similar initiatives have informed collegiate and professional athletes, who have now become major figures on social media [
22
]; formal instruction integrated in medical school and throughout training could even be more successful, as all medical professionals go through similar curricula.
Moreover, the AMA should enact new guidelines for the use of social media by medical professionals. These guidelines should emphasize that health professionals should maintain separate personal and professional accounts, avoid profanity, racist or sexist statements, or sexual references, respect the privacy and anonymity of patients, avoid promoting specific products or medication, and include clear statements of affiliations and conflicts of interest in Twitter account profiles [
7
,
16
]. Health professionals should try to combat misinformation as vigorously as they propagate information. Additionally, the guidelines should tell doctors to re-read their tweets before posting, as reflecting on the tweet before posting is crucial to protect patient privacy and ensure professional behavior. Moreover, using the Twitter "bio" effectively and professionally is crucial to allow patients to find credible sources of information.
While the proposed solution to educate medical professionals on social media etiquette during their training has potential to mitigate risks associated with physicians on social media, educating doctors should be an iterative and continuous process. Implementing any education program, which is better than the current complete lack of education, is a step in the right direction, but only a start. Moreover, the distinction between types of healthcare professionals, including doctors, physician assistants, nurses, and others, has not yet been addressed in the literature and requires further study for a more nuanced solution.
Ultimately, Dr. Oz, WebMD, and Twitter all share the common goal of changing the perception of medicine from a black box to something more accessible—to allow patients to understand their conditions and make informed decisions. The use of Twitter in healthcare has the potential to allow patients to be more informed about their own health, but must balance accessibility with misinformation.
Author Contributions
Y.P., P.T.H., H.A. and R.O. conceived the ideas of the review. Y.P., P.T.H., H.A. and R.O. wrote the paper.
Acknowledgments
Rahmi Oklu acknowledges support from National Institutes of Health (R01-HL137193, R01-EB24403, R01-HL140951, R21-EB021148) and Mayo Clinic. Yash Pershad acknowledges Norah Fahim for her support throughout the writing process.
Conflicts of Interest
The authors declare no conflict of interest.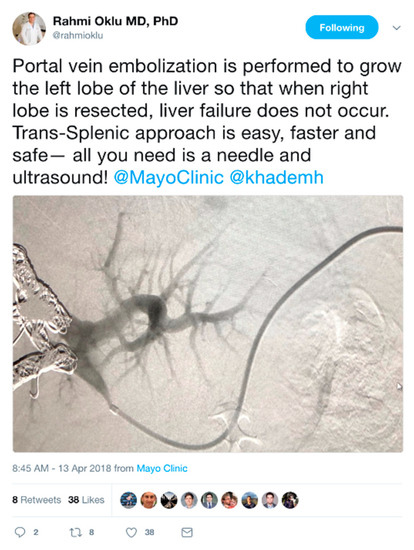 Figure 1. An example tweet from Dr. Rahmi Oklu, an interventional radiologist, on Twitter, in which he shares an interesting case study with patient data correctly anonymized.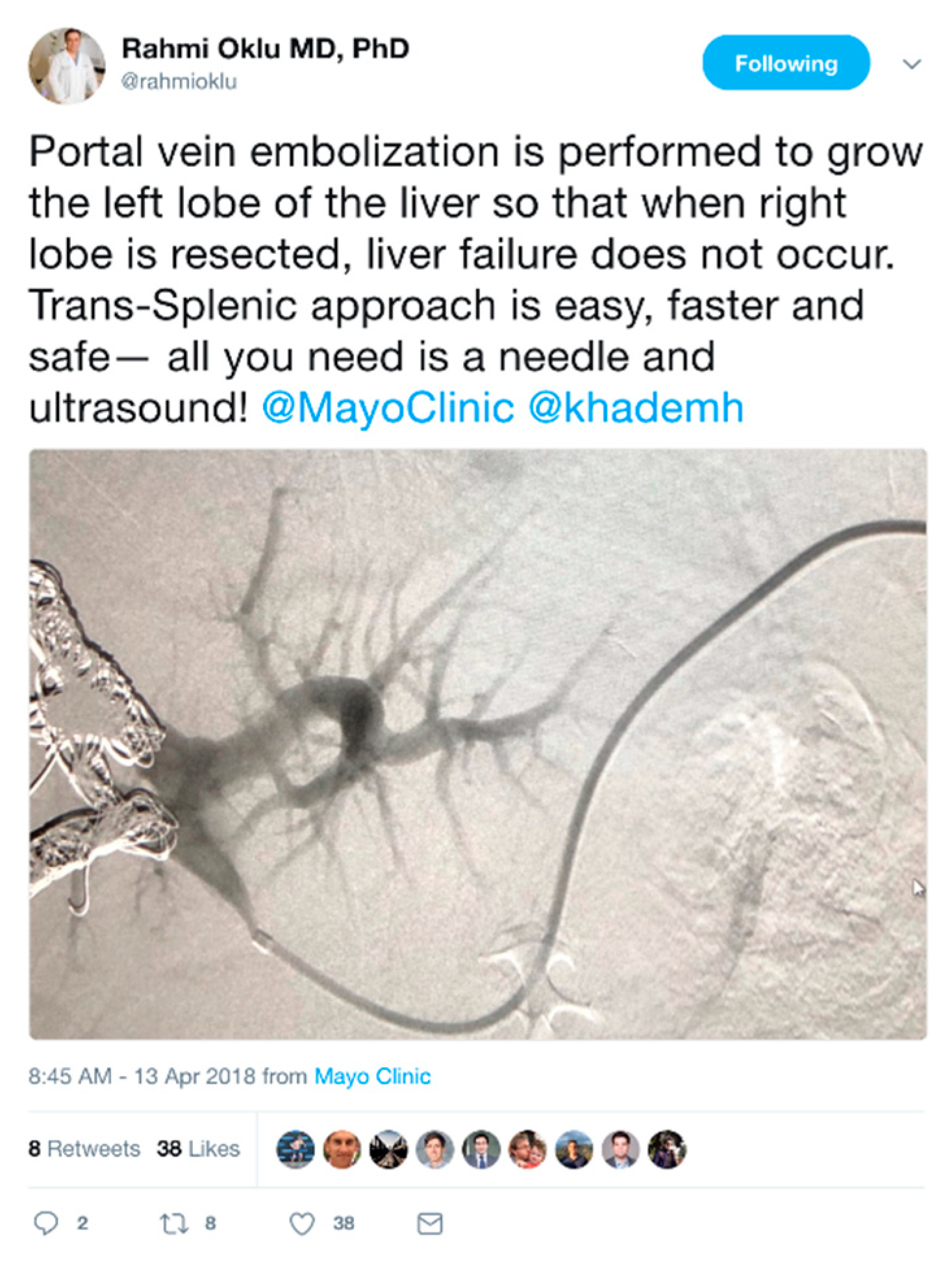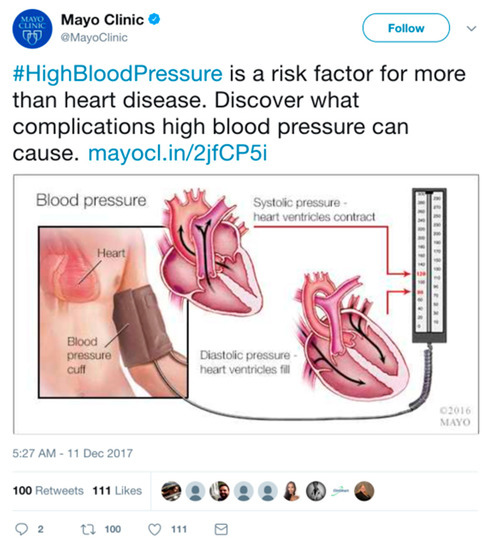 Figure 2. The verified Twitter account of Mayo Clinic shares information about #HighBloodPressure to inform followers about the condition's health risks.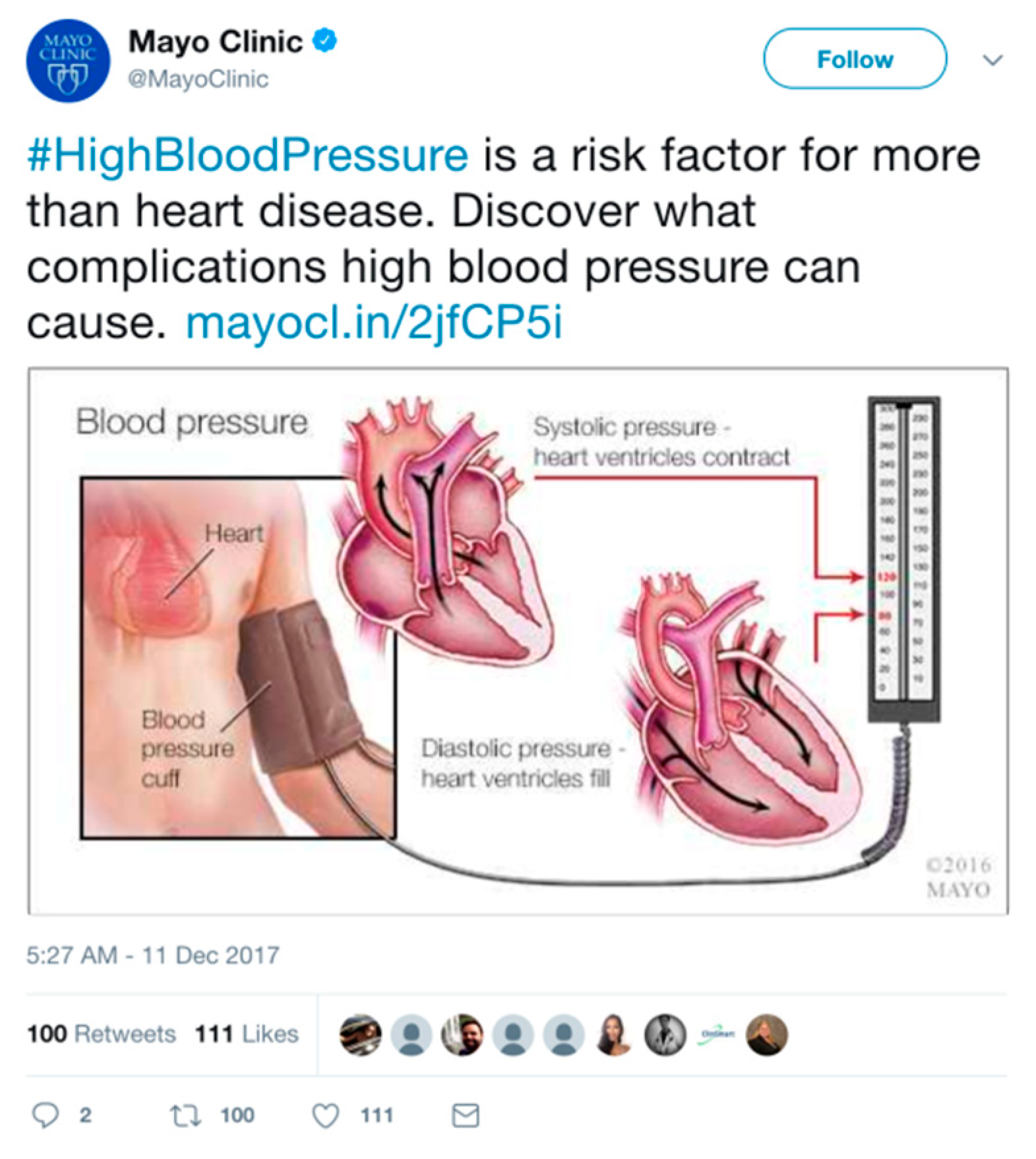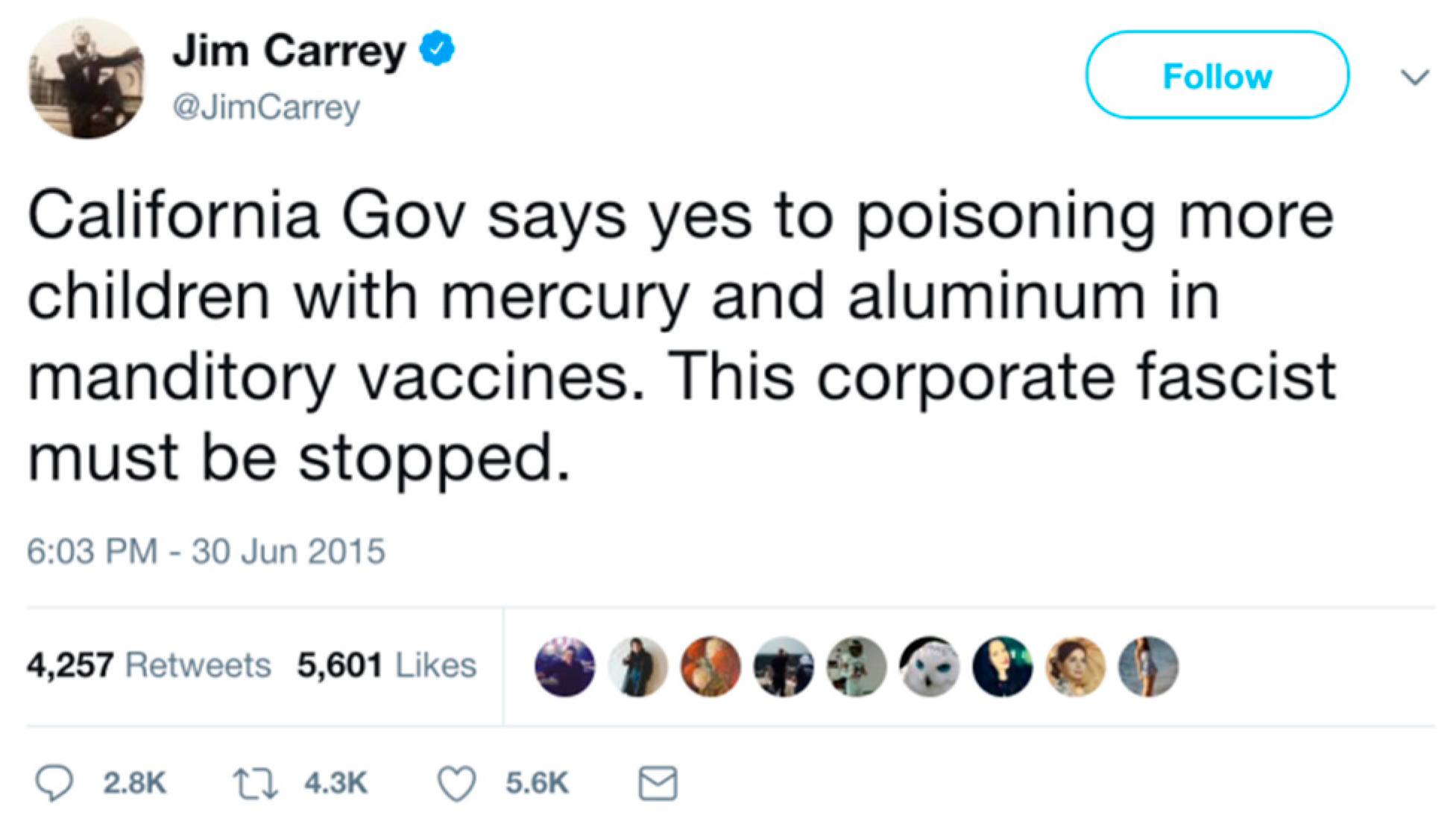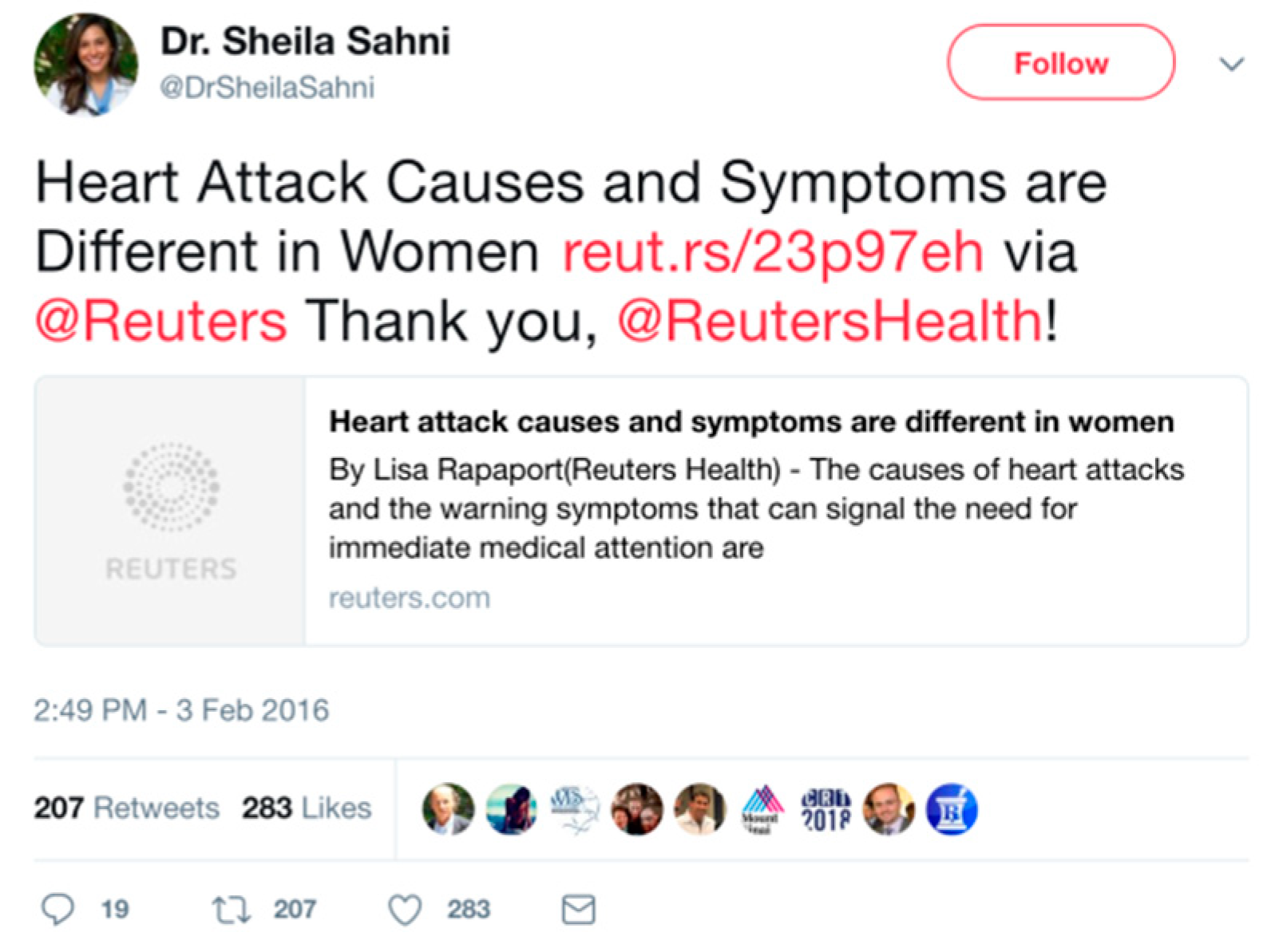 © 2018 by the authors. Licensee MDPI, Basel, Switzerland. This article is an open access article distributed under the terms and conditions of the Creative Commons Attribution (CC BY) license (http://creativecommons.org/licenses/by/4.0/).