Open Access This article is
freely available
re-usable
Review
Multi-Detector Computed Tomography Imaging Techniques in Arterial Injuries
1
Department of Vascular and Interventional Radiology, Minimally Invasive Therapeutics Laboratory, Mayo Clinic, Phoenix, AZ 85054, USA
2
Department of General Surgery, Mayo Clinic, Phoenix, AZ 85054, USA
*
Author to whom correspondence should be addressed.
Received: 1 April 2018 / Accepted: 18 April 2018 / Published: 24 April 2018
Abstract
:
Cross-sectional imaging has become a critical aspect in the evaluation of arterial injuries. In particular, angiography using computed tomography (CT) is the imaging of choice. A variety of techniques and options are available when evaluating for arterial injuries. Techniques involve contrast bolus, various phases of contrast enhancement, multiplanar reconstruction, volume rendering, and maximum intensity projection. After the images are rendered, a variety of features may be seen that diagnose the injury. This article provides a general overview of the techniques, important findings, and pitfalls in cross sectional imaging of arterial imaging, particularly in relation to computed tomography. In addition, the future directions of computed tomography, including a few techniques in the process of development, is also discussed.
Keywords:
computed tomography; CT; angiography; arterial injury; radiology; cross-sectional; imaging
1. Introduction
Arterial injuries are seen in a variety of settings, including blunt trauma, penetrating trauma, complications of percutaneous access, and surgical complications. If not diagnosed quickly, these injuries can be devastating, resulting in hemorrhage, hemorrhagic shock, and even death [
1
]. As cross-sectional imaging techniques have improved, their use has become widespread and they have become primary tools in the diagnosis of arterial injuries, especially prior to treatment. Rapid identification of both the location and severity of an injury are crucial for institution of rapid treatment and prevention of morbidity and mortality due to arterial injury [
2
].
With regard to cross-sectional imaging in the setting of arterial injury, computed tomography (CT) is typically the cross-sectional imaging technique of choice [
3
,
4
]. Here, we will discuss the basic principles of the CT imaging technique in arterial injury. Parameters of imaging protocols are dependent upon the area of the body being examined and available equipment, leading to extensive variability among protocols. As such, we will focus on the important principles and general tools available in arterial imaging, rather than detailing specific protocols for all regions of the body, which is beyond the scope of this article. In addition, the clinical indications for imaging evaluation of an arterial injury are innumerable and include trauma, iatrogenic injury, a wide range of symptoms, specific comorbidities, and more. Since we aim to provide a general overview of arterial imaging techniques and findings in the setting of injury, we will not discuss clinical indications in detail.
3. Conclusions
CT angiography remains the mainstay in cross-sectional imaging of arterial injuries. Despite the known pitfalls, the exam has been shown to have extremely high sensitivity and specificity, regardless of the region of the body being examined. The exam has a variety of tools and techniques that can be utilized for evaluation, including multiple phases of imaging, multiplanar reformatting, maximum intensity projections, and volume rendering. In the coming years, we can look forward to bolus chasing techniques and the benefits of dual-energy CT to build upon our current technology and provide even higher quality imaging and more information than we have available today.
Acknowledgments
R.O. gratefully acknowledges funding from the National Institutes of Health (EB021148, CA172738, EB024403, HL137193, HL140951) and the Mayo Clinic.
Author Contributions
C.A., R.O. conceived and designed the paper. All authors wrote the paper.
Conflicts of Interest
The authors declare no conflict of interest.

Figure 1. Consecutive axial images acquired during bolus tracking. The region of interest was placed over the ascending aorta, as marked by an asterisk. (a) Ascending aorta with attenuation greater than 50 Hounsfield units; (b) Ascending aorta with attenuation greater than 50 and less than 100 Hounsfield units; (c) Ascending aorta with attenuation greater than 120 Hounsfield units, at which point image acquisition began.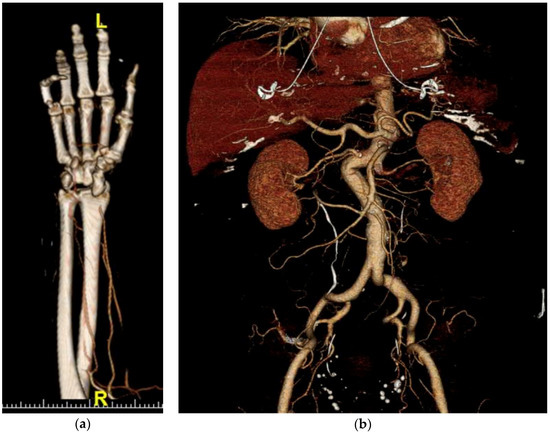 Figure 2. Volume rendering examples: (a) Volume rendering of distal radial artery occlusion; (b) Volume rendering of abdominal arteries.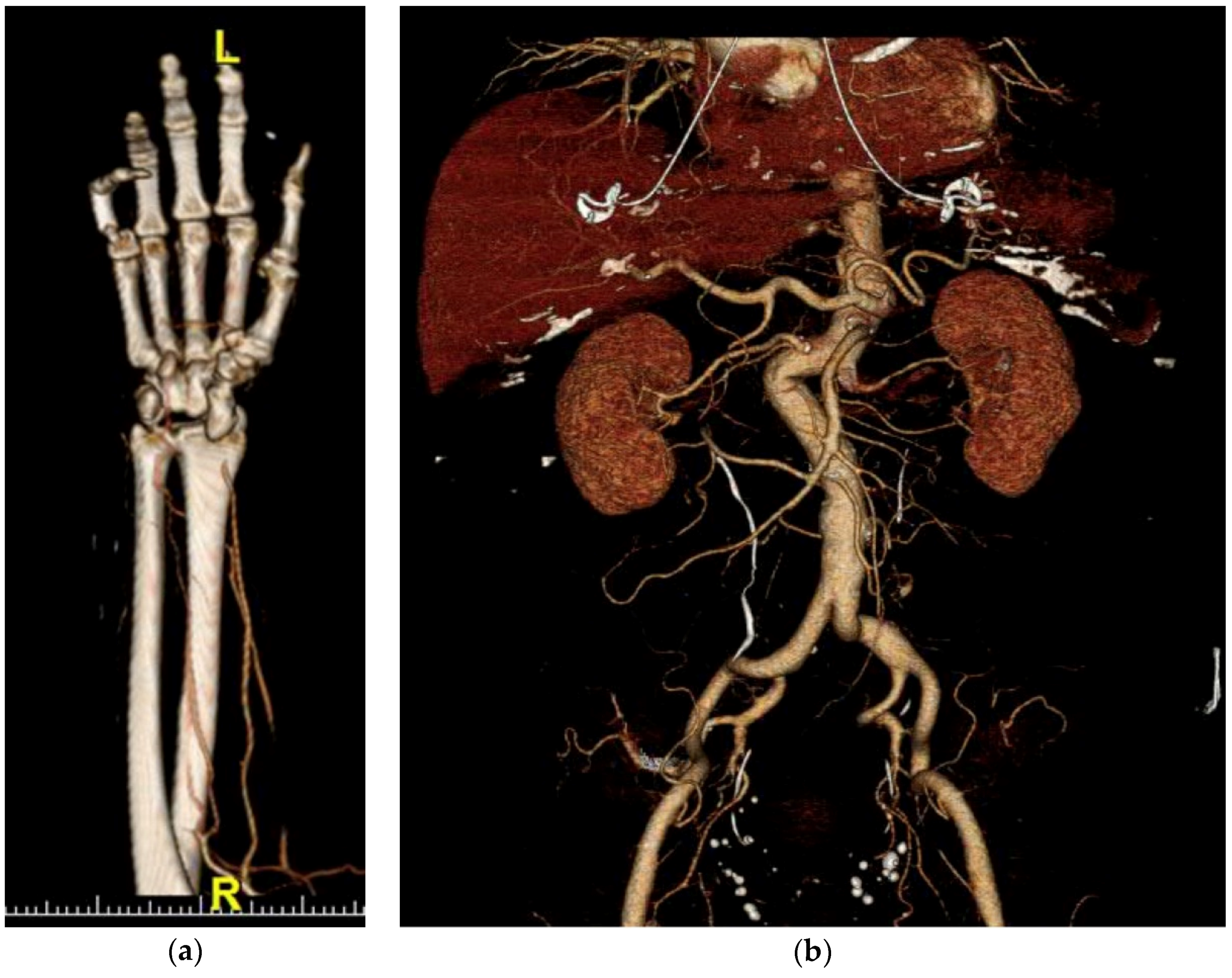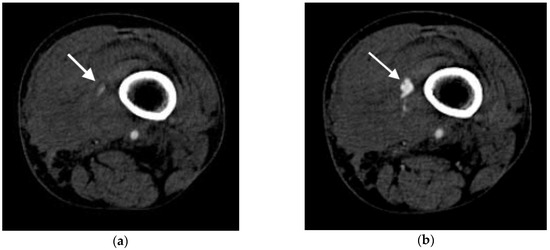 Figure 3. Axial images of active extravasation of contrast into a medial left thigh hematoma following traumatic injury to the left leg: (a) Small volume of contrast extravasation seen during the arterial phase (arrow); (b) Increase in size of the collection of extravasated contrast in the delayed phase imaging (arrow).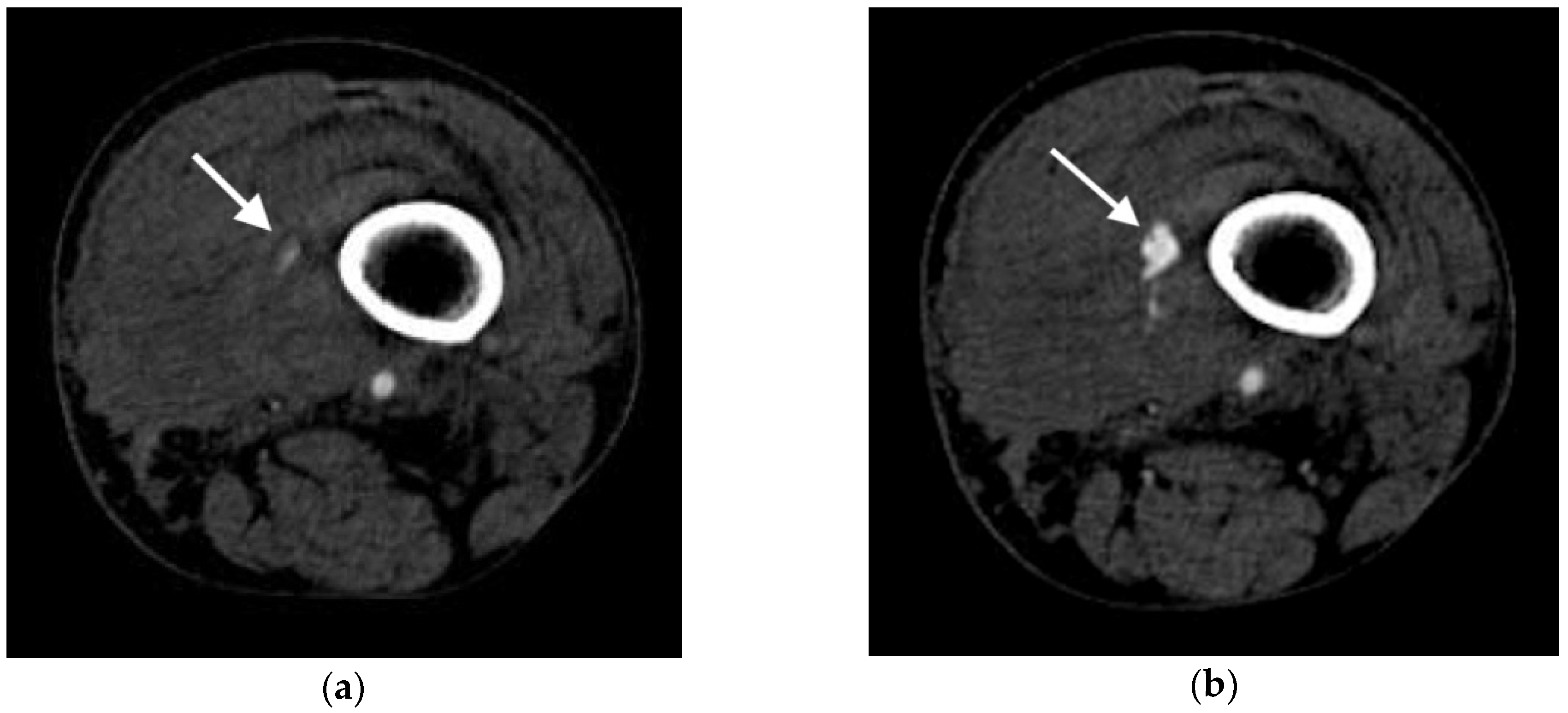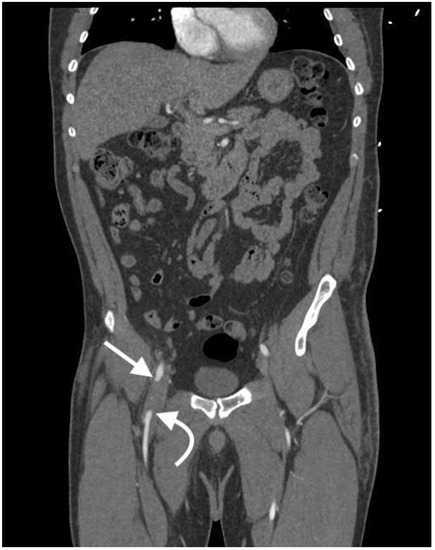 Figure 4. Coronal image of right common femoral artery occlusion (arrow) with distal reconstitution (curved arrow) following traumatic injury to the pelvis.
Figure 5. Coronal image of right distal ulnar artery stenosis following traumatic injury to the wrist and hand.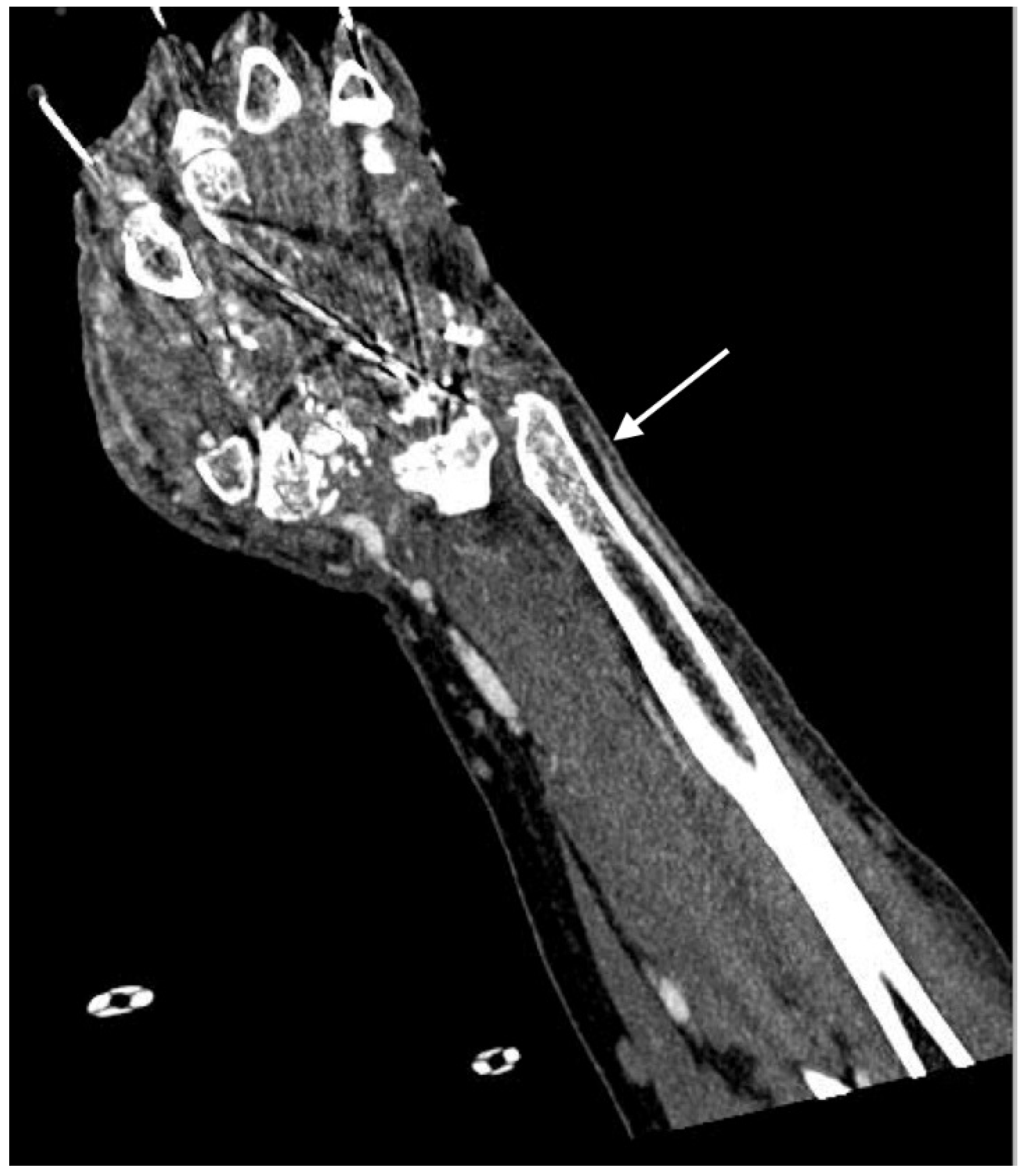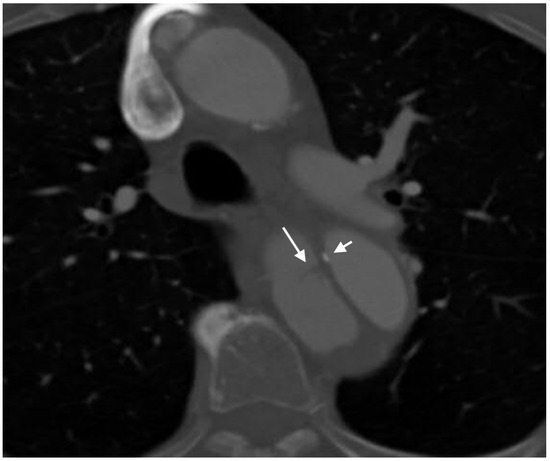 Figure 6. Axial image of type A aortic dissection demonstrating both the cobweb sign (long arrow) and eccentric calcification in the dissection flap (short arrow) in the descending aorta. Note that the eccentric calcification abuts the true lumen.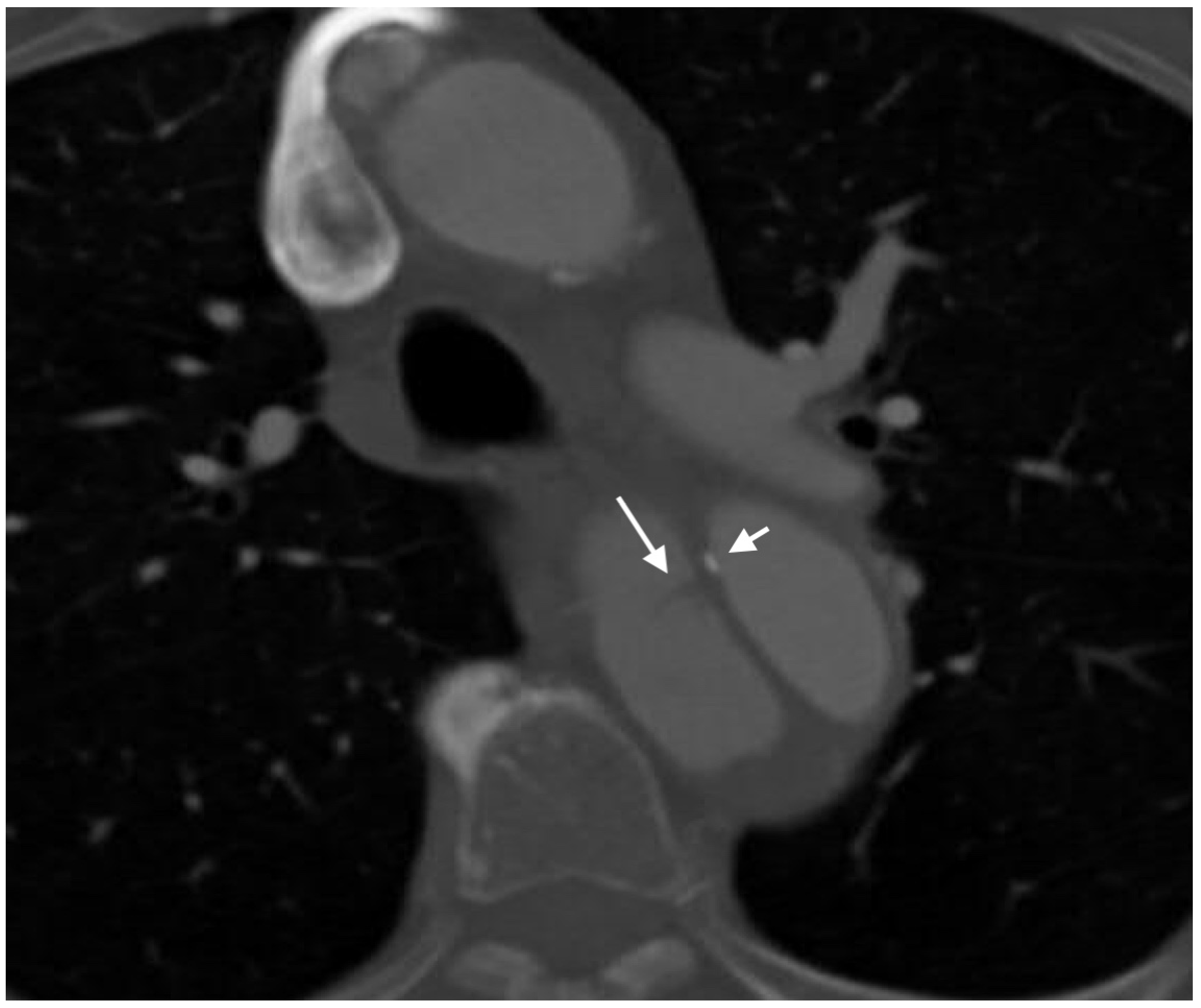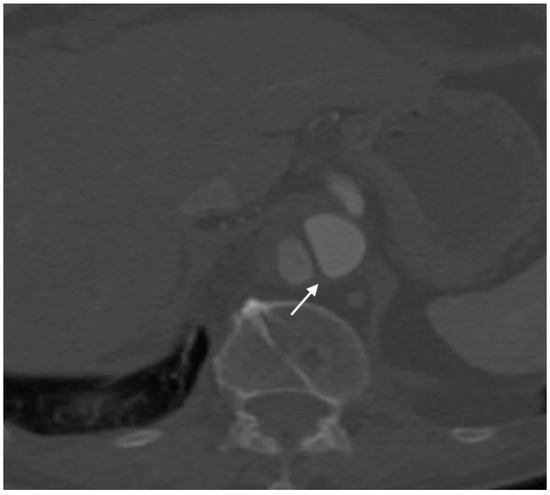 Figure 7. Axial image of aortic dissection demonstrating the beak sign (arrow). Note the acute angle between the dissection flap and the outer wall.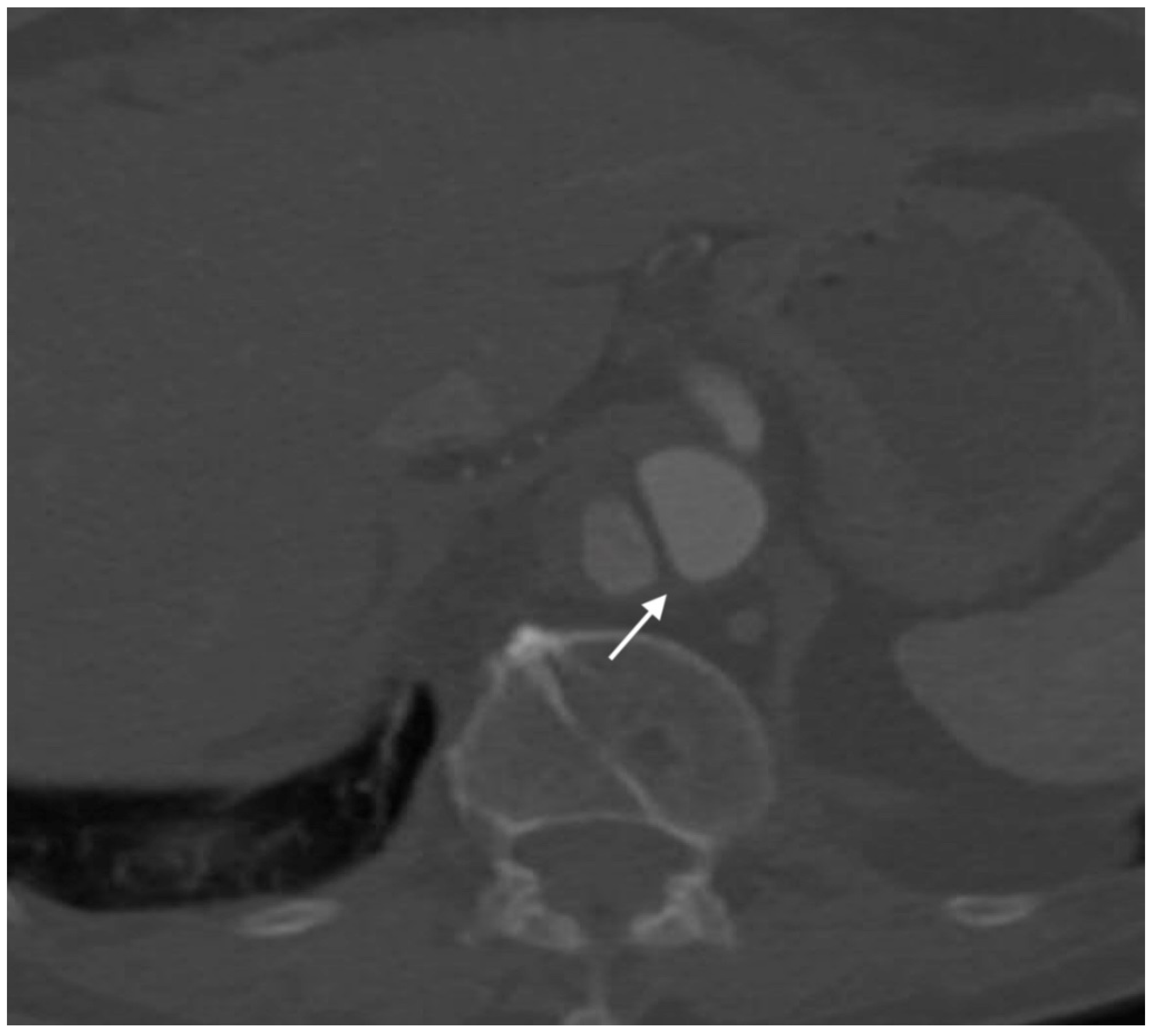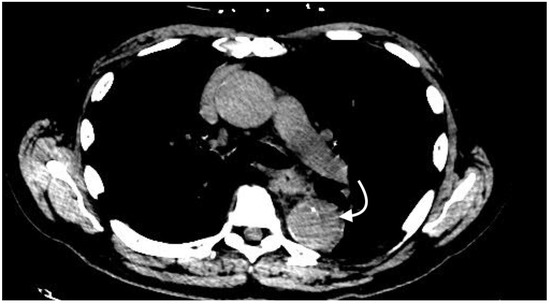 Figure 8. Axial non-contrast image demonstrating intramural hematoma (curved arrow) in the descending thoracic aorta. Note that the crescent-shaped intramural hematoma has higher attenuation than the thin portions of normal arterial wall surrounding it.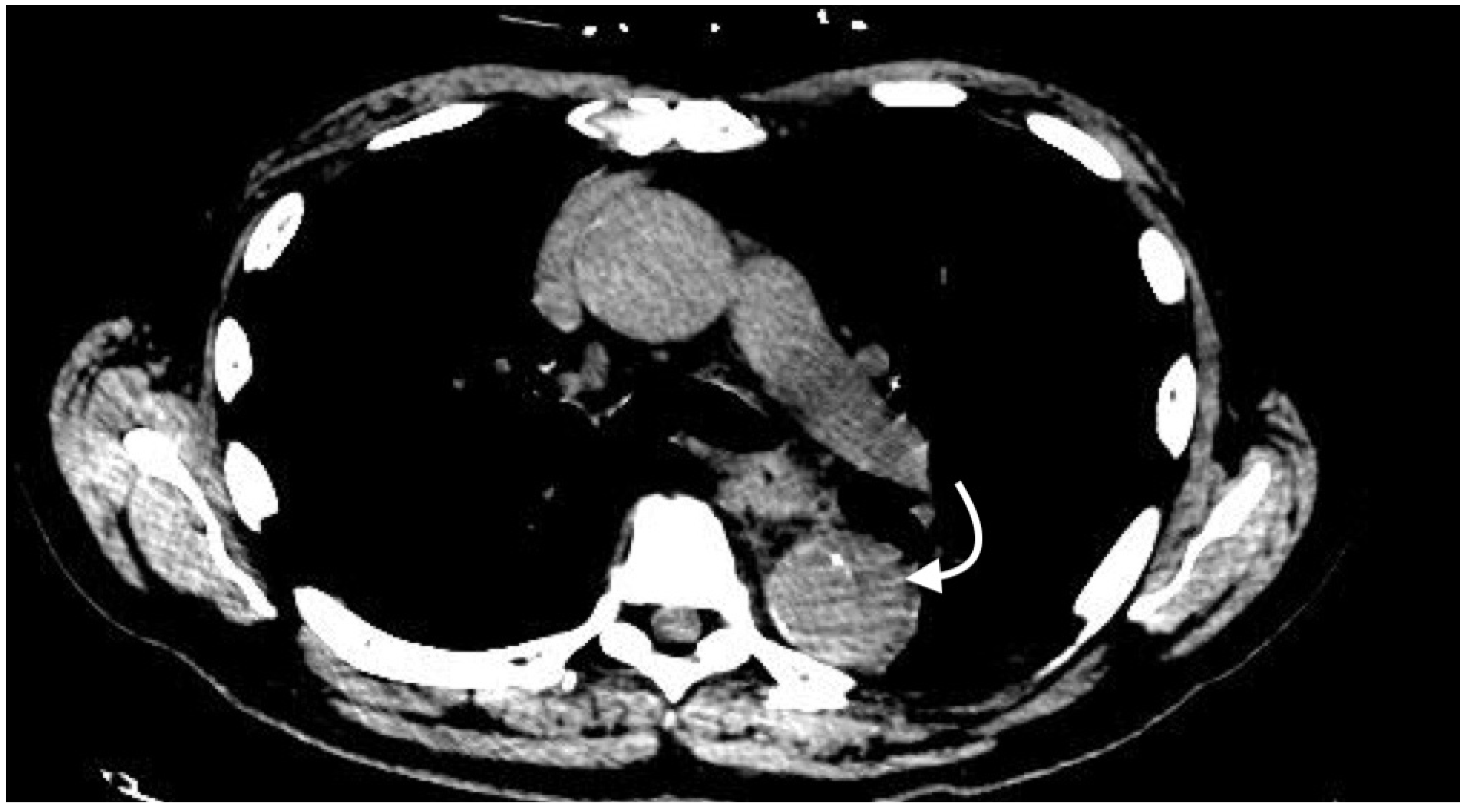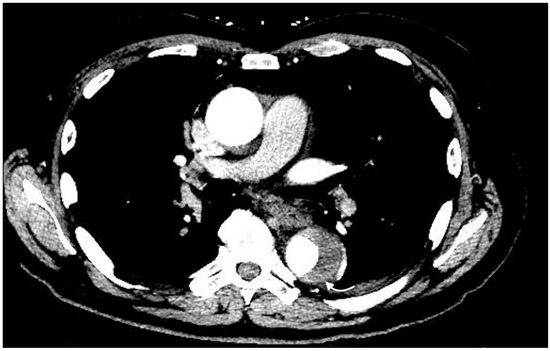 Figure 9. Axial contrast-enhanced arterial phase image demonstrating a crescent-shaped intramural hematoma (curved arrow) in the descending aorta.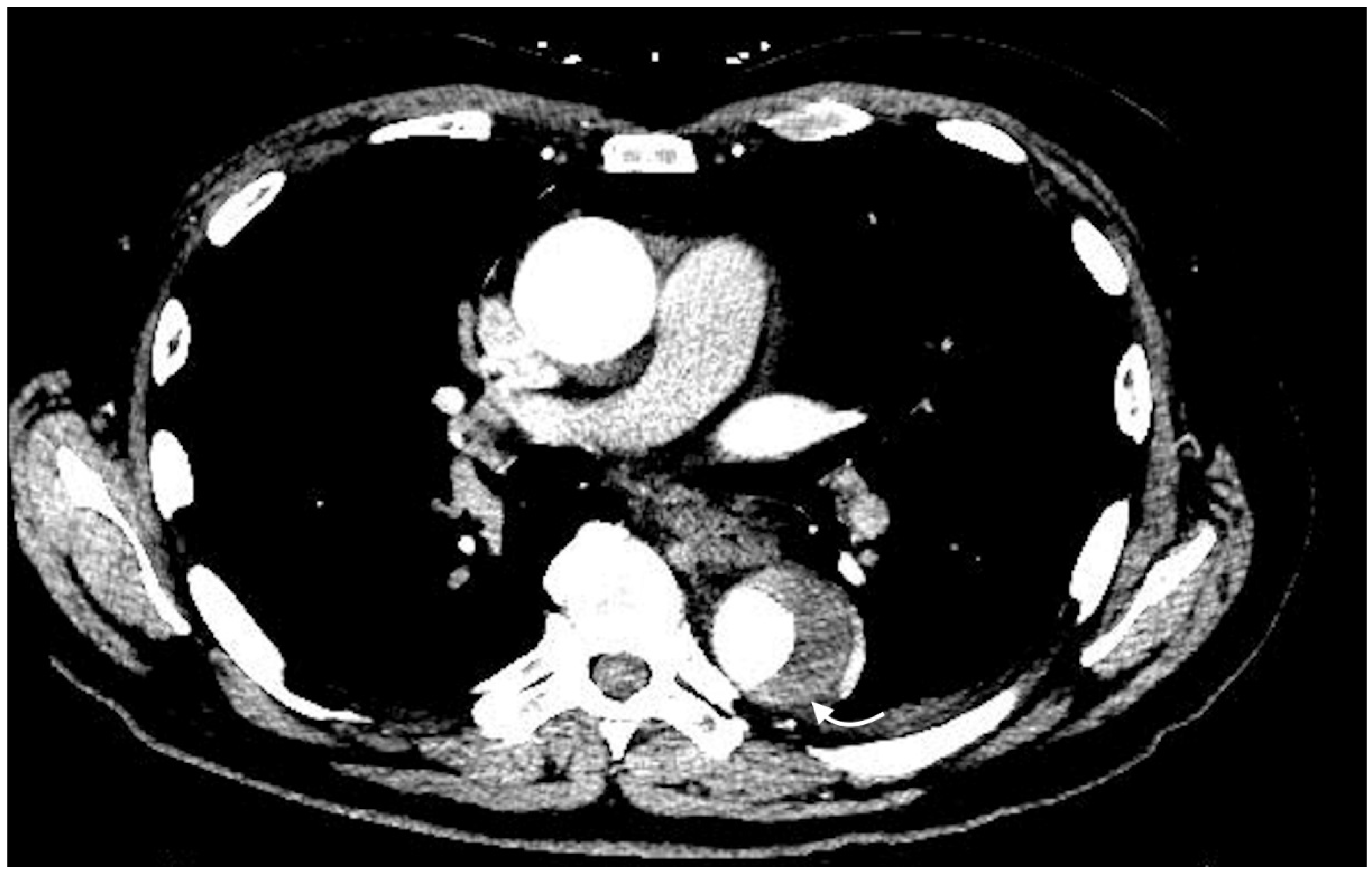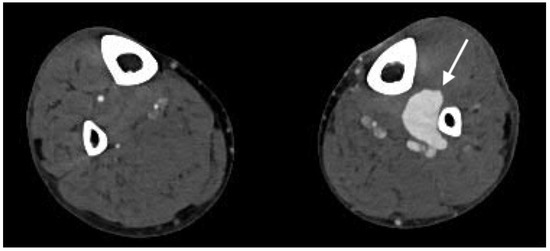 Figure 10. Axial image demonstrating large left peroneal artery pseudoaneurysm (arrow) following traumatic injury to the lower extremity.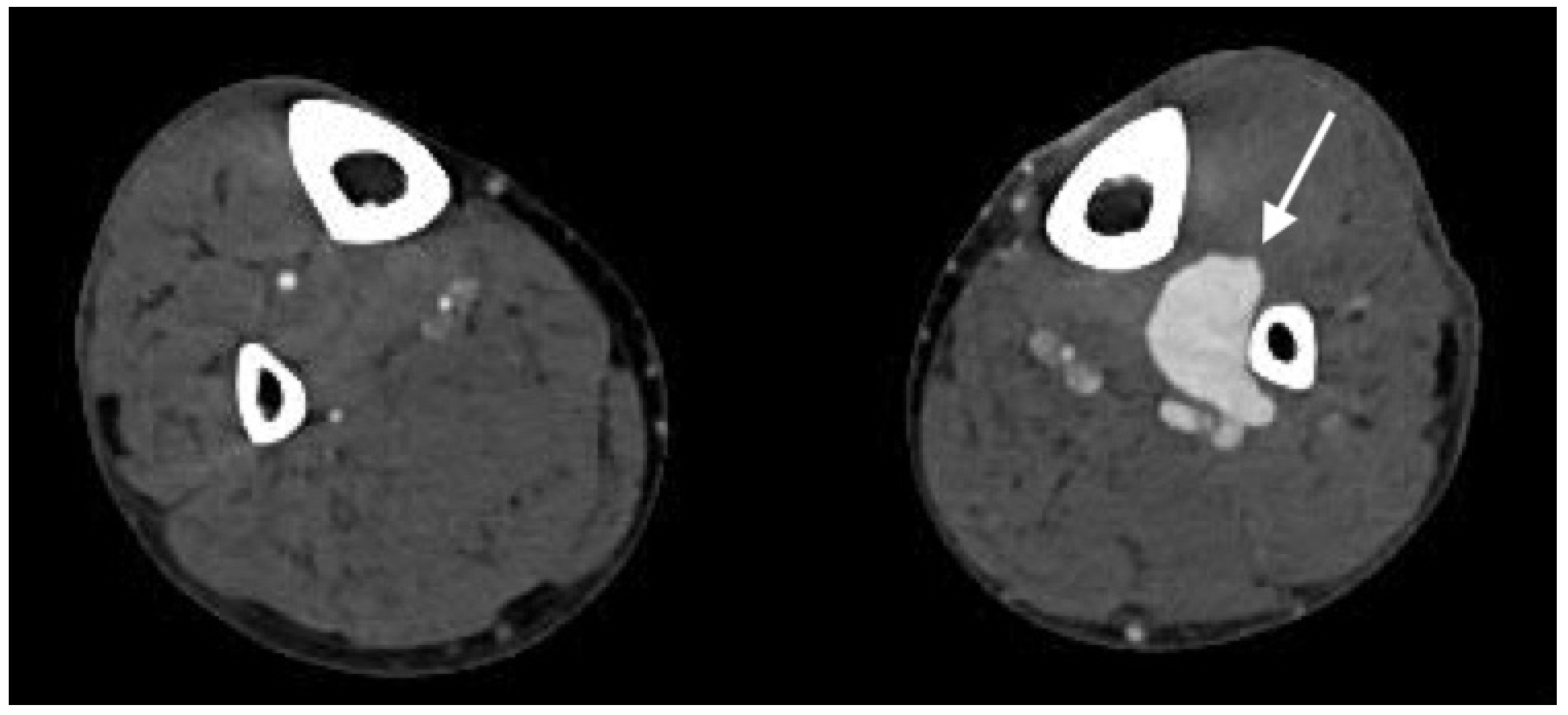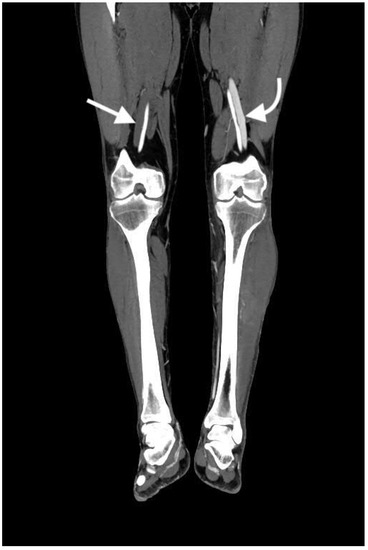 Figure 11. Coronal image of the bilateral lower extremities in the arterial phase following left calf trauma. There is opacification of the left femoral vein (curved arrow) in the arterial phase, indicative of arteriovenous fistula. Note that the right femoral vein (arrow) is not opacified.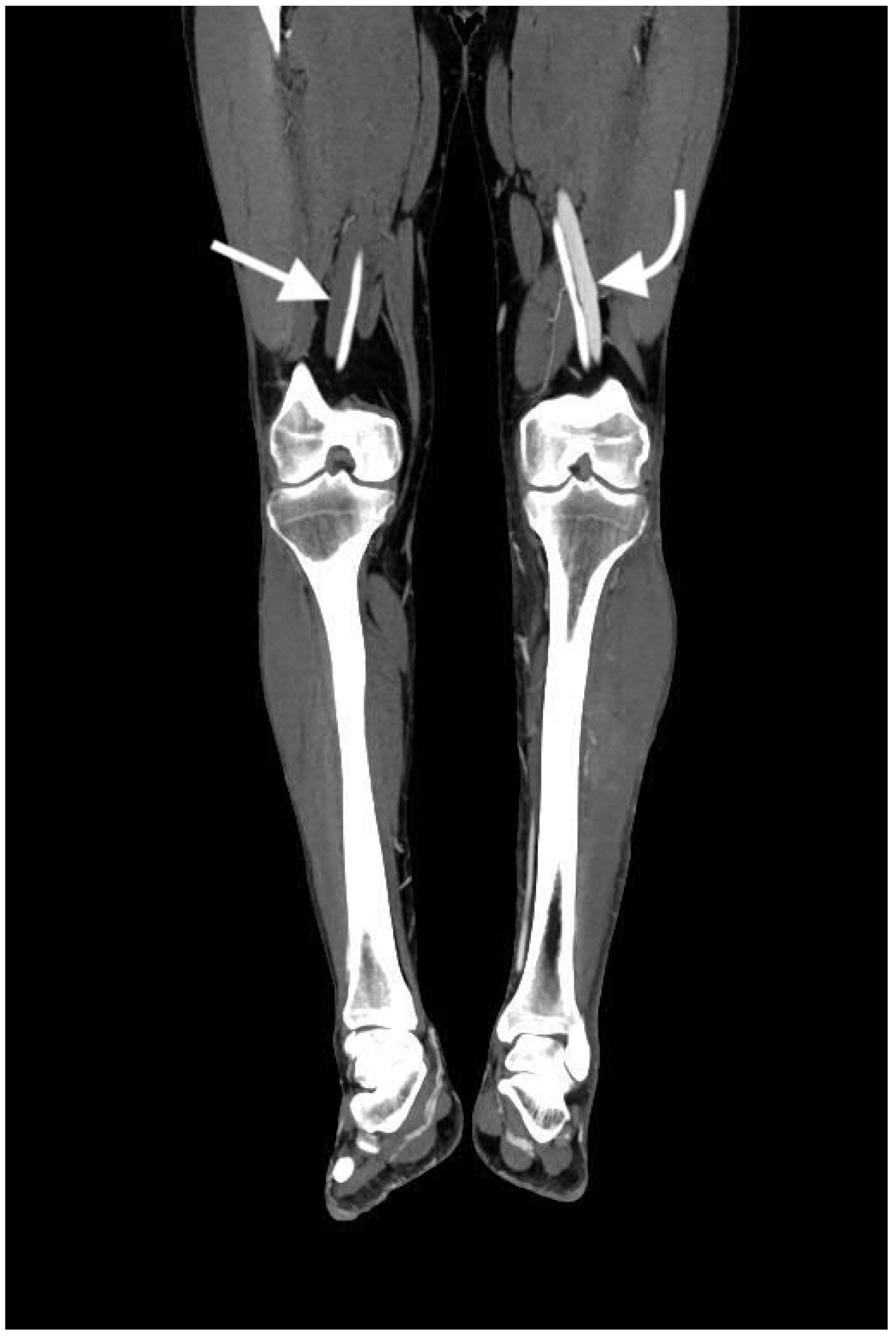 © 2018 by the authors. Licensee MDPI, Basel, Switzerland. This article is an open access article distributed under the terms and conditions of the Creative Commons Attribution (CC BY) license (http://creativecommons.org/licenses/by/4.0/).