Lean Patients with Non-Alcoholic Fatty Liver Disease Have a Severe Histological Phenotype Similar to Obese Patients
1
First Department of Medicine, Paracelsus Medical University, 5020 Salzburg, Austria
2
Obesity Research Unit, Paracelsus Medical University, 5020 Salzburg, Austria
3
Department of Internal Medicine, General Hospital Oberndorf, Teaching Hospital of the Paracelsus Medical University Salzburg, 5110 Oberndorf, Austria
4
Department of Gastroenterology and Hepatology, Internal Medicine, University Hospital Dresden, 01307 Dresden, Germany
5
Institute of Pathology, Medical University of Graz, 8010 Graz, Austria
6
Institute of Pathology, Paracelsus Medical University, 5020 Salzburg, Austria
*
Author to whom correspondence should be addressed.
Received: 27 November 2018 / Revised: 12 December 2018 / Accepted: 14 December 2018 / Published: 17 December 2018
Abstract
A small proportion of lean patients develop non-alcoholic fatty liver disease (NAFLD). We aimed to report the histological picture of lean NAFLD in comparison to overweight and obese NAFLD patients. Biopsy and clinical data from 466 patients diagnosed with NAFLD were stratified to groups according to body mass index (BMI): lean (BMI ≤ 25.0 kg/m²,
n
confirmed to be appropriate = 74), overweight (BMI > 25.0 ≤ 30.0 kg/m²,
n
= 242) and obese (BMI > 30.0 kg/m²,
n
= 150). Lean NAFLD patients had a higher rate of lobular inflammation compared to overweight patients (12/74; 16.2% vs. 19/242; 7.9%;
p
= 0.011) but were similar to obese patients (25/150; 16.7%). Ballooning was observed in fewer overweight patients (38/242; 15.7%) compared to lean (19/74; 25.7%;
p
= 0.014) and obese patients (38/150; 25.3%;
p
= 0.006). Overweight patients had a lower rate of portal and periportal fibrosis (32/242; 13.2%) than lean (19/74; 25.7%;
p
= 0.019) and obese patients (37/150; 24.7%;
p
= 0.016). The rate of cirrhosis was higher in lean patients (6/74; 8.1%) compared to overweight (4/242; 1.7%;
p
= 0.010) and obese patients (3/150; 2.0%
p
= 0.027). In total, 60/466; 12.9% patients were diagnosed with non-alcoholic steatohepatitis (NASH). The rate of NASH was higher in lean (14/74; 18.9%
p
= 0.01) and obese (26/150; 17.3%;
p
= 0.007) compared to overweight patients (20/242; 8.3%)). Among lean patients, fasting glucose, INR and use of thyroid hormone replacement therapy were independent predictors of NASH in a multivariate model. Lean NAFLD patients were characterized by a severe histological picture similar to obese patients but are more progressed compared to overweight patients. Fasting glucose, international normalized ratio (INR) and the use of thyroid hormone replacement may serve as indicators for NASH in lean patients.
View Full-Text
►

▼

Figures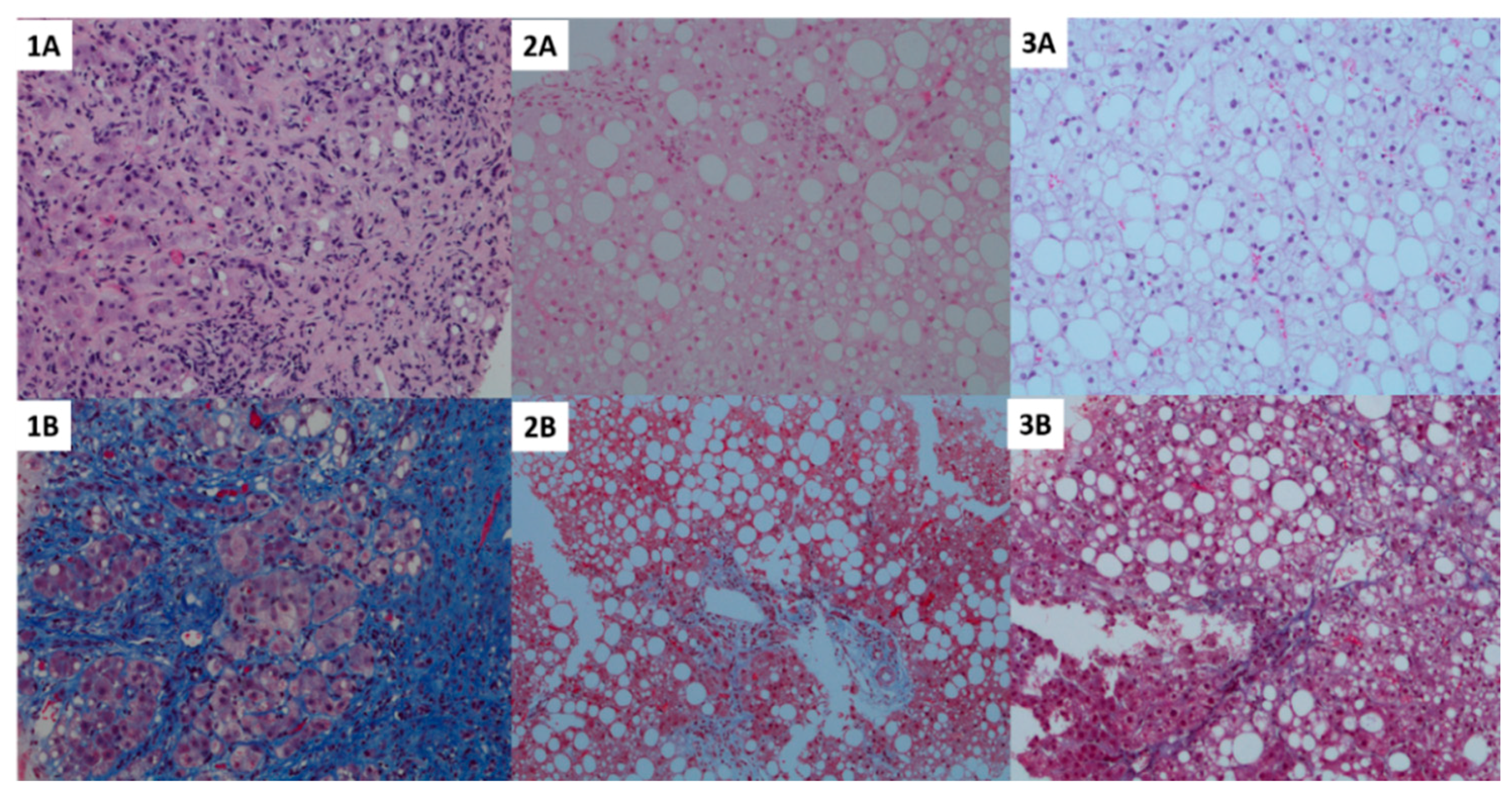 Figure 1
This is an open access article distributed under the
Creative Commons Attribution License
which permits unrestricted use, distribution, and reproduction in any medium, provided the original work is properly cited (CC BY 4.0).

Share & Cite This Article
MDPI and ACS Style
Denkmayr, L.; Feldman, A.; Stechemesser, L.; Eder, S.K.; Zandanell, S.; Schranz, M.; Strasser, M.; Huber-Schönauer, U.; Buch, S.; Hampe, J.; Paulweber, B.; Lackner, C.; Haufe, H.; Sotlar, K.; Datz, C.; Aigner, E. Lean Patients with Non-Alcoholic Fatty Liver Disease Have a Severe Histological Phenotype Similar to Obese Patients. J. Clin. Med. 2018, 7, 562.
Note that from the first issue of 2016, MDPI journals use article numbers instead of page numbers. See further details here.
Related Articles
Comments
[Return to top]