Distinctive Expression and Amplification of Genes at 11q13 in Relation to HPV Status with Impact on Survival in Head and Neck Cancer Patients
1
Department of Otolaryngology, Hospital Universitario Central de Asturias and Instituto de Investigación Sanitaria del Principado de Asturias, Instituto Universitario de Oncología del Principado de Asturias, University of Oviedo, 33011 Oviedo, Spain
2
Centro de Investigación Biomédica en Red Cáncer, CIBERONC, 28029 Madrid, Spain
3
Otorhinolaryngology Department, Hospital de la Santa Creu i Sant Pau, Universitat Autònoma de Barcelona, 08041 Barcelona, Spain
4
Centro de Investigación Biomédica en Red de Bioingeniería, Biomateriales y Nanomedicina, CIBER-BBN, 28029 Madrid, Spain
5
Cancer Epidemiology Research Program, Catalan Institute of Oncology (ICO), IDIBELL. L'Hospitalet de Llobregat, 08908 Barcelona, Spain
6
Centro de Investigación Biomédica en Red de Epidemiología y Salud Pública, CIBERESP, Barcelona, Spain
7
Department of Pathology, Hospital Universitario Central de Asturias, Instituto Universitario de Oncología del Principado de Asturias, University of Oviedo, 33011 Oviedo, Spain
*
Authors to whom correspondence should be addressed.
†
These authors contributed equally to this work.
Received: 26 October 2018 / Revised: 19 November 2018 / Accepted: 29 November 2018 / Published: 1 December 2018
Abstract
Clear differences have been established between head and neck squamous cell carcinomas (HNSCC) depending on human papillomavirus (HPV) infection status. This study specifically investigated the status of the
CTTN
,
CCND1
and
ANO1
genes mapping at the 11q13 amplicon in relation to the HPV status in HNSCC patients. CTTN, CCND1 and ANO1 protein expression and gene amplification were respectively analyzed by immunohistochemistry and real-time PCR in a homogeneous cohort of 392 surgically treated HNSCC patients. The results were further confirmed using an independent cohort of 279 HNSCC patients from The Cancer Genome Atlas (TCGA). The impact on patient survival was also evaluated.
CTTN
,
CCND1
and
ANO1
gene amplification and protein expression were frequent in HPV-negative tumors, while absent or rare in HPV-positive tumors. Using an independent validation cohort of 279 HNSCC patients, we consistently found that these three genes were frequently co-amplified (28%) and overexpressed (39–46%) in HPV-negative tumors, whereas almost absent in HPV-positive tumors. Remarkably, these alterations (in particular CTTN and ANO1 overexpression) were associated with poor prognosis. Taken together, the distinctive expression and amplification of these genes could cooperatively contribute to the differences in prognosis and clinical outcome between HPV-positive and HPV-negative tumors. These findings could serve as the basis to design more personalized therapeutic strategies for HNSCC patients.
View Full-Text
►

▼

Figures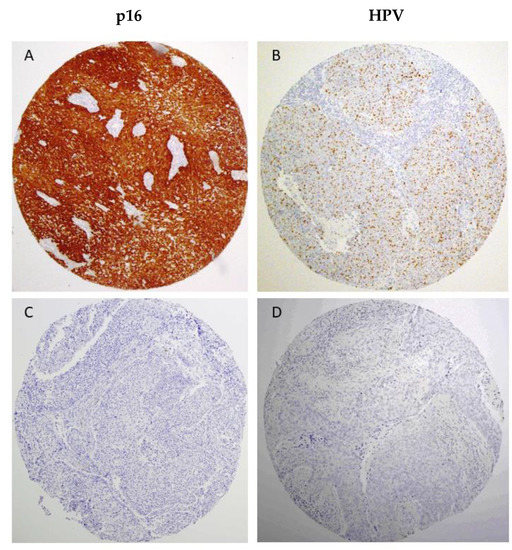 Figure 1
This is an open access article distributed under the
Creative Commons Attribution License
which permits unrestricted use, distribution, and reproduction in any medium, provided the original work is properly cited (CC BY 4.0).

Share & Cite This Article
MDPI and ACS Style
Hermida-Prado, F.; Menéndez, S.T.; Albornoz-Afanasiev, P.; Granda-Diaz, R.; Álvarez-Teijeiro, S.; Villaronga, M.Á.; Allonca, E.; Alonso-Durán, L.; León, X.; Alemany, L.; Mena, M.; Del-Rio-Ibisate, N.; Astudillo, A.; Rodríguez, R.; Rodrigo, J.P.; García-Pedrero, J.M. Distinctive Expression and Amplification of Genes at 11q13 in Relation to HPV Status with Impact on Survival in Head and Neck Cancer Patients. J. Clin. Med. 2018, 7, 501.
Note that from the first issue of 2016, MDPI journals use article numbers instead of page numbers. See further details here.
Related Articles
Comments
[Return to top]