Nox4 Overexpression as a Poor Prognostic Factor in Patients with Oral Tongue Squamous Cell Carcinoma Receiving Surgical Resection
1
Department of Hematology-Oncology, Kaohsiung Chang Gung Memorial Hospital and Chang Gung University College of Medicine, No.123, Dapi Rd., Niaosong Dist., Kaohsiung 833, Taiwan
2
Graduate Institute of Clinical Medical Sciences, College of Medicine, Chang Gung University, Taoyuan 333, Taiwan
3
School of Medicine, Chung Shan Medical University, Taichung 402, Taiwan
4
Department of Otolaryngology, Kaohsiung Chang Gung Memorial Hospital and Chang Gung University College of Medicine, No.123, Dapi Rd., Niaosong Dist., Kaohsiung 833, Taiwan
5
Department of Radiation Oncology, Kaohsiung Chang Gung Memorial Hospital and Chang Gung University College of Medicine, No.123, Dapi Rd., Niaosong Dist., Kaohsiung 833, Taiwan
6
Department of Pathology, Kaohsiung Chang Gung Memorial Hospital and Chang Gung University College of Medicine, No.123, Dapi Rd., Niaosong Dist., Kaohsiung 833, Taiwan
7
Biobank and Tissue Bank, Kaohsiung Chang Gung Memorial Hospital, No.123, Dapi Rd., Niaosong Dist., Kaohsiung 833, Taiwan
8
Department of Diagnostic Radiology, Kaohsiung Chang Gung Memorial Hospital and Chang Gung University College of Medicine, No.123, Dapi Rd., Niaosong Dist., Kaohsiung 833, Taiwan
*
Author to whom correspondence should be addressed.
Received: 13 November 2018 / Revised: 26 November 2018 / Accepted: 27 November 2018 / Published: 1 December 2018
Abstract
Background: Nox4 has been reported to promote tumor progression of various types of cancer through many different pathways. The current study was designed to evaluate the prognostic significance of Nox4 in patients with oral tongue squamous cell carcinoma (OTSCC) receiving surgical resection. Methods: We retrospectively analyzed the 161 patients with OTSCC treated with surgical resection, including 81 patients with high expression of Nox4 and 80 patients with low expression of Nox4. Two OTSCC cell lines, SAS and SCC4, were used to investigate the proliferation activity. Results: The univariate and multivariable analyses showed that negative nodal metastasis and low expression of Nox4 were significantly associated with superior disease-free survival (DFS) and overall survival (OS). Western blotting analysis indicated that Nox4 was highly expressed in these two OTSCC cell lines and knockdown of Nox4 was successful by transfecting with Nox4 shRNA. In addition, these cell lines were also treated with a Nox4 inhibitor (GKT-137831) and the results showed GKT-137831 could inhibit the proliferation of OTSCC tumor cells in a dose-dependent manner. Conclusion: Our study suggests that Nox4 plays an important role in disease progression of OTSCC and Nox4 overexpression is a poor prognostic factor for patients with OTSCC who received surgical resection.
View Full-Text
►

▼

Figures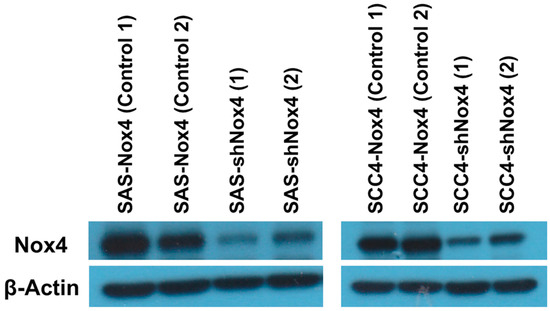 Figure 1
This is an open access article distributed under the
Creative Commons Attribution License
which permits unrestricted use, distribution, and reproduction in any medium, provided the original work is properly cited (CC BY 4.0).

Share & Cite This Article
MDPI and ACS Style
Chen, Y.-H.; Chien, C.-Y.; Fang, F.-M.; Huang, T.-L.; Su, Y.-Y.; Luo, S.-D.; Huang, C.-C.; Lin, W.-C.; Li, S.-H. Nox4 Overexpression as a Poor Prognostic Factor in Patients with Oral Tongue Squamous Cell Carcinoma Receiving Surgical Resection. J. Clin. Med. 2018, 7, 497.
Note that from the first issue of 2016, MDPI journals use article numbers instead of page numbers. See further details here.
Related Articles
Comments
[Return to top]