Ultrasound Imaging for the Cutaneous Nerves of the Extremities and Relevant Entrapment Syndromes: From Anatomy to Clinical Implications
1
Department of Physical Medicine and Rehabilitation, National Taiwan University Hospital, Bei-Hu Branch, Taipei 10845, Taiwan
2
Department of Physical Medicine and Rehabilitation, National Taiwan University College of Medicine, Taipei 10048, Taiwan
3
Department of Rehabilitation Medicine, Charles University, First Faculty of Medicine, 12800 Prague, Czech Republic
4
Institute of Anatomy, Charles University, First Faculty of Medicine, 12800 Prague, Czech Republic
5
Department of Physical Medicine and Rehabilitation, Taipei Veterans General Hospital, Taipei 11217, Taiwan
6
Department of Health Sciences (DISSAL), University of Genoa, 16132 Genoa, Italy
7
Department of Physical and Rehabilitation Medicine, Hacettepe University Medical School, 06100 Ankara, Turkey
*
Author to whom correspondence should be addressed.
Received: 31 October 2018 / Revised: 18 November 2018 / Accepted: 19 November 2018 / Published: 21 November 2018
Full-Text
|
PDF
[5664 KB, uploaded 21 November 2018]
|
|

Review Reports
Abstract
Cutaneous nerve entrapment plays an important role in neuropathic pain syndrome. Due to the advancement of ultrasound technology, the cutaneous nerves can be visualized by high-resolution ultrasound. As the cutaneous nerves course superficially in the subcutaneous layer, they are vulnerable to entrapment or collateral damage in traumatic insults. Scanning of the cutaneous nerves is challenging due to fewer anatomic landmarks for referencing. Therefore, the aim of the present article is to summarize the anatomy of the limb cutaneous nerves, to elaborate the scanning techniques, and also to discuss the clinical implications of pertinent entrapment syndromes of the medial brachial cutaneous nerve, intercostobrachial cutaneous nerve, medial antebrachial cutaneous nerve, lateral antebrachial cutaneous nerve, posterior antebrachial cutaneous nerve, superficial branch of the radial nerve, dorsal cutaneous branch of the ulnar nerve, palmar cutaneous branch of the median nerve, anterior femoral cutaneous nerve, posterior femoral cutaneous nerve, lateral femoral cutaneous nerve, sural nerve, and saphenous nerve.
View Full-Text
►

▼

Figures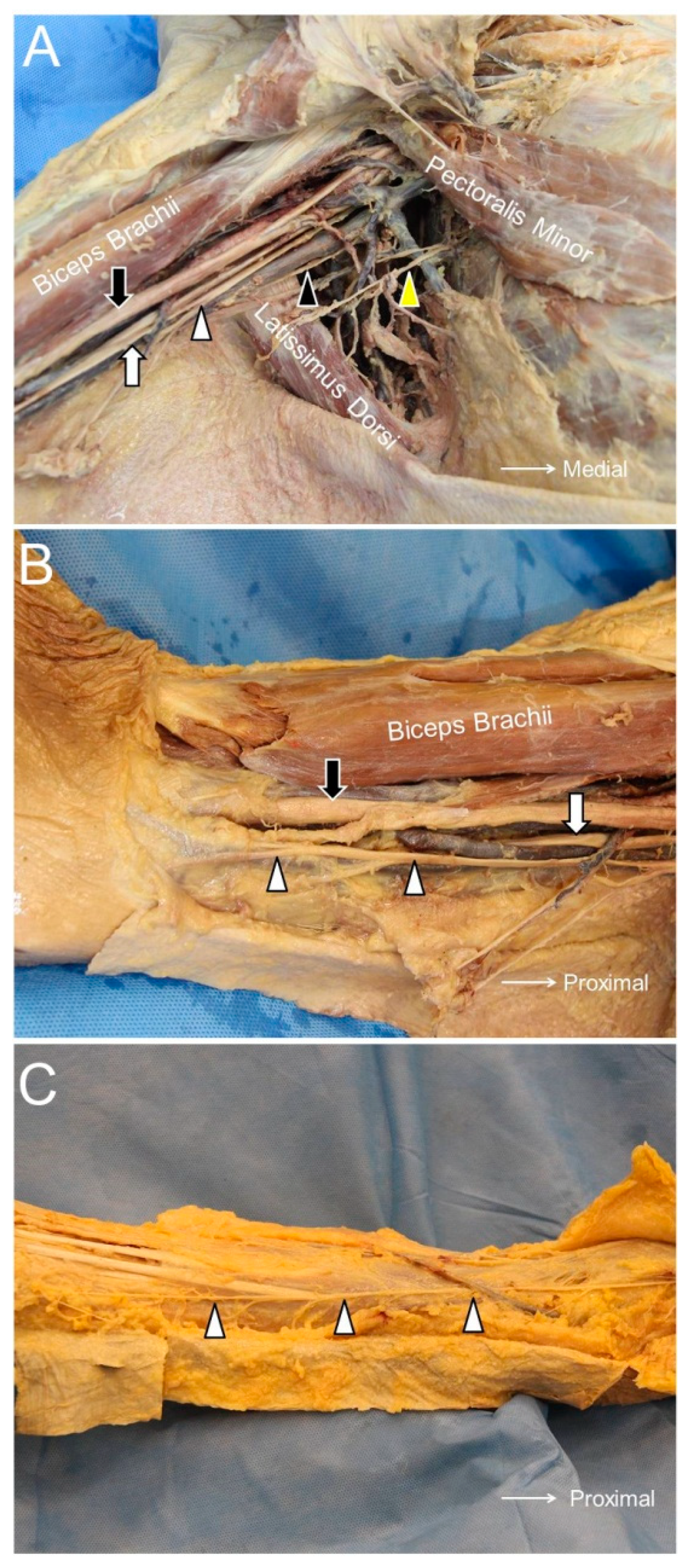 Figure 1
This is an open access article distributed under the
Creative Commons Attribution License
which permits unrestricted use, distribution, and reproduction in any medium, provided the original work is properly cited (CC BY 4.0).
Supplementary materials
Supplementary File 1:

Supplementary Files (DOI: 10.5281/zenodo.1493097)

Externally hosted supplementary file 1
Doi: no
Link: http://no
Description: Supplementary Materials: Video S1: Medial Brachial Cutaneous Nerve Video S2: Intercostobrachial Cutaneous Nerve Video S3: Medial Antebrachial Cutaneous Nerve Video S4: Lateral Antebrachial Cutaneous Nerve Video S5: Posterior Antebrachial Cutaneous Nerve Video S6: Superficial Branch of the Radial Nerve Video S7: Dorsal Cutaneous Branch of the Ulnar Nerve Video S8: Palmar Cutaneous Branch of the Median Nerve Video S9: Anterior Femoral Cutaneous Nerve Video S10: Posterior Femoral Cutaneous Nerve Video S11: Lateral Femoral Cutaneous Nerve Video S12: Medial Sural Cutaneous Nerve Video S13: Lateral Sural Cutaneous Nerve Video S14: Sural Nerve Video S15: Saphenous Nerve

Share & Cite This Article
MDPI and ACS Style
Chang, K.-V.; Mezian, K.; Naňka, O.; Wu, W.-T.; Lou, Y.-M.; Wang, J.-C.; Martinoli, C.; Özçakar, L. Ultrasound Imaging for the Cutaneous Nerves of the Extremities and Relevant Entrapment Syndromes: From Anatomy to Clinical Implications. J. Clin. Med. 2018, 7, 457.
Note that from the first issue of 2016, MDPI journals use article numbers instead of page numbers. See further details here.
Related Articles
Comments
[Return to top]