Prediction of Acute Kidney Injury after Liver Transplantation: Machine Learning Approaches vs. Logistic Regression Model
1
Department of Anesthesiology and Pain Medicine, Seoul National University Hospital, Seoul 03080, Korea
2
Department of Anesthesiology and Pain Medicine, Seoul National University College of Medicine, Seoul 03080, Korea
3
Department of Surgery, Seoul National University Hospital, Seoul National University College of Medicine, Seoul 03080, Korea
*
Author to whom correspondence should be addressed.
Received: 11 October 2018 / Revised: 29 October 2018 / Accepted: 6 November 2018 / Published: 8 November 2018
Abstract
Acute kidney injury (AKI) after liver transplantation has been reported to be associated with increased mortality. Recently, machine learning approaches were reported to have better predictive ability than the classic statistical analysis. We compared the performance of machine learning approaches with that of logistic regression analysis to predict AKI after liver transplantation. We reviewed 1211 patients and preoperative and intraoperative anesthesia and surgery-related variables were obtained. The primary outcome was postoperative AKI defined by acute kidney injury network criteria. The following machine learning techniques were used: decision tree, random forest, gradient boosting machine, support vector machine, naïve Bayes, multilayer perceptron, and deep belief networks. These techniques were compared with logistic regression analysis regarding the area under the receiver-operating characteristic curve (AUROC). AKI developed in 365 patients (30.1%). The performance in terms of AUROC was best in gradient boosting machine among all analyses to predict AKI of all stages (0.90, 95% confidence interval [CI] 0.86–0.93) or stage 2 or 3 AKI. The AUROC of logistic regression analysis was 0.61 (95% CI 0.56–0.66). Decision tree and random forest techniques showed moderate performance (AUROC 0.86 and 0.85, respectively). The AUROC of support the vector machine, naïve Bayes, neural network, and deep belief network was smaller than that of the other models. In our comparison of seven machine learning approaches with logistic regression analysis, the gradient boosting machine showed the best performance with the highest AUROC. An internet-based risk estimator was developed based on our model of gradient boosting. However, prospective studies are required to validate our results.
View Full-Text
►

▼

Figures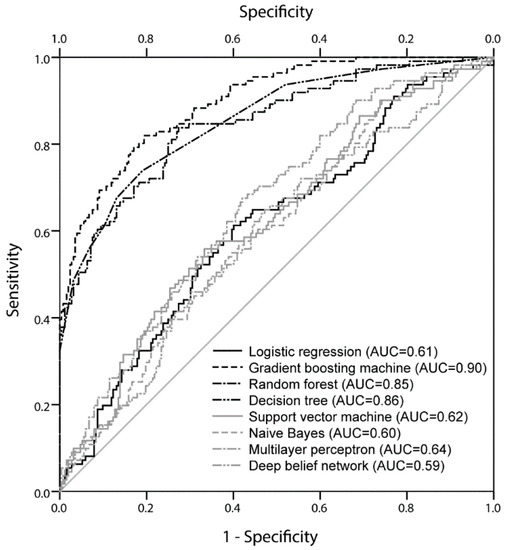 Figure 1
This is an open access article distributed under the
Creative Commons Attribution License
which permits unrestricted use, distribution, and reproduction in any medium, provided the original work is properly cited (CC BY 4.0).
Supplementary materials
Supplementary File 1:

PDF-Document (PDF, 196 KB)

Externally hosted supplementary file 1
Doi: none
Link: http://none
Description: Supplement Text S1. Investigated hyperparameters in each model Supplemental Text S2. Python source code for learning the gradient boosting model used in our study. Supplemental Table S1. AKIN (acute kidney injury network) serum creatinine diagnostic criteria of acute kidney injury used in our study. Supplemental Table S2. Results of multivariable logistic regression analysis for acute kidney injury of all stages without stepwise variable selection. Supplemental Table S3. Comparison of area under receiver-operating characteristic curve among the different models to predict stage 2 or 3 acute kidney injury.

Share & Cite This Article
MDPI and ACS Style
Lee, H.-C.; Yoon, S.B.; Yang, S.-M.; Kim, W.H.; Ryu, H.-G.; Jung, C.-W.; Suh, K.-S.; Lee, K.H. Prediction of Acute Kidney Injury after Liver Transplantation: Machine Learning Approaches vs. Logistic Regression Model. J. Clin. Med. 2018, 7, 428.
Note that from the first issue of 2016, MDPI journals use article numbers instead of page numbers. See further details here.
Related Articles
Comments
[Return to top]