Hydroxysteroid 11-Beta Dehydrogenase 1 Overexpression with Copy-Number Gain and Missense Mutations in Primary Gastrointestinal Stromal Tumors
1
Department of Pathology, Chi-Mei Medical Center, Tainan 710, Taiwan
2
National Institute of Cancer Research, National Health Research Institutes, Tainan 704, Taiwan
3
Department of Biotechnology, Southern Taiwan University of Science and Technology, Tainan 710, Taiwan
4
Bone and Soft Tissue Study Group, Taiwan Society of Pathology, Kaohsiung 833, Taiwan
5
Department of Pathology, Kaohsiung Chang Gung Memorial Hospital and Chang Gung University College of Medicine, Kaohsiung 833, Taiwan
6
Division of Oncology, Department of Internal Medicine, Kaohsiung Chang Gung Memorial Hospital and Chang Gung University College of Medicine, Kaohsiung 833, Taiwan
7
Department of Radiation Oncology, Kaohsiung Chang Gung Memorial Hospital and Chang Gung University College of Medicine, Kaohsiung 833, Taiwan
8
Department of Pathology, Kaohsiung Medical University Hospital, Kaohsiung 807, Taiwan
*
Author to whom correspondence should be addressed.
†
These authors contributed equally to the work.
Received: 8 October 2018 / Revised: 25 October 2018 / Accepted: 29 October 2018 / Published: 1 November 2018
Abstract
The lipid-metabolizing enzymes remain underexplored in gastrointestinal stromal tumors (GISTs). Through transcriptomic reappraisal, hydroxysteroid 11-beta dehydrogenase-1 (
HSD11B1
) was identified as a top-upregulated, progression-associated gene. To validate the clinical relevance of
HSD11B1
, the informative results of Sanger sequencing (
n
= 58), mRNA quantification by branched-chain DNA in situ hybridization assay (
n
= 70), copy number assay by fluorescent in situ hybridization (
n
= 350), and immunohistochemistry (
n
= 350) were correlated with clincopathological variables,
KIT/PDGFRA/BRAF
genotypes, and disease-free survival (DFS).
HSD11B1
was stably silenced to explore its oncogenic function.
HSD11B1
mRNA varied between high-risk and non-high-risk groups (
p
= 0.009) and positively correlated with HSD11B1 immunoexpression (
r
= 0.783,
p
< 0.001).
HSD11B1
copy-number gain (CNG), including polysomy (5.4%) and amplification (12%), associated with HSD11B1 overexpression (
p
< 0.001). Predominantly involving the homodimer interface-affecting exon 6 or exon 7, missense
HSD11B1
mutations (17.2%) were related to high risk (
p
= 0.044), age ≥70 years (
p
= 0.007), and shorter DFS among relapsed cases (
p
= 0.033). CNG was related to unfavorable
KIT/PDGFRA/BRAF
genotypes (
p
= 0.015), while HSD11B1 overexpression was preferential in non-gastric cases (
p
< 0.001). Both abnormalities strongly associated with risk levels (both
p
< 0.001) and shorter univariate DFS (both
p
< 0.0001), and
HSD11B1
CNG remained prognostically independent (
p
< 0.001) with a 3-fold increased hazard ratio. In vitro,
HSD11B1
knockdown significantly inhibited proliferation and caused G2/M arrest. In conclusion, HSD11B1 overexpression may occur owing to CNG, confer a pro-proliferative function, and predict a worse prognosis in GISTs.
View Full-Text
►

▼

Figures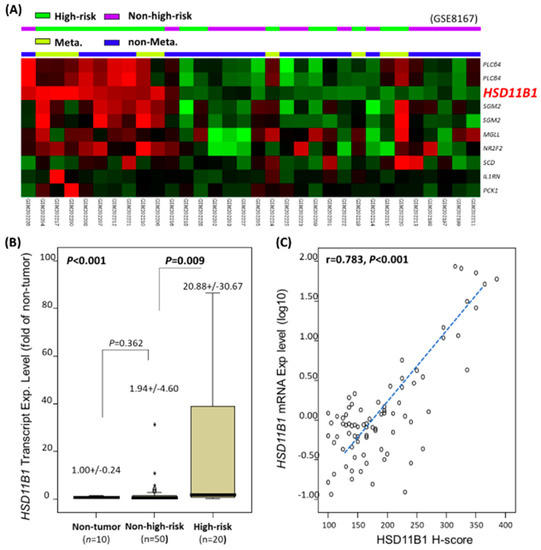 Figure 1
This is an open access article distributed under the
Creative Commons Attribution License
which permits unrestricted use, distribution, and reproduction in any medium, provided the original work is properly cited (CC BY 4.0).

Share & Cite This Article
MDPI and ACS Style
Li, C.-F.; Liu, T.-T.; Wang, J.-C.; Yu, S.-C.; Chen, Y.-Y.; Fang, F.-M.; Li, W.-S.; Huang, H.-Y. Hydroxysteroid 11-Beta Dehydrogenase 1 Overexpression with Copy-Number Gain and Missense Mutations in Primary Gastrointestinal Stromal Tumors. J. Clin. Med. 2018, 7, 408.
Note that from the first issue of 2016, MDPI journals use article numbers instead of page numbers. See further details here.
Related Articles
Comments
[Return to top]