"Intrinsic" Anion Exchange Polymers through the Dissociation of Strong Basic Groups: PPO with Grafted Bicyclic Guanidines
1
Dep. Industrial Engineering, and International Associated Laboratory: Ionomer Materials for Energy, University of Rome Tor Vergata, 00133 Roma, Italy
2
Dep. Chemical Sciences and Technologies, University of Rome Tor Vergata, 00133 Roma, Italy
3
Aix Marseille Univ, CNRS, MADIREL (UMR 7246) and International Associated Laboratory: Ionomer Materials for Energy, Campus St Jérôme, 13013 Marseille, France
*
Authors to whom correspondence should be addressed.
Received: 27 March 2019 / Revised: 22 April 2019 / Accepted: 24 April 2019 / Published: 29 April 2019
Abstract
We synthesized anion exchange polymers by a reaction of chloromethylated poly(2,6-dimethyl-1,4-phenylene)oxide (PPO) with strongly basic 1,5,7-triazabicyclo[4.4.0]dec-5-ene (TBD). TBD contains secondary and tertiary amine groups in the guanidine portion. To favor the functionalization with the secondary amine, TBD was activated with butyl lithium. The yield of amine formation via the reaction of the benzyl chloride moiety with TBD was 85%. Furthermore, we prepared polymers with quaternary ammonium groups by the reaction of PPO-TBD with CH
3
I. The synthesis pathways and ionomer structure were investigated by NMR spectroscopy. The thermal decomposition of both ionomers, studied by thermogravimetry, started above 200 °C, corresponding to the loss of the basic group. The ion exchange capacities, water uptake and volumetric swelling are also reported. The "intrinsic" anion conductivity of PPO-TBD due to the dissociation of grafted TBD was in the order of 1 mS/cm (Cl form). The quaternized ionomer (PPO-TBD-Me) showed an even larger ionic conductivity, above 10 mS/cm at 80 °C in fully humidified conditions.
View Full-Text
►

▼

Figures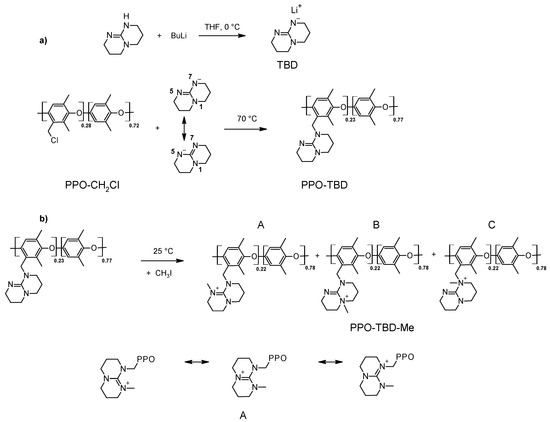 Figure 1
This is an open access article distributed under the
Creative Commons Attribution License
which permits unrestricted use, distribution, and reproduction in any medium, provided the original work is properly cited (CC BY 4.0).

Share & Cite This Article
MDPI and ACS Style
Narducci, R.; Ercolani, G.; Becerra-Arciniegas, R.A.; Pasquini, L.; Knauth, P.; Di Vona, M.L. "Intrinsic" Anion Exchange Polymers through the Dissociation of Strong Basic Groups: PPO with Grafted Bicyclic Guanidines. Membranes 2019, 9, 57.
Note that from the first issue of 2016, MDPI journals use article numbers instead of page numbers. See further details here.
Related Articles
Comments
[Return to top]