Long-Lasting Mucosal and Systemic Immunity against Influenza A Virus Is Significantly Prolonged and Protective by Nasal Whole Influenza Immunization with Mucosal Adjuvant N3 and DNA-Plasmid Expressing Flagellin in Aging In- and Outbred Mice
1
Division of Molecular Virology, Department of Clinical and Experimental Medicine, University of Linköping, SE-581 83 Linköping, Sweden
2
Center for Infectious Medicine, F59, Department of Medicine, Karolinska Institutet, Karolinska University Hospital Huddinge, SE-141 86 Stockholm, Sweden
3
Division of Immunology, HD Immunity, 126 25 Stockholm, Sweden
4
Public Health Agency of Sweden, 171 82 Stockholm, Sweden
*
Author to whom correspondence should be addressed.
Received: 1 April 2019 / Revised: 9 July 2019 / Accepted: 11 July 2019 / Published: 16 July 2019
Abstract
Background
: Vaccination is commonly used to prevent and control influenza infection in humans. However, improvements in the ease of delivery and strength of immunogenicity could markedly improve herd immunity. The aim of this pre-clinical study is to test the potential improvements to existing intranasal delivery of formalin-inactivated whole Influenza A vaccines (WIV) by formulation with a cationic lipid-based adjuvant (N3). Additionally, we combined WIV and N3 with a DNA-encoded TLR5 agonist secreted flagellin (pFliC(-gly)) as an adjuvant, as this adjuvant has previously been shown to improve the effectiveness of plasmid-encoded DNA antigens.
Methods
: Outbred and inbred mouse strains were intranasally immunized with unadjuvanted WIV A/H1N1/SI 2006 or WIV that was formulated with N3 alone. Additional groups were immunized with WIV and N3 adjuvant combined with pFliC(-gly). Homo and heterotypic humoral anti-WIV immune responses were assayed from serum and lung by ELISA and hemagglutination inhibition assay. Homo and heterotypic cellular immune responses to WIV and Influenza A NP were also determined.
Results
: WIV combined with N3 lipid adjuvant the pFliC(-gly) significantly increased homotypic influenza specific serum antibody responses (>200-fold), increased the IgG2 responses, indicating a mixed Th1/Th2-type immunity, and increased the HAI-titer (>100-fold). Enhanced cell-mediated IFNγ secreting influenza directed CD4
+
and CD8
+
T cell responses (>40-fold) to homotypic and heterosubtypic influenza A virus and peptides. Long-term and protective immunity was obtained.
Conclusions
: These results indicate that inactivated influenza virus that was formulated with N3 cationic adjuvant significantly enhanced broad systemic and mucosal influenza specific immune responses. These responses were broadened and further increased by incorporating DNA plasmids encoding FliC from
S. typhimurum
as an adjuvant providing long lasting protection against heterologous Influenza A/H1N1/CA09pdm virus challenge.
View Full-Text
►

▼

Figures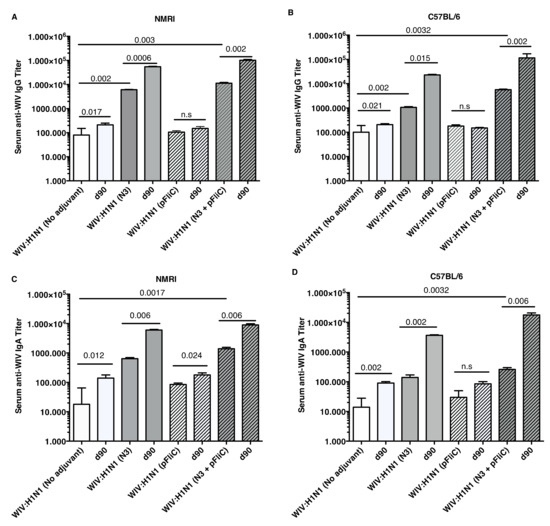 Figure 1
This is an open access article distributed under the
Creative Commons Attribution License
which permits unrestricted use, distribution, and reproduction in any medium, provided the original work is properly cited (CC BY 4.0).

Share & Cite This Article
MDPI and ACS Style
Hinkula, J.; Nyström, S.; Devito, C.; Bråve, A.; Applequist, S.E. Long-Lasting Mucosal and Systemic Immunity against Influenza A Virus Is Significantly Prolonged and Protective by Nasal Whole Influenza Immunization with Mucosal Adjuvant N3 and DNA-Plasmid Expressing Flagellin in Aging In- and Outbred Mice. Vaccines 2019, 7, 64.
Note that from the first issue of 2016, MDPI journals use article numbers instead of page numbers. See further details here.
Related Articles
Comments
[Return to top]