Open Access This article is
freely available
re-usable
Review
Exosomes, Their Biogenesis and Role in Inter-Cellular Communication, Tumor Microenvironment and Cancer Immunotherapy
1
Department of Radiation Oncology, Emory University, Atlanta, GA 30322, USA
2
Department of Microbiology and Immunology, Emory University, Atlanta, GA 30322, USA
3
Division of Renal Medicine, Emory University, Atlanta, GA 30322, USA
*
Authors to whom correspondence should be addressed.
Received: 26 July 2018 / Accepted: 21 September 2018 / Published: 26 September 2018
Abstract
:
Exosomes are extracellular vesicles ranging from 30 to 150 nm in diameter that contain molecular constituents of their host cells. They are released from different types of cells ranging from immune to tumor cells and play an important role in intercellular communication. Exosomes can be manipulated by altering their host cells and can be loaded with products of interest such as specific drugs, proteins, DNA and RNA species. Due to their small size and the unique composition of their lipid bilayer, exosomes are capable of reaching different cell types where they alter the pathophysiological conditions of the recipient cells. There is growing evidence that exosomes are used as vehicles that can modulate the immune system and play an important role in cancer progression. The cross communication between the tumors and the cells of the immune system has gained attention in various immunotherapeutic approaches for several cancer types. In this review, we discuss the exosome biogenesis, their role in inter-cellular communication, and their capacity to modulate the immune system as a part of future cancer immunotherapeutic approaches and their potential to serve as biomarkers of therapy response.
Keywords:
exosomes; biogenesis; exosome communication; tumor microenvironment; immunotherapy
1. Introduction
Exosomes are double-layered vesicles ranging from 30−150 nm [
1
,
2
,
3
] in diameter with a buoyant density ranging from 1.13−1.19 g·mL
−1
. The lipid bilayer of exosomes matches the cells that release them; the membrane layer of exosomes resembles with lipid profile such as cholesterol, sphingolipid, and phospholipid content of the parental cell of origin [
4
]. The double-layered lipid membrane loaded with peripheral and integral membrane proteins allows intercellular communication, and regulates various signaling pathways that are crucial for both inter and intra-cellular communication [
5
]. They were first discovered in sheep reticulocytes, and later observed in almost all mammalian cells analyzed, driving certain physiological responses in recipient cells [
6
]. Exosomes are formed by the inward budding of the membrane of specific late endosomes to form multivesicular bodies (MVBs). These MVBs fuse with plasma membranes to release their content outside the membrane [
7
]. Initially, exosomes were thought to function in cell waste management. However, it is now recognized that exosomes are key components for cell-to-cell communication. During the last decade of the 20th century, exosomes were identified to play a role in the presentation of B lymphocyte antigens, and later recognized to play a role in immune related functions [
8
]. During the early 21st century, several researchers reported the presence of various RNA species such as miRNA and mRNA within the exosomes [
3
,
4
,
9
]. These were found to serve as messengers for intercellular communication, and indicated to have a profound effect on target cells. Exosomes have also been reported to be active during various physiophathological conditions such as tumor suppression/progression, tumor immunity, and inflammation [
10
]. In this review, we discuss the role of exosomes, their biogenesis, their role in tumor development and their applications in cancer immunotherapy.
The basic structure of exosome is described in
Figure 1
. According to Exocarta database (Version 5;
http://exocarta.org
), till date, 41,860 proteins, 3408 mRNAs and 2838 miRNAs have been reported to be present in exosomes derived from different cell types. The function of RNA present in the exosomes is not well understood; however, it is thought to transmit signals to distant sites, thus promoting and regulating the function of remote cells [
11
]. Exosomes circulating in the blood can interact with platelets and endothelial cells, in vivo [
12
]. They can also affect the development of disease processes such as cancer and autoimmune diseases [
13
,
14
].
1.1. Exosome Biogenesis
Circulating vesicles in blood are often composed of exosomes and microvesicles, and are difficult to isolate to maximum purity using current purification methods. Both exosomes and microvesicles originate from within the cell, but their biogenesis pathways are somewhat distinct. Microvesicles originate from the outward budding of the plasma membrane, whereas exosomes are formed by inward budding of outer membrane [
15
,
16
,
17
]. The inward budding of plasma membrane is the origination of early endosomes, which then, later mature into late endosomes. Some of these late endosomes then become MVBs. Isolation of pure exosomes vs pure microvesicle is difficult, and the current methods only allow for separation of small extracellular vesicles from large/medium extracellular vesicles [
5
]. In contrast, microvesicles are simply formed by shedding of plasma membrane, or by exocytosis [
18
].
Collectively known as MVBs, they have two functions: (1) they can fuse with lysosomes and become involved in degradation pathway or, (2) fuse with the cell membrane to release smaller vesicles into the extracellular environment [
16
]. Late endosomes contain many small vesicles. The smaller vesicles that are contained within the cells are referred to as intraluminal endosomal vesicles [
16
]. The small vesicles that are released to the extra-cellular environment are termed as exosomes (
Figure 1
), containing many of the cellular contents from which they are formed. Though the exact mechanism of biogenesis of exosomes is not fully understood, several recent reports suggest that the syndecan heparin sulphate proteoglycans and syntenin regulate the formation of exosomes [
19
,
20
]. The release of exosomes is regulated by Rab GTPase pathway [
21
,
22
]. The delivery and transfer of exosomes to their recipient cells is regulated by "Endosomal Sorting Complexes Required for Transport" (ESCRTs), Ca
+2
channels and cellular pH levels [
23
,
24
,
25
,
26
,
27
,
28
]. Silencing of ALIX proteins also regulates the release of exosomes [
29
]. The mechanism of cargo sorting is not fully understood, but it was reported that the ESCRT-dependent endo-lysosomal pathway is important during exosomes biogenesis and cargo sorting processes and, also involves the syndecan–syntenin–ALIX axis [
20
,
21
]. The released exosomes are taken up by the recipient cells through receptor-mediated endocytosis or by the receptor-ligand fusion process [
30
].
1.2. Exosomal Mediated Communication Between Cells
Several studies confirm that exosomes interact and communicate with recipient cells [
9
]. The exact mechanism of their interaction with cells is mainly based on in vitro studies. Some mechanisms that have been proposed are: (1) exosomes bind to the surface of a recipient cell through adhesion molecules on exosomes; (2) fusion of vesicle after adhesion with plasma membrane; (3) receptor mediated endocytosis, and (4) phagocytosis by internalizing the vesicles into endocytic compartments. These interactions between target cells and exosomes can lead to transfer of membrane receptors, growth factors bound on the surface of exosomes, delivery of specific proteins to target cells, and transfer of genetic material [
31
].
A well-known mechanism of intercellular communication is through signaling molecules such as proteins, which interact with the receptors present on the surface of the target cells. Exosomes can transfer wide range of molecules such as proteins, RNA, DNA and lipids, which regulate various pathways in recipient cells present at particular sites. Existence of both miRNA and mRNA within exosomes, and the shuttling of these exosomes to recipient cells are believed to take part in cell to cell communication [
31
]. Identification of DNA and RNA in exosomes that were isolated by ultracentrifugation approach, but not confirmed by further purification steps such as differential centrifugation needs further analysis [
32
,
33
]. Many studies revealed the presence of different non-coding RNA species along with cellular RNA within exosomes targeted to the cell of interest [
34
]. The most enriched RNA within exosomes includes mRNA that shuttles via exosomes, small non-coding RNA (Y-RNA), miRNA and transfer RNA (tRNA). Shuttling of these conserved short RNA species is associated with the function of various genes involved in cellular regulation [
34
]. The amount of miRNA released per exosome is different for different cells and tissues, and can range from low to very high. For example, the amount is very low within the plasma, serum, seminal fluid, cerebrospinal fluid and even some cells such as mast cells, dendritic cells and ovarian tumor cells [
35
]. The amount of miRNA obtained from these exosomes is very low; however, they are highly specific towards their targets and carry specific functions [
36
]. Communications between the donor and recipient cells are presented in
Figure 2
and
Figure 3
.
Figure 2
represents the formation and release of exosomes to the extra-cellular environment, and
Figure 3
represents the various interactions that the released exosomes could cause within a host.
1.3. Isolation and Characterization of Exosomes
The basic technique that has been widely used to purify exosomes is the ultracentrifugation method; however, achieving maximum purity of the exosomes is a major hurdle due to contaminating materials such as microvesicles, apoptotic debris or other impurities [
4
,
37
,
38
]. Although, ultracentrifugation method is considered a gold standard, other methods used include density gradient purification, affinity based purification and the precipitation method [
39
]. The basic purification steps are performed by centrifugation at 230×
g
to remove cellular debris. Microvesicles are removed at 10,000×
g
and exosomes are pelleted and washed at 100,000×
g
[
40
,
41
]. Ultracentrifugation is laborious and time-consuming but is effective in removing contaminants such as ribosomes or other protein complexes [
42
,
43
]. In the density gradient purification method, exosomes are collected based on buoyant density using discontinuous gradients of Opti-prep media or sucrose solution. The major disadvantage of this technique is the loss of sample during the purification process.
Several manufacturers (Invitrogen, Qiagen, etc.) offer kits designed for isolation of exosomes by precipitation methods. The advantage is that exosomes can be isolated by low speed centrifugation process. The limitations include tedious downstream processing due to use of various columns for further purification [
44
]. Exosomes isolated by affinity capture methods use the targeting antigens (CD9, CD81 and Flotilin-1) present on the surface of exosomes for binding and purification. The affinity purification procedure has been described in detail elsewhere [
43
,
45
,
46
]. The affinity based purification method reduces the contamination of other materials and allows isolation of pure exosome populations [
46
,
47
,
48
].
Table 1
presents the advantages and disadvantages of various exosome purification methodologies.
The isolated exosomes can be characterized by Western blotting that identifies exosomal markers such as TSG101, ALIX, Flotillin-1 and tetraspanins such as CD9, CD81, and CD63. Transmission electron microscopy helps to identify the double-layered lipid membrane and their diameter. NanoSight method measures the size and distribution of exosomes. Dynamic light scattering instruments measure the size of exosomes and microvesicles by measuring the fluctuations of laser light particles passing through the suspension of extracellular vesicles [
49
]. Tunable resistive pulse sensing instrument performs the direct measurement of size and distribution of exosomes using the qNano system [
50
].
2. Exosomes in Tumor Microenvironment and their Role in Immunosuppression
3. Exosomes in Cancer Immunotherapy
In conclusion, exosomes are biological vesicles with dimensions in nano range that can play an important role in cancer immunotherapy. Their ability to transfer their cargo including proteins and DNA/RNA to target cells is powerful and can be an efficient tool in immunotherapy. Depending on the cells they originate from, exosomes can be immunostimulating or immunosuppressive, and therefore can be effective tools for cancer immunotherapies or autoimmune diseases. Although exosomes are promising tools for immunotherapy of cancer, in order to translate the findings into the clinical settings, issues such as development of an optimal purification method, the choice of exosome donor cells, type of loading procedure, and scale-up need to be addressed. Furthermore, the cost and time required to purify exosomes for human use has to be reasonable to be used in the clinic. Therefore, there is a need for development of an optimal isolation technique that can produce large amounts of exosomes at low cost. For quick and efficient treatment, the technology to produce exosomes from any source can be developed and used in the future.
4. Exosomes and Future Perspective in Disease
Due to their capacity of selective cell targeting, the potential for exosomes in the antigen, drug delivery and immune therapies is immense. The purity of exosomes is still a challenge and even very insignificant quantities of impurities such as protein aggregates and other DNA/RNA species can alter their impact and the outcome. Further developments in drug/nucleic acid loading are also necessary for improved therapeutic benefits from exosomes. Exosomes have started to garner interest in the fields of cancer therapeutics, immunotherapy, cancer diagnostics, and biomarker development. There is a need for serological biomarkers that can be used as a predictive marker of cancer immune therapies. Other techniques such as PET/CT that can lead to pseudo-progression are expensive for patients and are not reliable for measuring immunological responses. Furthermore, tumor micro-environmental changes cannot be accessed in real time with these techniques. Recently, it has been shown that PD-L1 on circulating exosomes correlates with positive response and varies during the course of the treatment [
108
]. Hence, to access these real time changes in tumor microenvironment due to immune responses, tumor exosomes may be used as a reliable biomarker. Lastly, due to their passive targeting, small size and their composition, they may be preferred over even nanoparticles. However, there are limitations to their isolation/purification. There is an inadequate understanding of their influence on the immune system, which needs further dissection. Refined and detailed clinical and preclinical studies that can address these deficiencies will lead to new exosome-based approaches that will transform cancer therapies and allow for the development of more individualized predictive biomarkers.
Author Contributions
Conceptualization, K.K.J.; Methodololgy, Investigation, K.K.J., T.H.N. and Z.S.B.; Resources, Z.L. and S.R.M.; Writing-Original Draft Preparation, K.K.J., Z.L., T.H.N. and Z.S.B.; Writing-Review & Editing, K.K.J., T.H.N., Z.L., S.R.M., Z.S.B. and M.K.K.; Supervision, M.K.K.; Funding Acquisition, M.K.K.
Funding
The research work was supported by Winship Invest
$
Grant sponsored by Winship Cancer Institute at Emory University School of Medicine, and the American Cancer Society-Institute Research Grant sponsored by the American Cancer Society.
Conflicts of Interest
The authors declare no conflict of interest.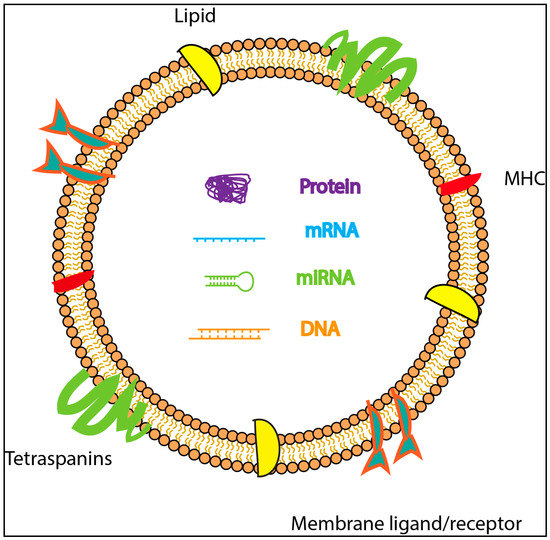 Figure 1. Schematic representation of exosome structure containing DNA, proteins and RNA species surrounded by a lipid bilayer with membrane ligands/receptors, tetraspanins and major histocompatibility complex (MHC).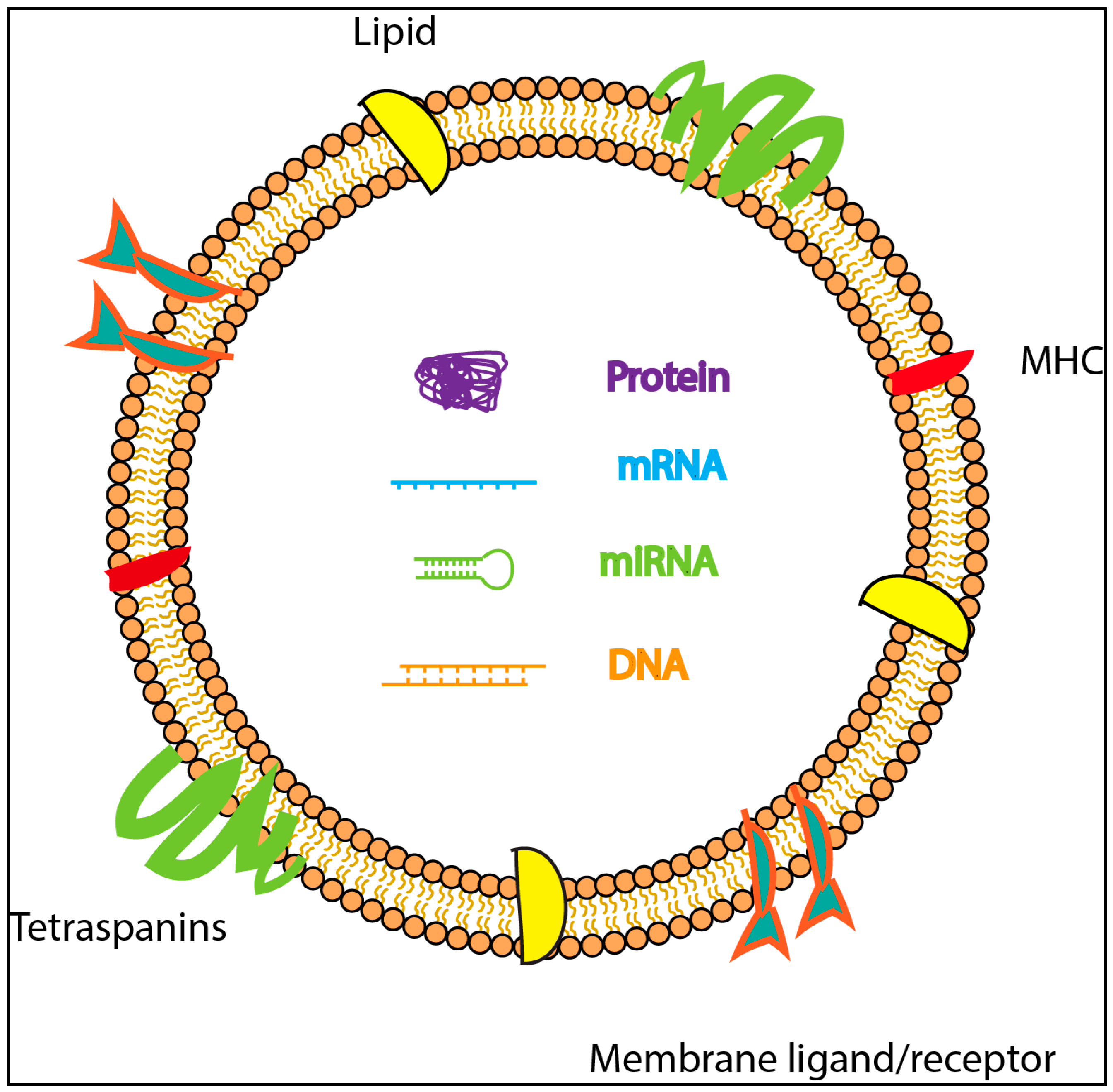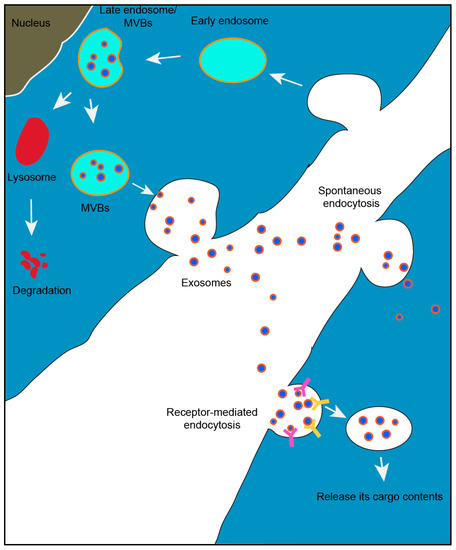 Figure 2. Exosome biogenesis begins with budding into early endosome and further matures into late endosome, collectively known as multivesicular bodies (MVBs). Thus, formed multivesicular bodies fuse with plasma membrane to release exosomes into outer cellular environment to communicate with other cells. The late endosomes fuse with the lysosome to undergo degradation pathway. In recipient cells, exosomes are taken up by receptor-mediated endocytosis process and release their cargo contents.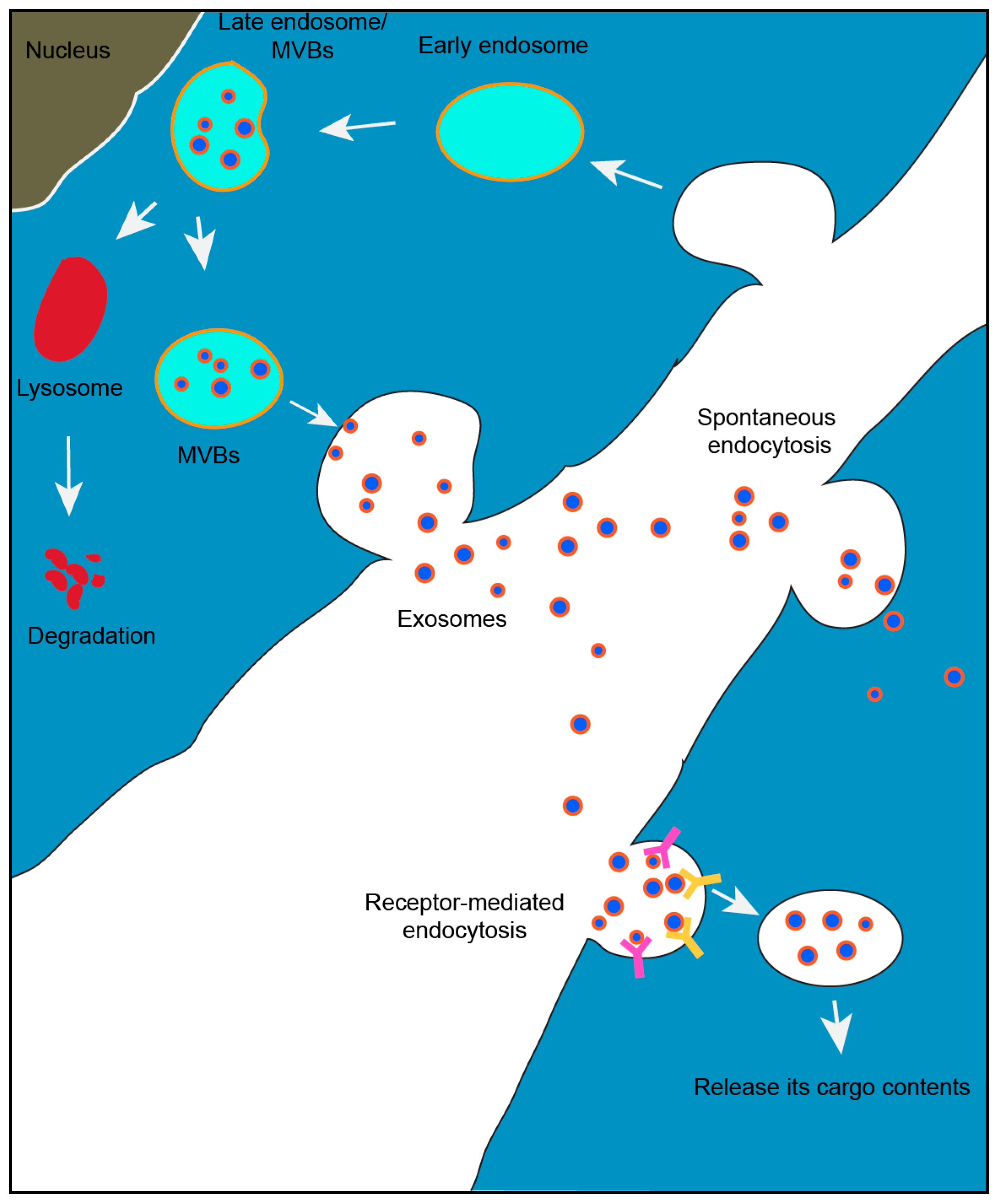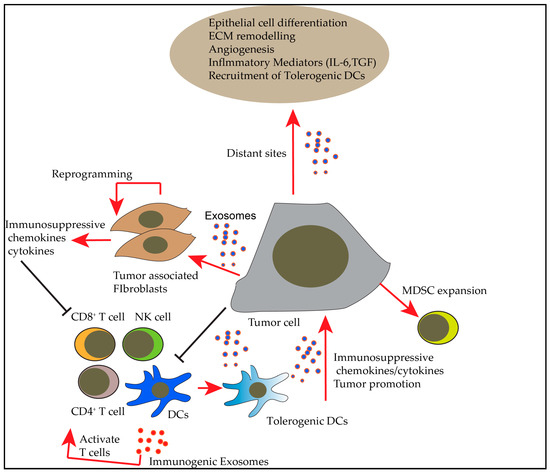 Figure 3. Summary of effects of exosomes on different immune cells and ways by which they promote tumor development and metastasis.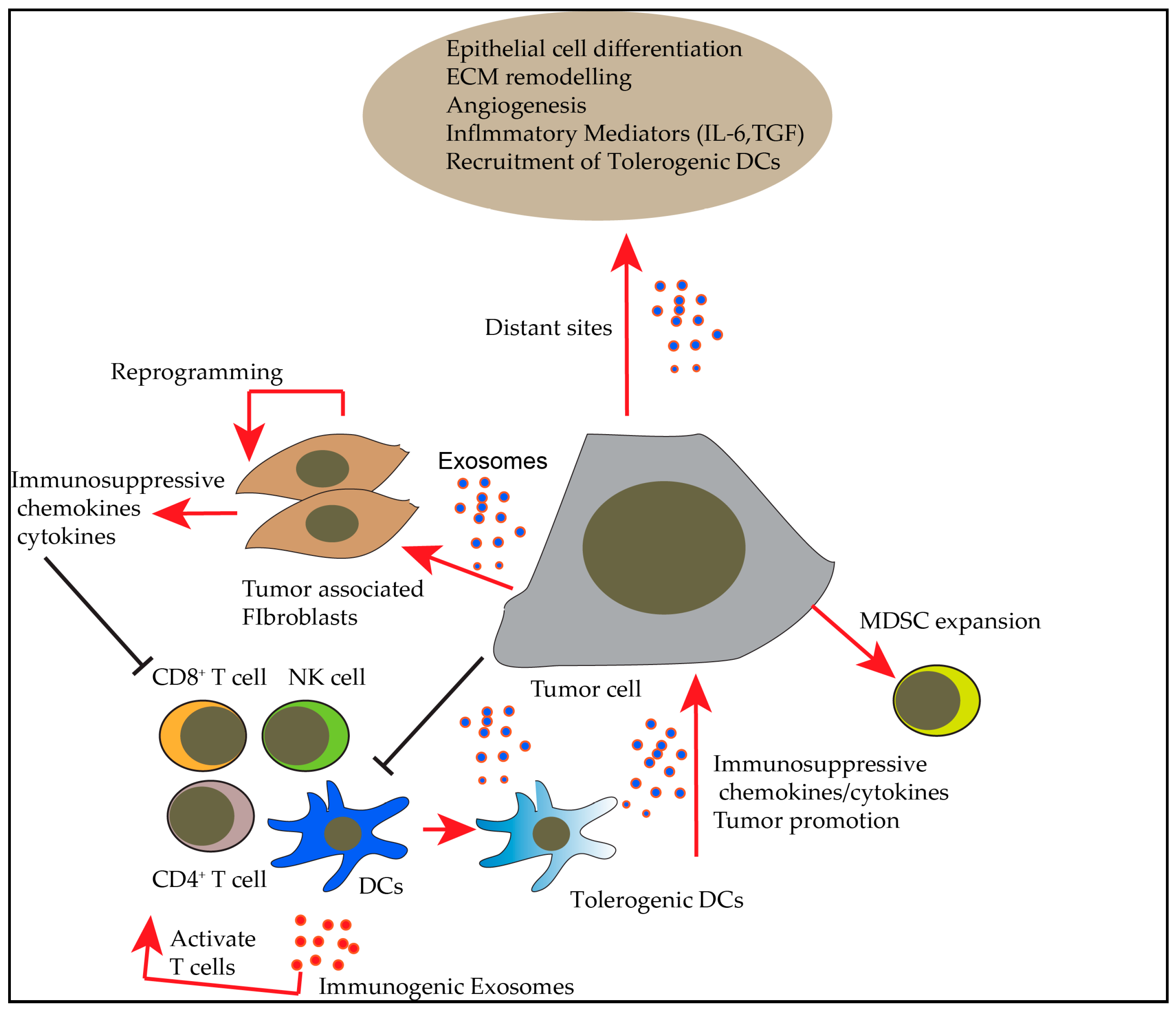 | Methodology | Advantages | Disadvantages | References |
| --- | --- | --- | --- |
| Ultracentrifugation | Bulk purification of exosomes is easy | Time consuming, contaminating proteins | [40,41,51] |
| Density gradient centrifugation | High purity exosome | Loss of exosomes, skillful technique | [7,52,53] |
| Ultrafiltration | Good exosome yield and quick isolation method | Purity is less | [54,55] |
| Immunoaffinity method | Exosome enrichment based on exosome standard markers | Biological property could be altered due to alterations in markers on exosomes | [45,56] |
| PEG isolation | High yield | PEG may affect downstream analysis | [57,58] |

© 2018 by the authors. Licensee MDPI, Basel, Switzerland. This article is an open access article distributed under the terms and conditions of the Creative Commons Attribution (CC BY) license (http://creativecommons.org/licenses/by/4.0/).