Improved Induction of Anti-Melanoma T Cells by Adenovirus-5/3 Fiber Modification to Target Human DCs
1
Department of Medical Oncology, Amsterdam UMC, Vrije Universiteit Amsterdam, Cancer Center Amsterdam, 1081 HV Amsterdam, The Netherlands
2
Microbiology Program, Department of Biological Sciences, College of Science, Technology, Engineering and Mathematics, Alabama State University (ASU), Montgomery, AL 36104, USA
3
Department of Genetics, University of Alabama in Birmingham (UAB), Birmingham, AL 35294, USA
4
Department of Pathology, Netherlands Cancer Institute/Antoni van Leeuwenhoek, 1066 CX Amsterdam, The Netherlands
5
Division of Cancer Biology, Washington University, St. Louis, MO 63110, USA
6
Department of Experimental Immunology, Amsterdam UMC, University of Amsterdam, Amsterdam Infection & Immunity Institute, 1105 AZ Amsterdam, The Netherlands
*
Author to whom correspondence should be addressed.
†
These authors contributed equally to this paper.
‡
Current affiliation: department of Otolaryngology/Head and Neck surgery, Amsterdam UMC, Vrije Universiteit Amsterdam, Cancer Center Amsterdam, 1081 HV Amsterdam, The Netherlands.
Received: 30 May 2018 / Revised: 12 July 2018 / Accepted: 16 July 2018 / Published: 18 July 2018
Abstract
To mount a strong anti-tumor immune response, non T cell inflamed (cold) tumors may require combination treatment encompassing vaccine strategies preceding checkpoint inhibition. In vivo targeted delivery of tumor-associated antigens (TAA) to dendritic cells (DCs), relying on the natural functions of primary DCs in situ, represents an attractive vaccination strategy. In this study we made use of a full-length MART-1 expressing C/B-chimeric adenoviral vector, consisting of the Ad5 capsid and the Ad3 knob (Ad5/3), which we previously showed to selectively transduce DCs in human skin and lymph nodes. Our data demonstrate that chimeric Ad5/3 vectors encoding TAA, and able to target human DCs in situ, can be used to efficiently induce expansion of functional tumor-specific CD8
+
effector T cells, either from a naïve T cell pool or from previously primed T cells residing in the melanoma-draining sentinel lymph nodes (SLN). These data support the use of Ad3-knob containing viruses as vaccine vehicles for in vivo delivery. "Off-the-shelf" DC-targeted Ad vaccines encoding TAA could clearly benefit future immunotherapeutic approaches.
View Full-Text
►

▼

Figures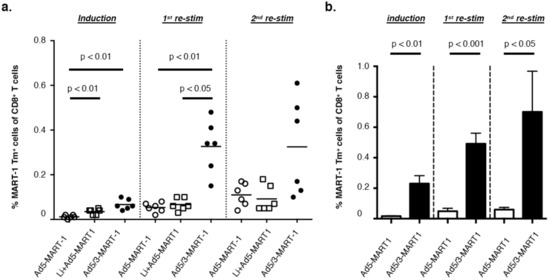 Figure 1
This is an open access article distributed under the
Creative Commons Attribution License
which permits unrestricted use, distribution, and reproduction in any medium, provided the original work is properly cited (CC BY 4.0).

Share & Cite This Article
MDPI and ACS Style
Chondronasiou, D.; Eisden, T.-J.T.H.D.; Stam, A.G.M.; Matthews, Q.L.; Icyuz, M.; Hooijberg, E.; Dmitriev, I.; Curiel, D.T.; De Gruijl, T.D.; Van de Ven, R. Improved Induction of Anti-Melanoma T Cells by Adenovirus-5/3 Fiber Modification to Target Human DCs. Vaccines 2018, 6, 42.
Note that from the first issue of 2016, MDPI journals use article numbers instead of page numbers. See further details here.
Related Articles
Comments
[Return to top]