Vaccine Adjuvants in Fish Vaccines Make a Difference: Comparing Three Adjuvants (Montanide ISA763A Oil, CpG/Poly I:C Combo and VHSV Glycoprotein) Alone or in Combination Formulated with an Inactivated Whole Salmonid Alphavirus Antigen
1
Norwegian College of Fisheries Science, UiT The Arctic University of Norway, Tromsø N-9037, Norway
2
MSD Animal Health Norway, Thormøhlensgate 55, Bergen N-5008, Norway
3
Aquatic Veterinary Services, 35 Cherryvalley Park, Belfast BT5 6PN, UK
4
Department of Laboratory Services, National Veterinary Institute, Oslo N-0106, Norway
*
Author to whom correspondence should be addressed.
Received: 16 December 2013 / Revised: 21 February 2014 / Accepted: 13 March 2014 / Published: 25 March 2014
Abstract
Most commercial vaccines offered to the aquaculture industry include inactivated antigens (Ag) formulated in oil adjuvants. Safety concerns are related to the use of oil adjuvants in multivalent vaccines for fish, since adverse side effects (e.g., adhesions) can appear. Therefore, there is a request for vaccine formulations for which protection will be maintained or improved, while the risk of side effects is reduced. Here, by using an inactivated salmonid alphavirus (SAV) as the test Ag, the combined use of two Toll-like receptor (TLR) ligand adjuvants, CpG oligonucleotides (ODNs) and poly I:C, as well as a genetic adjuvant consisting of a DNA plasmid vector expressing the viral haemorrhagic septicaemia virus (VHSV) glycoprotein (G) was explored. VHSV-G DNA vaccine was intramuscularly injected in combination with intraperitoneal injection of either SAV Ag alone or combined with the oil adjuvant, Montanide ISA763, or the CpG/polyI:C combo. Adjuvant formulations were evaluated for their ability to boost immune responses and induce protection against SAV in Atlantic salmon, following cohabitation challenge. It was observed that CpG/polyI:C-based formulations generated the highest neutralizing antibody titres (nAbs) before challenge, which endured post challenge. nAb responses for VHSV G-DNA- and oil-adjuvanted formulations were marginal compared to the CpG/poly I:C treatment. Interestingly, heat-inactivated sera showed reduced nAb titres compared to their non-heated counterparts, which suggests a role of complement-mediated neutralization against SAV. Consistently elevated levels of innate antiviral immune genes in the CpG/polyI:C injected groups suggested a role of IFN-mediated responses. Co-delivery of the VHSV-G DNA construct with either CpG/polyI:C or oil-adjuvanted SAV vaccine generated higher CD4 responses in head kidney at 48 h compared to injection of this vector or SAV Ag alone. The results demonstrate that a combination of pattern recognizing receptor (PRR) ligands, such as CpG/polyI:C, increases both adaptive and innate responses and represents a promising adjuvant strategy for enhancing the protection of future viral vaccines.
View Full-Text
►

▼

Figures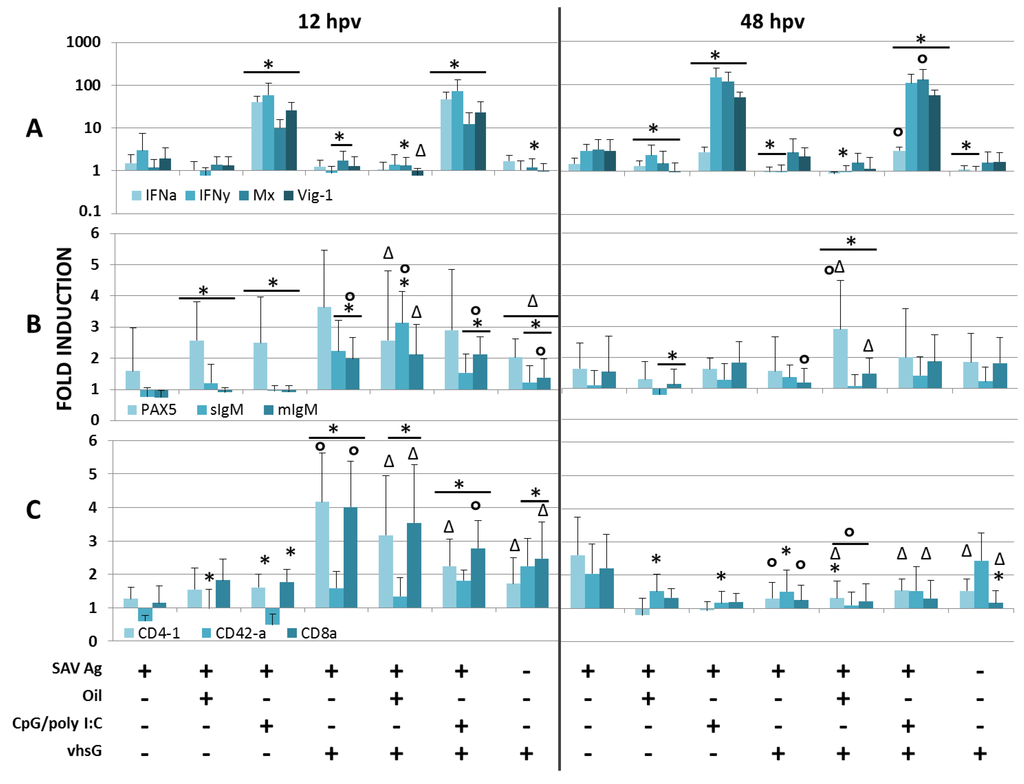 Figure 1

Share & Cite This Article
MDPI and ACS Style
Thim, H.L.; Villoing, S.; McLoughlin, M.; Christie, K.E.; Grove, S.; Frost, P.; Jørgensen, J.B. Vaccine Adjuvants in Fish Vaccines Make a Difference: Comparing Three Adjuvants (Montanide ISA763A Oil, CpG/Poly I:C Combo and VHSV Glycoprotein) Alone or in Combination Formulated with an Inactivated Whole Salmonid Alphavirus Antigen. Vaccines 2014, 2, 228-251.
Related Articles
Comments
[Return to top]