Myrciaria tenella

(DC.) O. Berg (Myrtaceae) Leaves as a Source of Antioxidant Compounds

1

Programa de Pós-Graduação em Bioquímica, Centro de Biociências, Universidade Federal do Rio Grande do Norte-UFRN, Centro de Biociências, Natal, Rio Grande do Norte (RN) 59.072-970, Brazil

2

Laboratório de Transformação de Plantas e Análise de Microscopia (LTPAM), Departamento de Biologia Celular e Genética, Centro de Biociências, UFRN, Natal-RN 59.072-970, Brazil

3

Laboratório de Produtos Naturais (PNBio), Departamento de Farmácia, Centro da Saúde, UFRN, Natal-RN 59012-570, Brazil

4

Laboratório de Controle de Qualidade de Medicamentos (LCQMed), Departamento de Farmácia, Centro da Saúde, UFRN, Natal-RN 59012-570, Brazil

5

Laboratório de Genética Bioquímica (LGB), Departamento de Biologia Celular e Genética, Centro de Biociências, UFRN, Natal-RN 59.072-970, Brazil

6

Instituto Federal de Educação, Ciência e Tecnologia do Piauí – IFPI, Terezina-PI 64000.00, Brazil

7

Laboratório de Biotecnologia de Polímeros Naturais (BIOPOL), Departamento de Bioquímica, Centro de Biociências, UFRN, Natal-RN 59.072-970, Brazil

*

Author to whom correspondence should be addressed.

Received: 17 June 2019 / Revised: 18 July 2019 / Accepted: 19 July 2019 / Published: 15 August 2019
Abstract
Myrciaria
species are widely studied to identify their chemical composition and evaluate their biological activity. Since evidence supporting the potential antioxidant and antiproliferative activity of
Myrciaria tenella
is lacking, the aim of this work was to evaluate these activities in six different leaf extracts: hexane (CHE), chloroform (CCE), ethanolic (CEE), methanolic (CME), aqueous final (CFAE), and only aqueous (CAE). The presence of phenolic compounds, tannin, saponin, and ursolic acid was determined by thin layer chromatography (TLC). CEE, CME, and CFAE showed in vitro antioxidant activity at the initiation, propagation, and termination stages of oxidative damage. Moreover, no toxicity was observed in the 3T3 non-cancerous cell line. On the other hand, all extracts promoted cell death in the tumor cell lines human cervical adenocarcinoma cell line (HeLa) and human stomach gastric adenocarcinoma cell line (AGS). Based on these results, the effect of CEE on the AGS cell line was analyzed using flow cytometry, and necrosis and late apoptosis were observed. Finally, the
Caenorhabditis elegans
model showed that CEE was able to reduce the basal reactive oxygen species (ROS) level. Ultra-performance liquid chromatography (UPLC) analysis showed rutin as the major compound in CEE. Therefore,
Myrciaria tenella
fresh leaves may be potential sources of molecules possessing antioxidant and antiproliferative activities.
View Full-Text
►

▼

Figures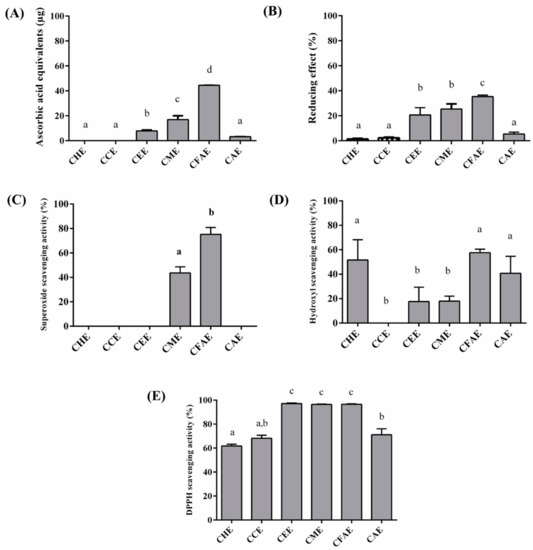 Figure 1
This is an open access article distributed under the
Creative Commons Attribution License
which permits unrestricted use, distribution, and reproduction in any medium, provided the original work is properly cited (CC BY 4.0).

Share & Cite This Article
MDPI and ACS Style
Ribeiro, A.R.C.; Cordeiro, M.L.S.; Silva, L.M.P.; Cadavid, C.O.M.; Caland, R.B.O.; Fernandes-Negreiros, M.M.; Queiroz, M.F.; Barbosa, J.S.; Aragão, C.F.S.; Zucolotto, S.M.; Oliveira, R.P.; Rocha, H.A.O.; Scortecci, K.C. Myrciaria tenella (DC.) O. Berg (Myrtaceae) Leaves as a Source of Antioxidant Compounds. Antioxidants 2019, 8, 310.
Note that from the first issue of 2016, MDPI journals use article numbers instead of page numbers. See further details here.
Related Articles
Comments
[Return to top]