Spotlight on a New Heme Oxygenase Pathway: Testosterone-Induced Shifts in Cardiac Oxidant/Antioxidant Status
1
Department of Physiology, Anatomy and Neuroscience, Faculty of Science and Informatics, University of Szeged, 6726 Szeged, Hungary
2
Department of Physiology, Anatomy and Neuroscience, Interdisciplinary Excellence Centre, University of Szeged, 6726 Szeged, Hungary
3
Department of Pharmacology and Pharmacotherapy, University of Debrecen, 4032 Debrecen, Hungary
*
Author to whom correspondence should be addressed.
†
Renáta Szabó and Denise Börzsei contributed equally to this paper as first authors.
Received: 15 July 2019 / Revised: 2 August 2019 / Accepted: 3 August 2019 / Published: 7 August 2019
Abstract
A low testosterone level contributes to the development of oxidative damages; however, the cardiovascular effects of exogenous hormone therapy are not well elucidated. The aim of our work is to study the association of the testosterone level, antioxidant/oxidant system, and anti-inflammatory status related to the heme oxygenase (HO) system. To determine the effects of testosterone, 10-week-old, and 24-month-old sham-operated and castrated male Wistar rats were used. One part of the castrated animals was daily treated with 2.5 mg/kg cyproterone acetate, while the hormone replacement therapy was performed via an
i.m.
injection of a dose of 8.0 mg testosterone undecanoate/kg/once a week. The plasma testosterone level, the activity of HO and myeloperoxidase (MPO) enzymes; the concentrations of the HO-1, tumor necrosis alpha (TNF-α), and cyclic guanosine monophosphate (cGMP), as well as the total level of glutathione (GSH + GSSG) were determined from the cardiac left ventricle. In accordance with the testosterone values, the aging process and castration resulted in a decrease in antioxidant HO activity, HO-1 and cGMP concentrations and in the level of GSH + GSSG, whereas the inflammatory TNF-α and MPO activity significantly increased. Testosterone therapy was able to restore the physiological values. Our results clearly show that testosterone replacement therapy increases the antioxidant status and mitigates the inflammatory parameters via the modulation of the HO system.
View Full-Text
►

▼

Figures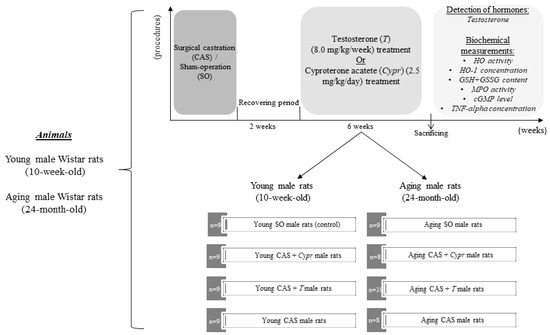 Figure 1
This is an open access article distributed under the
Creative Commons Attribution License
which permits unrestricted use, distribution, and reproduction in any medium, provided the original work is properly cited (CC BY 4.0).

Share & Cite This Article
MDPI and ACS Style
Szabó, R.; Börzsei, D.; Kupai, K.; Hoffmann, A.; Gesztelyi, R.; Magyariné Berkó, A.; Varga, C.; Pósa, A. Spotlight on a New Heme Oxygenase Pathway: Testosterone-Induced Shifts in Cardiac Oxidant/Antioxidant Status. Antioxidants 2019, 8, 288.
Note that from the first issue of 2016, MDPI journals use article numbers instead of page numbers. See further details here.
Related Articles
Comments
[Return to top]