Antioxidant Activities of Alkyl Substituted Pyrazine Derivatives of Chalcones—In Vitro and In Silico Study
1
Division of Molecular Medicine, Ruđer Bošković Institute, Bijenička cesta 54, HR-10000 Zagreb, Croatia
2
Department for Intercellular Communication, Centre for Translational and Clinical Research and Croatian Centre of Excellence for Reproductive and Regenerative Medicine, School of Medicine, University of Zagreb, Šalata 2, HR-10000 Zagreb, Croatia
3
Department of Medical Biochemistry and Haematology, Faculty of Pharmacy and Biochemistry, University of Zagreb, Domagojeva 2, HR-10000 Zagreb, Croatia
4
Department of Pharmaceutical Chemistry and Pharmaceutical Analysis, Faculty of Pharmacy, Charles University, Heyrovského 1203, 500 05 Hradec Králové, Czech Republic
5
Department of Physiology and Pharmacology Vittorio Erspamer, Sapienza University, P.le Aldo Moro 5, 00185 Rome, Italy
*
Authors to whom correspondence should be addressed.
Received: 5 March 2019 / Revised: 29 March 2019 / Accepted: 2 April 2019 / Published: 5 April 2019
Abstract
Chalcones are polyphenolic secondary metabolites of plants, many of which have antioxidant activity. Herein, a set of 26 synthetic chalcone derivatives with alkyl substituted pyrazine heterocycle A and four types of the monophenolic ring B, were evaluated for the potential radical scavenging and antioxidant cellular capacity influencing the growth of cells exposed to H
2
O
2
. Before that, compounds were screened for cytotoxicity on THP-1 and HepG2 cell lines. Most of them were not cytotoxic in an overnight MTS assay. However, three of them, 4a, 4c and 4e showed 1,1-diphenyl-2-picrylhydrazyl (DPPH●) radical scavenging activity, through single electron transfer followed by a proton transfer (SET-PT) mechanism as revealed by density functional theory (DFT) modeling. DFT modeling of radical scavenging mechanisms was done at the SMD//(U)M052X/6-311++G** level. The in vitro effects of 4a, 4c and 4e on the growth of THP-1 cells during four days pre- or post-treatment with H
2
O
2
were examined daily with the trypan blue exclusion assay. Their various cellular effects reflect differences in their radical scavenging capacity and molecular lipophilicity (clogP) and depend upon the cellular redox status. The applied simple in vitro-in silico screening cascade enables fast identification and initial characterization of potent radical scavengers.
View Full-Text
►

▼

Figures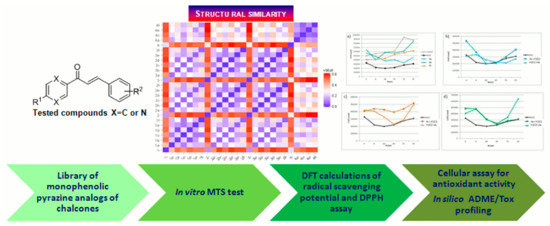 Graphical abstract
This is an open access article distributed under the
Creative Commons Attribution License
which permits unrestricted use, distribution, and reproduction in any medium, provided the original work is properly cited (CC BY 4.0).

Share & Cite This Article
MDPI and ACS Style
Stepanić, V.; Matijašić, M.; Horvat, T.; Verbanac, D.; Kučerová-Chlupáčová, M.; Saso, L.; Žarković, N. Antioxidant Activities of Alkyl Substituted Pyrazine Derivatives of Chalcones—In Vitro and In Silico Study. Antioxidants 2019, 8, 90.
Note that from the first issue of 2016, MDPI journals use article numbers instead of page numbers. See further details here.
Related Articles
Comments
[Return to top]