Suppression of Light-Induced Retinal Degeneration by Quercetin via the AP-1 Pathway in Rats
1
Department of Ophthalmology, Faculty of Medicine, Shimane University, Shimane 693-0021, Japan
2
Department of Pathology, Uniformed Services University of the Health Science, Bethesda, MD 20814, USA
3
Department of Research and Development, Kotobuki Seika Co., Ltd., Tottori 683-0845, Japan
*
Author to whom correspondence should be addressed.
Received: 31 January 2019 / Revised: 18 March 2019 / Accepted: 25 March 2019 / Published: 27 March 2019
Abstract
We examined the cytoprotective effect of quercetin via activator protein (AP-1) and the heat shock protein 70 (Hsp70) pathway against light-induced retinal degeneration in rats. Quercetin was administered intraperitoneally to Sprague-Dawley rats for seven days before light exposure to intense white fluorescent light (3000 lux) for 24 h. Light-induced retinal damage was determined by the number of rows of photoreceptor cell nuclei, the microstructures of the rod outer segments and retinal pigment epithelium, and terminal deoxynucleotidyl transferase (TdT)-mediated 2′-Deoxyuridine-5′-triphosphate (dUTP) nick end labeling. To elucidate the cytoprotective mechanism of quercetin, expression levels were measured in the rat retinas of 8-hydroxy-deoxyguanosine (8-OHdG), a marker of oxidative stress; Hsp70; and transcription factor AP-1 transcription activity. Pretreatment with quercetin inhibited light-induced photoreceptor cellular apoptosis and subsequent retinal degeneration in rats. 8-OHdG and Hsp70 protein expressions were up-regulated markedly by light exposure and suppressed by quercetin pretreatment. The results of an electrophoretic mobility shift assay showed that AP-1-binding activity was activated by light exposure, and binding of c-Fos and c-Jun, but not JunB, mediated the binding activity. Intraperitoneal administration of quercetin decreases photooxidative damage in the retina and mediates cytoprotection against light-induced photoreceptor cell degeneration in rats. Suppression of the heterodimeric combination of c-Jun and c-Fos proteins at the AP-1 binding site is highly involved in quercetin-mediated cytoprotection.
View Full-Text
►

▼

Figures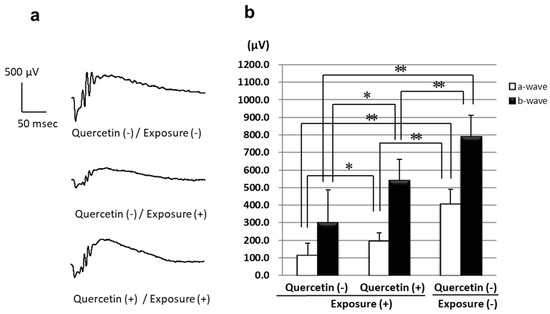 Figure 1
This is an open access article distributed under the
Creative Commons Attribution License
which permits unrestricted use, distribution, and reproduction in any medium, provided the original work is properly cited (CC BY 4.0).

Share & Cite This Article
MDPI and ACS Style
Koyama, Y.; Kaidzu, S.; Kim, Y.-C.; Matsuoka, Y.; Ishihara, T.; Ohira, A.; Tanito, M. Suppression of Light-Induced Retinal Degeneration by Quercetin via the AP-1 Pathway in Rats. Antioxidants 2019, 8, 79.
Note that from the first issue of 2016, MDPI journals use article numbers instead of page numbers. See further details here.
Related Articles
Comments
[Return to top]