Open Access This article is
freely available
re-usable
Review
On the Origin and Fate of Reactive Oxygen Species in Plant Cell Compartments
Department of Biochemistry, Palacký University in Olomouc, Šlechtitelů 27, CZ-78371 Olomouc, Czech Republic
*
Author to whom correspondence should be addressed.
Received: 4 March 2019 / Accepted: 13 April 2019 / Published: 17 April 2019
Abstract
:
Reactive oxygen species (ROS) have been recognized as important signaling compounds of major importance in a number of developmental and physiological processes in plants. The existence of cellular compartments enables efficient redox compartmentalization and ensures proper functioning of ROS-dependent signaling pathways. Similar to other organisms, the production of individual ROS in plant cells is highly localized and regulated by compartment-specific enzyme pathways on transcriptional and post-translational level. ROS metabolism and signaling in specific compartments are greatly affected by their chemical interactions with other reactive radical species, ROS scavengers and antioxidant enzymes. A dysregulation of the redox status, as a consequence of induced ROS generation or decreased capacity of their removal, occurs in plants exposed to diverse stress conditions. During stress condition, strong induction of ROS-generating systems or attenuated ROS scavenging can lead to oxidative or nitrosative stress conditions, associated with potential damaging modifications of cell biomolecules. Here, we present an overview of compartment-specific pathways of ROS production and degradation and mechanisms of ROS homeostasis control within plant cell compartments.
Keywords:
cell wall; chloroplasts; cytoplasmic membrane; cytosol; glyoxysomes; mitochondria; peroxisomes; plant cell; reactive oxygen species
2. Subcellular Localization and Functions of ROS Production in Plant Cells
On a quantitative scale, in contrast to animals where mitochondria play a predominant role in the ROS biogenesis in most cell types, plant cells generate ROS in a highly variable manner by multiple pathways depending on the plant tissue, developmental stage and external conditions [
9
,
28
]. ROS metabolism has been extensively studied in all plant cell compartments including cell wall, apoplast, plasma membrane, cytosol, mitochondria, chloroplasts, peroxisomes and glyoxysomes [
29
]. More stable ROS species like hydrogen peroxide can even diffuse, cross cell membranes and transport their signaling effects into other compartments (
Figure 1
). Moreover, ROS cooperate and cross-talk with signaling pathways of plant hormones such as abscisic, jasmonic and salicylic acid or ethylene [
30
,
31
].
3. Conclusions
In recent years, we have witnessed a substantial progress in our understanding of ROS-dependent redox signaling in plants involved in plant growth and developmental and responses to abiotic and biotic stress stimuli. It has become increasingly evident that cellular ROS signaling pathways are clearly confined in a spatio-temporal manner, similarly to that observed for other second messengers, and that ROS redox signaling is tightly connected to cellular compartmentalization, which allows organelle-specific signaling responses. Roles of low molecular antioxidants and ROS-catabolizing enzymes as important regulators of ROS levels in cellular compartments have been uncovered.
Within the plant ROS landscape, a simultaneous operation of both highly conserved and highly specific mechanisms of ROS production and degradation has been recognized in different plant cell organelles. It has become evident that light-driven reactions in thylakoid membranes can be considered the major ROS source in photosynthetically active tissues, whereas mitochondrial ROS production is of major importance in the dark or in non-green tissues. Furthermore, ROS production in the apoplastic space was uncovered to play a crucial role in plant interactions with external environment, including microbial organisms or root growth and development. However, some well-accepted concepts are continuously questioned by advances in the plant ROS field; e.g., singlet oxygen, generally thought to be produced in photosynthetic center, was reported to be involved in osmotic stress-induced cell death in
A. thaliana
roots, suggesting a novel light-independent mechanism of its generation [
125
].
Recent advances in the development and application of redox-sensitive probes enable specific measurements of individual ROS in different cellular compartments of intact plant cells. The application of these probes permits to analyze simultaneously spatio-temporal ROS modulations and functional associations between ROS metabolism and signaling and organelle functions. It is noteworthy that the current knowledge on the quantitative aspects of ROS metabolism in plant cells in vivo is still quite limited. This is mainly associated with current protocols used to detect ROS which are in many case not suitable for accurate and reliable ROS quantification [
9
,
126
]. Recent development of quantitative ROS transcription-based bioreporters seems a promising new strategy to achieve quantitative cellular mapping of ROS changes in plant responses to stress stimuli [
127
].
Moreover, actual advances of omics technologies provide new strategies to study in detail the site-specific functions of different components of ROS metabolism in plant cell signaling. With advances from single-cell to single-organelle transcriptomics, proteomics and metabolomics, specific roles of individual metabolites and enzymes in the regulation of ROS metabolism can be achieved. The recently introduced "ramanomics" approach might provide an efficient tool of non-invasive quantitative profiling of cellular compartments and monitoring of molecular interactions and transformations in live cells and their subcellular structures. Advancing field of the high-resolution microscopy combined with mentioned genetically-encoded redox sensors proteins is expected to provide new insights into the compartment-specific landscapes of short-lived reactive oxygen species in plant cell compartments, and to further elucidate their role in plant physiology and stress responses.
Author Contributions
Conceptualization, L.L. and M.P.; writing—original draft preparation, M.J.; writing—review and editing, M.J., L.L. and M.P.
Funding
This research was funded by the University of Palacký in Olomouc (IGA_PrF_2019_022).
Conflicts of Interest
The authors declare no conflict of interest.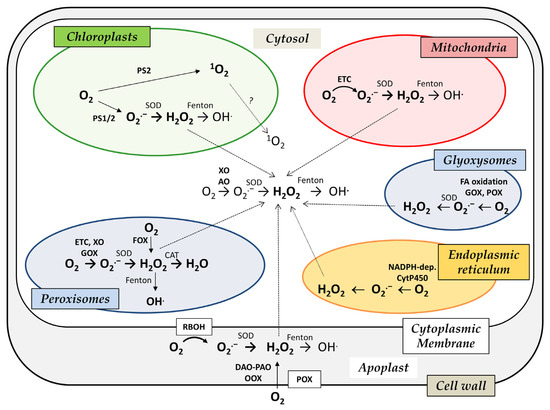 Figure 1. Schematic overview of reactive oxygen species (ROS) sources in plant cell compartments. AO, aldehyde oxidase; CAT, catalase; DAO, diamine oxidase; GOX, glycolate oxidase; ETC, electron transport chain; FOX, flavin oxidases; OOX, oxalate oxidase; PAO, polyamine oxidase; POX, peroxidases; PS, photosystem; RBOH, NADPH oxidase; SOD, superoxide dismutase; XO, xanthine oxidase/dehydrogenase.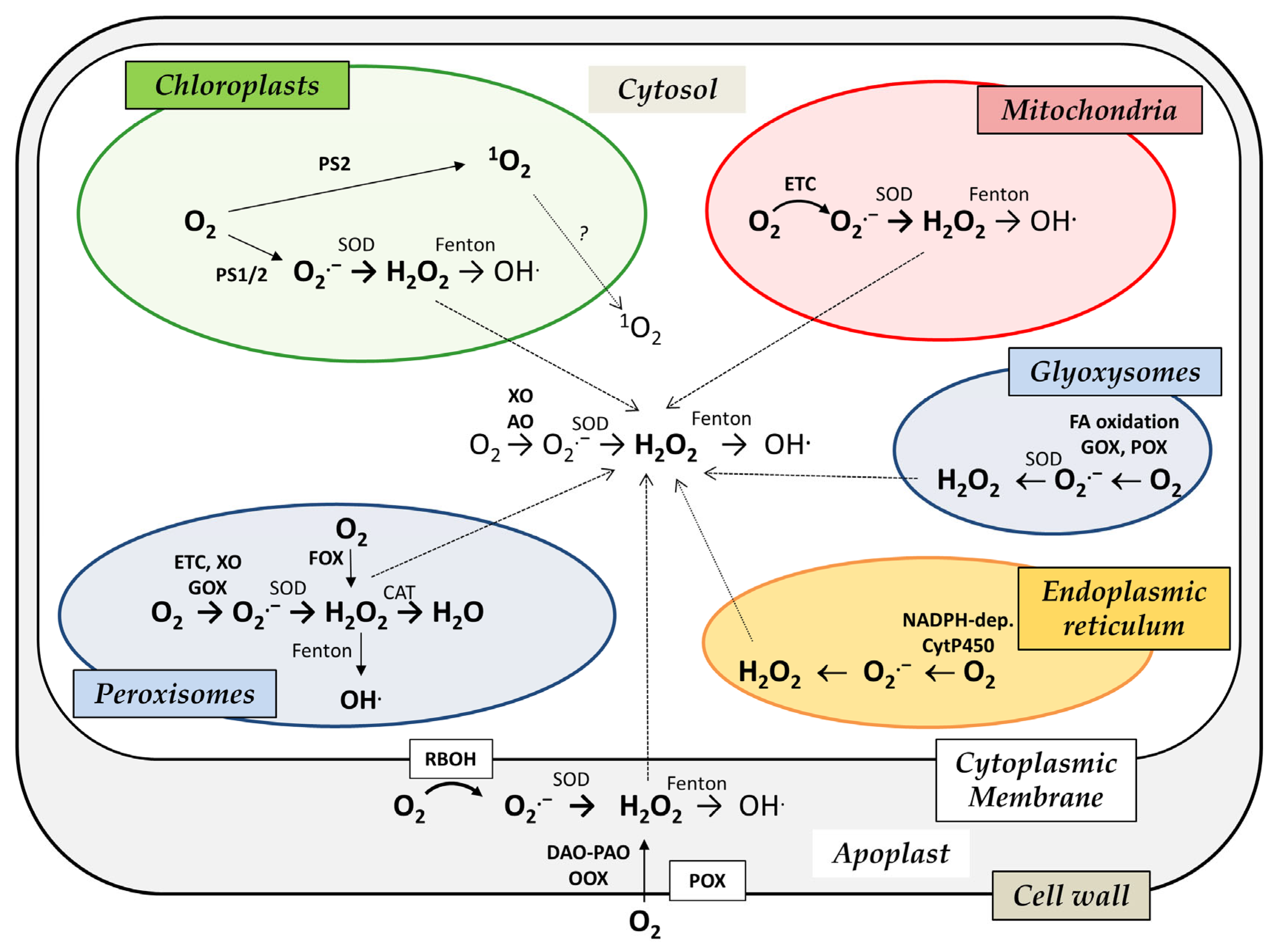 © 2019 by the authors. Licensee MDPI, Basel, Switzerland. This article is an open access article distributed under the terms and conditions of the Creative Commons Attribution (CC BY) license (http://creativecommons.org/licenses/by/4.0/).