Oxidant-Mediated Protein Amino Acid Conversion
Department of Pharmacology and Physiology, Georgetown University Medical Center, Washington, DC 20007, USA
Received: 9 February 2019 / Revised: 20 February 2019 / Accepted: 25 February 2019 / Published: 25 February 2019
Abstract
Biological oxidation plays important roles in the pathogenesis of various diseases and aging. Carbonylation is one mode of protein oxidation. It has been reported that amino acids that are susceptible to carbonylation are arginine (Arg), proline (Pro), lysine, and threonine residues. The carbonylation product of both Arg and Pro residues is glutamyl semialdehyde. While chemically the oxidation reactions of neither Pro to glutamyl semialdehyde nor Arg to glutamyl semialdehyde are reversible, experimental results from our laboratory suggest that the biological system may drive the reduction of glutamyl semialdehyde to Pro in the protein structure. Further, glutamyl semialdehyde can be oxidized to become glutamic acid (Glu). Therefore, I hypothesize that biological oxidation post-translationally converts Arg to Pro, Arg to Glu, and Pro to Glu within the protein structure. Our mass spectrometry experiments provided evidence that, in human cells, 5–10% of peroxiredoxin 6 protein molecules have Pro-45 replaced by Glu. This concept of protein amino acid conversion challenges the dogma that amino acid sequences are strictly defined by nucleic acid sequences. I propose that, in the biological system, amino acid replacements can occur post-translationally through redox regulation, and protein molecules with non-DNA coding sequences confer functions.
View Full-Text
►

▼

Figures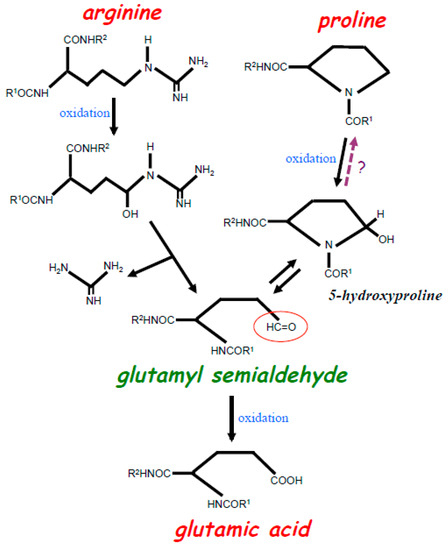 Figure 1
This is an open access article distributed under the
Creative Commons Attribution License
which permits unrestricted use, distribution, and reproduction in any medium, provided the original work is properly cited (CC BY 4.0).

Share & Cite This Article
MDPI and ACS Style
Suzuki, Y.J. Oxidant-Mediated Protein Amino Acid Conversion. Antioxidants 2019, 8, 50.
Note that from the first issue of 2016, MDPI journals use article numbers instead of page numbers. See further details here.
Related Articles
Comments
[Return to top]