Open Access This article is
freely available
re-usable
Review
The Functions of the Mammalian Methionine Sulfoxide Reductase System and Related Diseases
Department of Pharmacology and Toxicology, School of Pharmacy, University of Kansas, Lawrence, KS 66045, USA
*
Author to whom correspondence should be addressed.
Received: 25 July 2018 / Accepted: 16 September 2018 / Published: 18 September 2018
Abstract
:
This review article describes and discusses the current knowledge on the general role of the methionine sulfoxide reductase (MSR) system and the particular role of MSR type A (MSRA) in mammals. A powerful tool to investigate the contribution of MSRA to molecular processes within a mammalian system/organism is the
MSRA
knockout. The deficiency of MSRA in this mouse model provides hints and evidence for this enzyme function in health and disease. Accordingly, the potential involvement of MSRA in the processes leading to neurodegenerative diseases, neurological disorders, cystic fibrosis, cancer, and hearing loss will be deliberated and evaluated.
Keywords:
methionine sulfoxide reductase; methionine oxidation; oxidative stress
Acknowledgments
This review was partly supported by the Hedwig Miller Fund for aging research awarded to Jackob Moskovitz.
Conflicts of Interest
The authors declare no conflicts of interest.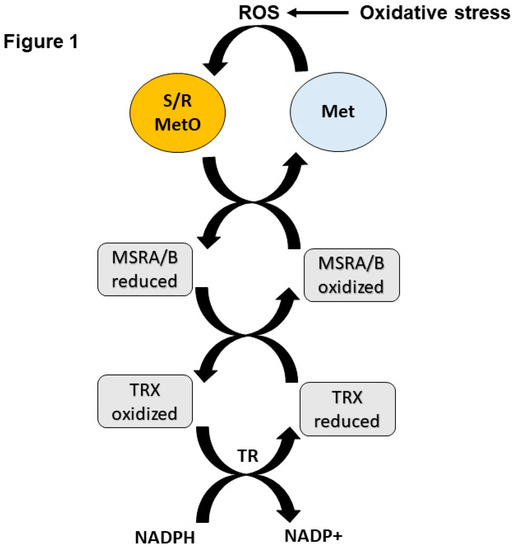 Figure 1.
Schematic illustrating of the redox cycle of MSRA and MSRB in reducing MetO. Oxidative stress causes the production of reactive oxygen species (ROS) that in-turn oxidize Met to
S
-MetO and
R
-MetO epimers. The reduced form of either MSRA or MSRB reduces
S
- or
R
-MetO respectively. The oxidized forms of the MSR enzymes are reduced by the reduced form of thioredoxin (TRX). The oxidized form of TRX is reduced by the enzymatic activity of thioredoxin reductase (TR) that uses NADPH for its function, resulting in the formation of NADP
+
.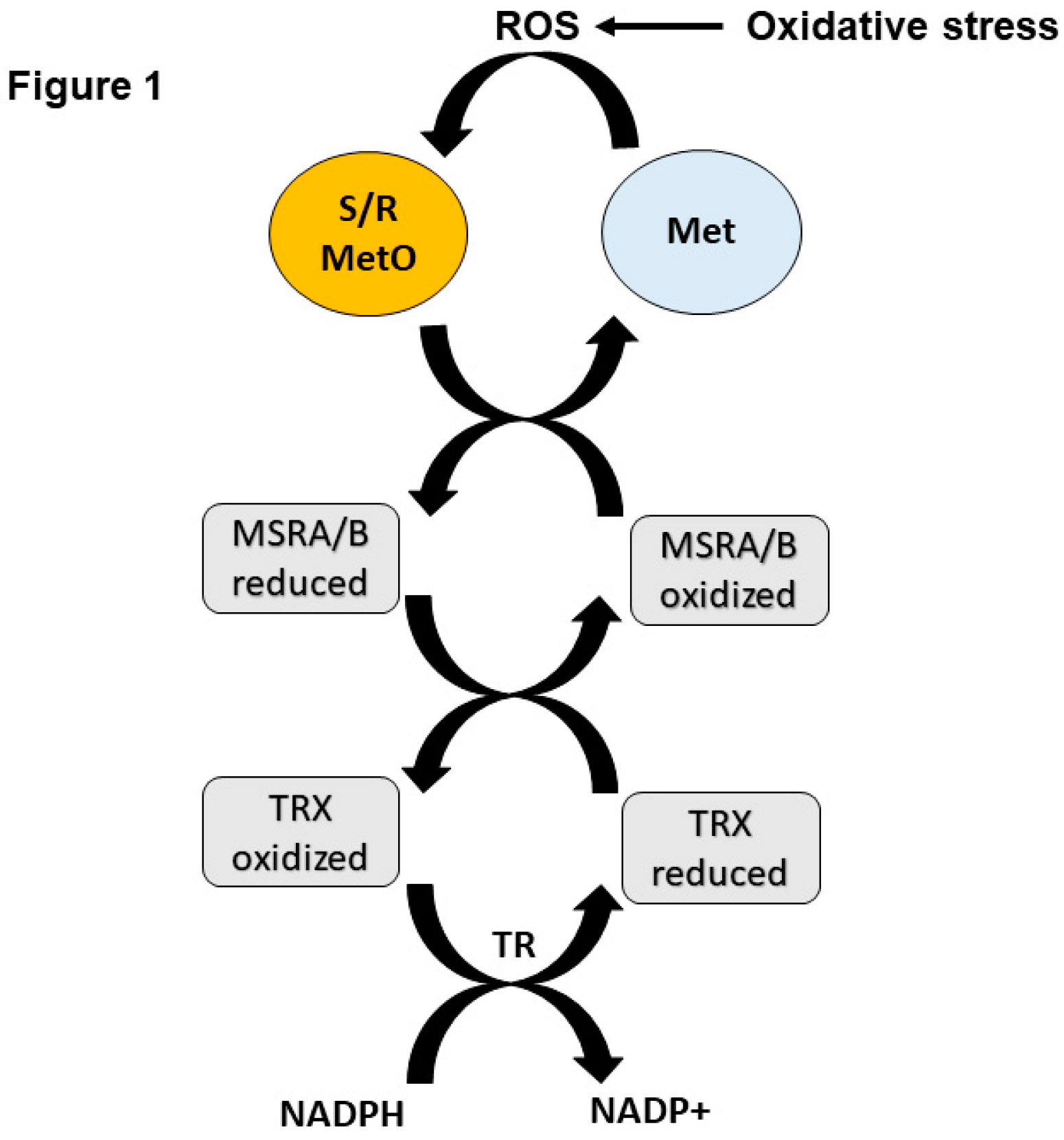 © 2018 by the authors. Licensee MDPI, Basel, Switzerland. This article is an open access article distributed under the terms and conditions of the Creative Commons Attribution (CC BY) license (http://creativecommons.org/licenses/by/4.0/).